UW linebacker Timu suspended over alleged parking pass thefts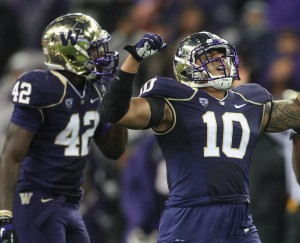 Unfortunately for Chris Petersen, legal matters overshadowed his first spring practice leading the University of Washington football team.
Peterson announced Tuesday that senior linebacker and two-year team captain John Timu will be suspended for the first two weeks of spring practice.
The suspension comes just over a week after Timu faced a misdemeanor charge of vehicle prowling from an incident last fall.
The Seattle Times reported the following:
The charge stemmed from incidents on campus last fall, when Timu admitted to stealing two E8 parking passes from two UW athletic department employees. Timu then sold the parking passes to teammates Josh Shirley and Erik Kohler, according to a UW police report.
Timu admitted to stealing the parking passes "because he needed the money very badly," according to the report.
Last week, a King County judge deferred the charges, which will be dismissed in 12 months if Timu stays out of further legal trouble, among other conditions, according to court records. Timu was ordered to spend two days on a work crew and ordered to pay $500 in restitution — $250 each to Shirley and Kohler. He was also ordered to pay $150 in court fees and issued a no contact order with two UW employees.