Grayson sets Colorado State passing record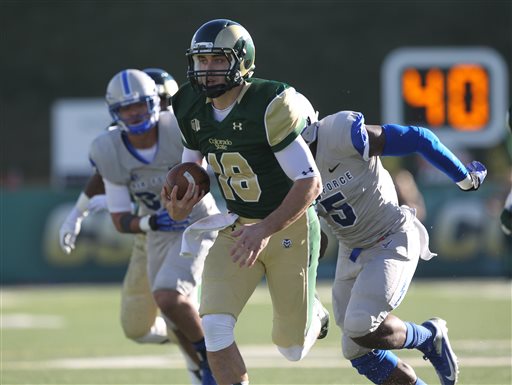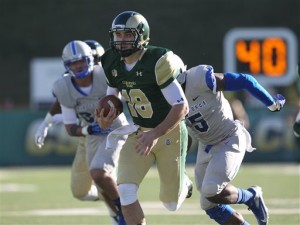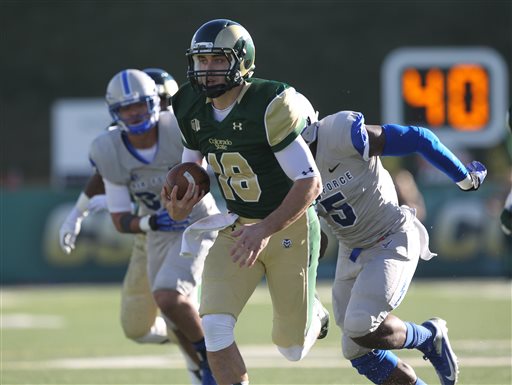 Garrett Grayson, a Heritage graduate, broke Colorado State's single-season record for passing yards in a 58-13 win over Air Force on Saturday.
The Rams (7-5) have a winning season for the first time since 2003. Bowl bids could be announced as early as Monday.
The junior quarterback completed 26 of 34 passes for 395 yards—two short of his career high—to break CSU's single-season passing record. His 3,327 yards tops the previous record of 3,319 yards by Terry Nugent in 1983. Grayson added three touchdowns to move to third on CSU's single-season list with 21. He also had a 22-yard touchdown run.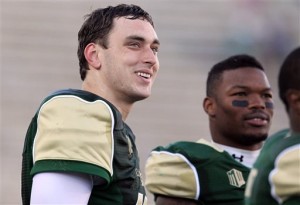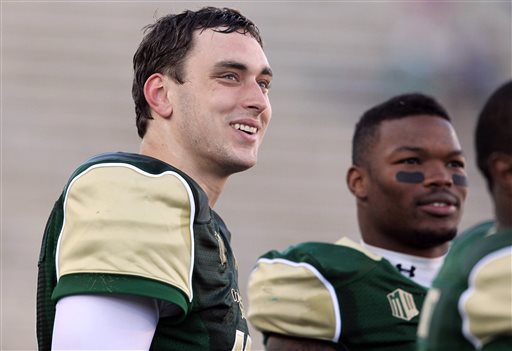 Here are Grayson's quotes after the game, as reported by the CSU Rams official website.
(on when he heard he had broken the CSU single-season passing record)
"I didn't even know I was close to be honest with you. Its cool, it's a huge honor, and it really goes to the guys up front. When they give you the time, like they've given me all season, it really makes my job a lot easier; and then it goes to receivers who are making the plays for me."
(on how satisfying it is come back from questions about is QB spot early in season)
"Obviously it feels pretty good. After the second game I went up and talked to Coach Mac and asked what I was doing wrong and I think that was a turning point to me, to talk to the head guy and get some pointers, and that's when things started to change."
(on whether he gained confidence from Mac talking about his confidence in Garrett)
"Anytime the head coach, knowing what he has done in his past, can come to you and tell you he has 100% confidence in you and the job is yours and to go run with it, makes you feel good about yourself and makes you relax because you realize you're not going to lose the job so you can go out there and play football and have fun."
(on how big the quick start was for the offense)
"Obviously we know we hadn't had the trophy in 8 years, so we wanted to go out and put up as many points as we can so obviously that was a huge confidence boost for us to know that we could go out there and put up those points right away."
(on throwing deep more today)
"We knew from the first two drives how they were going to play Crockett and our run game and bring guys up closer to the line of scrimmage so we looked for those one-on-one matchups like we did."
(on the confidence gained from the way the defense is playing)
"It's huge for us. Last week we saw it, and obviously didn't help them out. And this week they stepped up big for us in a rivalry game, and we stepped up on both sides of the ball and that's what you can expect."
(on how disappointing it would be to not make a bowl game)
"Very disappointed, but I think we've put up enough points in the past few weeks to get us there."
(on whether they felt like they had to make a big statement)
"Our goal coming into this game was to send the seniors out and send them out the right way. And I think we did that putting up 58 points on the board, letting them get the trophy back here, and hopefully making it to the bowl game. Nobody mentioned it, but I think it was on everybody's mind that we need to go out here and have a big game, and let the rest be the rest."
(on what the dream is in "One Town, One Team, One Dream")
"To keep moving forward and to the bowl game, we've got to get that and then win it. We don't just want to get there and lose, we want to win and send the seniors out right. And then we'll go onto the next season."
Other local athletes in action Saturday:
Zak Browning (Union) led Southern Utah with 13 tackles in the Thunderbirds' 51-20 FCS playoff loss to Sam Houston State. The sophomore linebacker was second in the Big Sky Conference with an average of 10.3 tackles per game.
Ian Zarosinski (Skyview) had four tackles as Linfield beat Hampden-Sydney 31-21 in the first round of the NCAA Division III playoffs. The Wildcats (11-0) face Wisconsin-Whitewater (12-0) next weekend in the quarterfinals.