Saturday recap: Playoffs approach for local players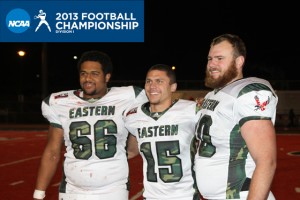 The season is winding down for college football players from Clark County.
Some are done, while others have playoff games coming up this Saturday.
Pictured above, Clark County's trio of Ashton Miller (Evergreen), Ashton Clark (Heritage) and Stephen Forgette (Heritage) will enjoy first-round bye before Eastern Washington opens play in the FCS playoffs.
The No. 3-ranked Eagles will need it after being pushed to the limit by Portland State, 42-41, in the Big Sky finale.
Clark had seven catches for 81 yards and a 17-yard touchdown catch. Miller and Forgette started at center and left guard, respectively, for an Eagles offense that gained 528 yards.
Eastern Washington hosts the winner of Northern Arizona vs. South Dakota State on Dec. 7 at 1 p.m.
Kieran McDonagh (Skyview) split time at quarterback for Portland State, completing nine of 16 passes for two touchdowns and one interception.
Brandon Brody-Heim (Union) had nine tackles for Portland State.
Defensive tackle Jeremy Girod (Fort Vancouver) had one sack and three tackles as Linfield beat Pacific Lutheran 42-21 in the first round of the NCAA Division III playoffs. Ian Zarosinski (Skyview) had four tackles and broke up one pass. Linfield (10-0) will host a second round game against Hampden-Sydney College (8-2) on Saturday.
Fifth-ranked Montana beat No. 13 Montana State 28-14 in a rivalry game that involved a couple local players. Ellis Henderson (Skyview) was limited to two catches for seven yards, but had a 41-yard punt return. The Grizzlies have a bye in the FCS playoffs and will host either Coastal Carolina or Bethune-Cookman on Dec. 7. Odin Coe (Camas) had one tackle for a five-yard loss for Montana State.
Zak Browning (Union) had 16 tackles (8 solo) as Southern Utah lost to Northern Arizona 20-10. The linebacker had two tackles for loss. The Thunderbirds (8-4) got an at-large FCS playoff berth and will travel to face Sam Houston State (8-4) on Saturday.
Garrett Grayson (Heritage) threw for 147 yards on 16-of-39 passing and was intercepted twice in Colorado State's 13-0 loss to Utah State. Grayson was also sacked four times, all in the fourth quarter.