Saturday recap: Grayson has Colorado State bowl eligible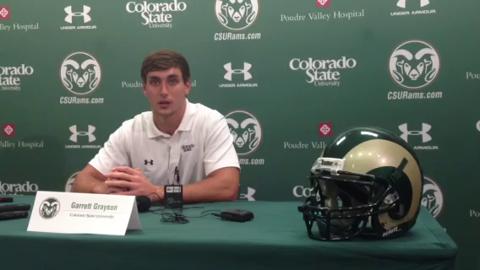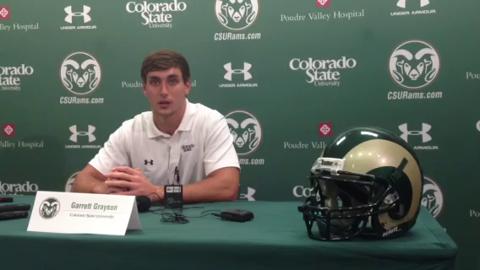 Heritage grad Garrett Grayson has Colorado State bowl eligible for the first time since 2008.
The junior quarterback threw for 302 yards and touchdown passes of 43, 15 and 8 yards in the Rams 66-42 win over New Mexico.
Grayson does have a great sidekick in Kapri Bibbs, who rushed for 291 yards and six touchdowns in the win. Bibbs' 25 touchdowns are the most in Mountain West Conference history and a big reason Colorado State has won four of its last five games, improving to 6-5 on the season.
— Fresh off being named Big Sky player of the week, Ellis Henderson (Skyview) had a relatively quiet day. The sophomore didn't need to do much in Montana's 42-6 win over Weber State. He caught one pass for four yards in a game that Montana's standout QB Jordan Johnson barely played due to flu-like symptoms. Henderson also had five punt returns for 53 yards. Click here to read more on Henderson, who I interviewed on Wednesday.
— Zak Browning (Union) returned from a three-game injury absence in Southern Utah's 22-14 upset of Montana State. The linebacker, who was the Big Sky's defensive freshman of the year in 2012, had eight tackles, six of them solo.
— Odin Coe (Camas) had two tackles for Montana State against Southern Utah.
— Ian Zarosinski (Skyview) had a crucial second-half interception in Linfield's 28-22 win over Pacific, giving the Wildcats their fourth unbeaten Northwest Conference season in the past five years. Zarosinski also had three tackles and two pass breakups.
— Jeremy Girod (Fort Vancouver) had six tackles and one sack for No. 2-ranked Linfield, which has an NCAA Division III playoff game next weekend.
— Austin Dodge (Skyview) quarterbacked Southern Oregon to a 31-10 win over Montana Tech. It was an unusually quiet day for Dodge, who entered Saturday averaging 416 yards passing per game. He threw for 217 yards and two touchdowns as Southern Oregon had more rushing yards than passing for the first time in more than three years. The Raiders finish the season 7-4.
— Freshman receiver Jesse Zalk (Prairie) did not have a catch Saturday, but he did threw a 51-yard touchdown on a trick play. The Wildcats only attempted 12 passes in a 44-0 win over Dixie State.
— Offensive linemen Stephen Forgette (Heritage) and Ashton Miller (Evergreen) helped Eastern Washington clinch the Big Sky title. The starting guard and center, respectively, helped the Eagles rack up 486 yards of offense in a 35-22 win over Cal Poly.
— Ashton Clark (Heritage) had four catches for 56 yards in Eastern Washington's victory.
— Brandon Brody-Heim (Union) had four tackles in Portland State's 43-42 loss to Sacramento State. Kieran McDonagh (Skyview), relegated to backup quarterback, had two rushes for six yards.