NAIA honors again for Southern Oregon QB Dodge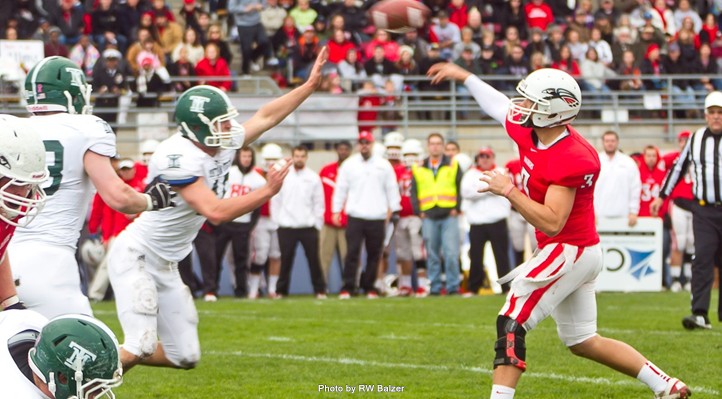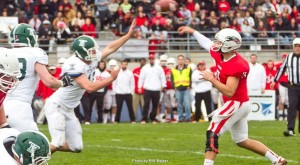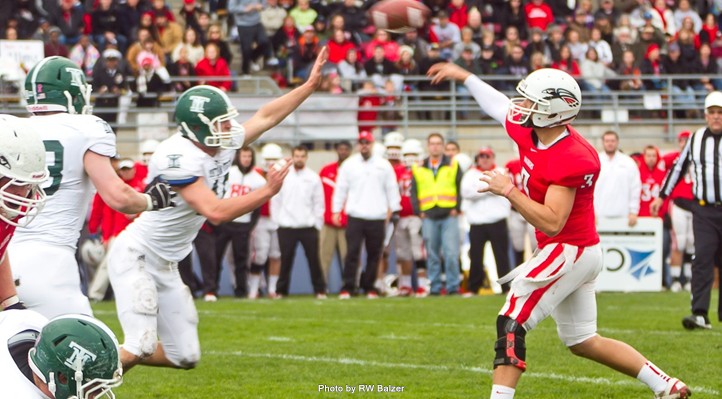 Here's a story that ran in the Ashland Daily Tidings on Skyview grad Austin Dodge. As usually, the quarterback is lighting up opposing defenses:
By Joe Zavala
Ashland (Ore.) Daily Tidings
Southern Oregon University junior quarterback Austin Dodge on Monday was named the NAIA offensive player of the week for the fourth time, more than any Raider in program history.
The Skyview High School graduate completed 28 of 45 passes for 469 yards and five touchdowns against Montana State-Northern, which entered the game ranked fourth in the country in first downs allowed and eighth in total defense. The Dodge-led Raiders gained 26 first downs and 568 yards against the Lights.
Dodge, who was also named the Frontier Conference offensive player of the week for the sixth time, leads the nation in passing yards per game (411.7) and total touchdowns (34), and is second in pass efficiency.
Raiders ranked again
The Southern Oregon University football team returned to the NAIA Top 25 Monday, two days after rolling to its fourth win in a row over Montana State-Northern.
The Raiders, who at 4-3 overall and 4-2 in league play are one game behind co-leaders Carroll and Rocky Mountain in the Frontier Conference standings with four games to go, were ranked No. 22 in the weekly coaches' poll. Carroll is No. 7 and Rocky Mountain No. 10.
A week after receiving only nine poll points Southern Oregon received 61 to jump from the "others receiving votes" category. SOU was ranked No. 5 in the NAIA spring poll and No. 14 in the preseason poll, but fell out of the Top 25 after losing its first three games to Rocky Mountain, Montana Western and Division I-FCS Sacramento State by a combined 12 points. The Raiders have rebounded nicely since, beating Eastern Oregon 73-20, Dickinson State 66-21, Montana Tech 59-32 and Montana State-Northern 55-28.
Montana State-Northern, ranked No. 18 entering Saturday's game, fell out of the top 25. Morningside of Iowa was ranked No. 1 for the seventh week in a row and received all 13 first-place votes. Cumberlands (Ky.) was second and Grand View (Iowa) third.
The Raiders still have a shot at claiming what would be their second straight Frontier Conference championship and an automatic bid to the 16-team NAIA Championship Series. If that doesn't happen, however, SOU's final ranking could provide another avenue to the playoffs. In NAIA football ten automatic bids are awarded to conference champions and the other six go to the next-highest ranked teams.
The Raiders host Montana Western on Saturday.