Saturday recap: Zalk, Grayson set career highs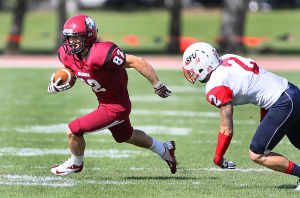 Jesse Zalk, a redshirt freshman from Prairie High School, had one of the best receiving performances in recent years Saturday for Central Washington, which beat Dixie State 27-24.
Zalk's 14 receptions were the most since 2005 — and tied for the third-highest single-game total in school history. He accumulated his first career 100-yard receiving game. In addition, he netted 113 kick return yards on three returns.
"Jesse had a great game and he is a competitor," CWU head coach John Picha said. "I think the thing that some people don't understand is these guys are all pretty young. For the most part, these guys are just now kind of figuring out the college game and you can see them getting better each week and it is a patient process."
Zalk had one touchdown catch in the game, which the Wildcats (4-2) won on a last-second field goal.
Meanwhile, Colorado State quarterback Garrett Grayson is in a groove on offense.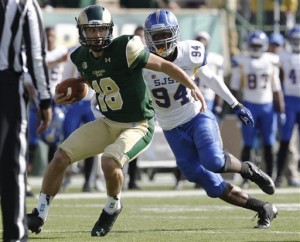 The Heritage High School grad completed 19 of 34 passes for a career-high 310 yards and three touchdowns Saturday against San Jose State. It was the second consecutive game that Grayson has thrown for more than 300 yards and three touchdowns, with all three scores coming in the first half.
But despite Grayson's big numbers, the Colorado State lost to San Jose State 34-27. The Rams fell to 2-4 on the season.
"We talk all the time about finishing," said CSU quarterback Garrett Grayson. "Coach Mac says you can start fast all you want, but if you don't finish, things like this can happen."
Here's the rundown of how other Clark County players fared on the college gridiron Saturday.
— Ashton Clark (Heritage) had a team-high seven receptions for 116 yards as No. 6-ranked Eastern Washington beat North Dakota 35-14. Ashton Miller (Evergreen) and Steven Forgette (Heritage) anchored the line for an offense that gained 408 yards.
— Portland State quarterback Kieran McDonagh was 12-for-24 for 124 yards, but had two interceptions and didn't play in the second half of the Vikings 17-7 loss to Southern Utah. Brandon Brody-Heim (Union) had four tackles for the Vikings.
— Defensive end Ryan Johnson (Mountain View) had two tackles in Montana's 42-7 win over UC-Davis. Mitch Saylor (Union) had one catch for nine yards for the Grizzlies.