Saturday recap: Austin Dodge sets two school records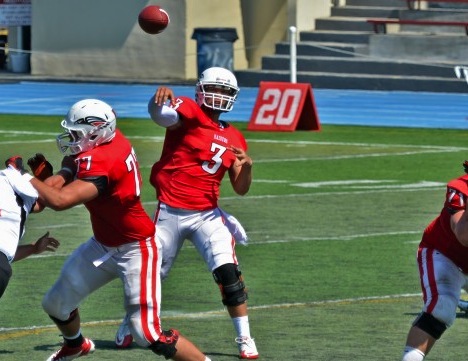 Here's the rundown of how Clark County players fared on the college gridiron Saturday.
Southern Oregon quarterback Austin Dodge (Skyview) had a huge day. Here's the recap, courtesy of  SOU.
On a day when SOU's leading rusher was its punter, Dodge picked apart the Montana Tech defense and broke two school records with 559 passing yards and eight TD throws to guide the Raiders to a 59-32 Frontier Conference win Saturday afternoon at Raider Stadium.
The junior's surgical 39-for-57 performance gave the Raiders (3-3 overall, 3-2 conference) their third straight win. Dodge broke the old mark of six touchdown passes that he had shared with current University of Oregon head coach Mark Helfrich, who did his damage on Nov. 1, 1993 at Willamette. The passing yardage record was already Dodge's alone after a 550-yard day last year against Eastern Oregon.
— Kieran McDonagh (Skyview) had a rough day as Portland State lost to Montana 55-27. A pair of early Viking turnovers led to a quick 21-6 Montana lead less than eight minutes into the game. McDonagh threw an interception and also lost a fumble in the endzone. Both mistakes resulted in Griz touchdowns. The sophomore finished 18-of-32 for 266 yards with two interceptions and two touchdowns.
– Mitch Saylor (Union) had three catches for 33 yards for Montana's win.
— Brandon Brody-Heim (Union) had three tackles for Portland State.
— Addison Owen (Camas) had one tackle for Montana.
—  Jesse Zalk (Prairie) had a 59-yard touchdown catch in Central Washington's 21-13 win over Humboldt State. The freshman finished with five catches for 79 yards.
– Ashton Clark (Heritage) had a good couple of days on and off the field. Friday he was selected by the Eastern Washington University Athletic Department to receive the first October Scholar-Athlete of the Month honors. Clark is a recreation management major with a 3.28 GPA. Saturday, Clark caught a 14-yard touchdown pass in Eastern Washington's 41-19 win over Weber State. He finished with three catches for 43 yards.
— Ashton Miller (Evergreen), Steven Forgette (Heritage) and T.J. Boatright (Union) played on an Eastern Washington offensive line that rolled up 493 yards of offense and allowed one sack.
– Jeremy Girod (Fort Vancouver) had a key play on defense as No. 2-ranked Linfield beat No. 11 Pacific Lutheran 29-0. After PLU drove to the Linfield 8 in a 7-0 game right after halftime, the defensive end sacked the Lutes' QB on fourth-and-goal, giving the ball back to the Wildcats. Girod had two sacks on the day and three total tackles.
— Defensive back Ian Zarosinski (Skyview) had two tackles and two passes broken up in the Linfield shutout.
– Odin Coe (Camas) had three tackles in Montana State's 36-7 win over Northern Arizona.
– Jonathan Warner (Camas) saw action at defensive back late in Penn State's 44-24 loss to Indiana. He recorded his first career sack in the fourth quarter.