Saturday recap: How local players fared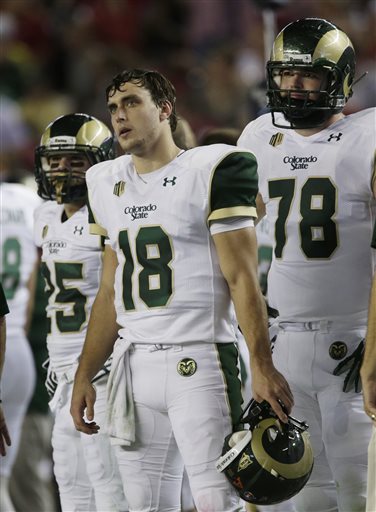 Following Clark County talent spiced up an otherwise lackluster slate of college football, as lower-tier schools squeezed out one more payday from FBS programs more than willing to hand out 50-point beatdowns.
The brightest stage for a local player belonged to Garrett Grayson (Heritage). The Colorado State quarterback was 24-for-38 for 228 yards in a 31-6 loss to No. 1 ranked Alabama. The Rams trailed by only 11 heading into the fourth quarter, but Alabama stripped the ball from Grayson and scored on the next play to end any hopes of an upset.
"A loss is a loss," Grayson said. "But this game was huge for us. To play with the No. 1 team in the country means you can play with anyone."
Meanwhile, Kieran McDonagh (Skyview) led a Portland State offense that racked up 601 yards in a 41-10 win over UC Davis. The Vikings (3-1) gained 427 yards on the ground, including eight carries for 57 yards and two touchdowns from McDonagh. The quarterback also threw for two touchdowns, but had three interceptions. He completed 11 of 23 passes for 174 yards.
Linebacker Brandon Brody-Heim (Union) had three tackles for the Vikings.
Other local players:
— Southern Oregon quarterback Austin Dodge (Skyview) threw for six touchdowns as the Raiders (1-3) beat Eastern Oregon 73-20. The junior was 29 of 42 for 355 yards. Zach Marshall (Camas) rushed for a career high 126 yards on 16 carries and had one touchdown.
— Southern Utah linebacker Zac Browning (Union) had eight tackles as the Thunderbirds (3-1) beat Sacramento State 24-21 in overtime.
— Montana State defensive lineman Odin Coe (Camas) had four tackles, including one sack, as the Bobcats (2-1) fell to Stephen F. Austin 52-38.
— Montana linebacker Addison Owen (Camas) had five tackles as the Grizzlies (3-0) beat Oklahoma Panhandle State University (huh?) 47-14. Defensive end Ryan Johnson (Mountain View) had one tackle.
— Western Oregon running back Nathaniel Penaranda (Union) caught a one-yard touchdown pass as the Wolves (1-2) beat Dixie State 51-32. The junior had three carries for 16 yards and two catches for 14 yards.
— Linfield safety Ian Zarosinski (Skyview) had four tackles as the Wildcats (2-0) beat Cal Lutheran 52-14. Defensive end Jeremy Girod (Fort Vancouver) had two tackles, both for loss.
— Central Washington receiver Jesse Zalk (Prairie) had one reception for 11 yards as the Wildcats (1-2) lost to Simon Fraser 21-14.