Garrett Grayson looks to "shock the world" on Saturday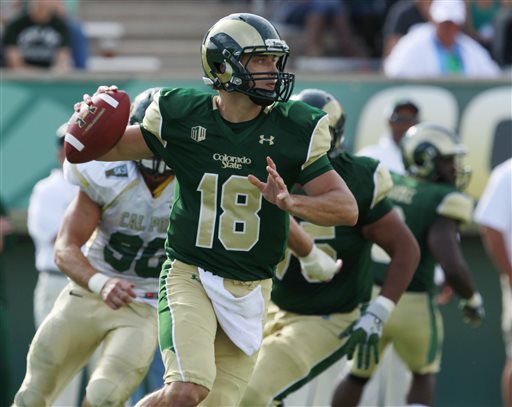 Heritage High School grad Garrett Grayson will try to do the unthinkable Saturday when the quarterback leads Colorado State into Tuscaloosa to face top-ranked Alabama.
Sure, the Rams (1-2) are riding high after scoring their first win of the season Saturday against Cal Poly. But does Colorado State have a chance against the two-time defending national champions?
"I'm excited. I can't wait," Grayson told examiner.com. "Everybody in the country, in the world, obviously is doubting us. Hopefully we're going to go down there and shock the world. That's the mindset we have. We have nothing to lose. They have everything to lose. That's the kind of the mentality we're going in (with)."
Clark County fans can watch the game on ESPN2 at 4 p.m.
Colorado State enters Saturday's game 39.5 point underdogs. Should the Rams win, it would be just slightly less of a shock than the biggest Vegas college football upset of all time, when 41-point underdog Stanford beat No. 1 USC in the Coliseum in 2007.
Colorado State's season got off to a rocky start. It had some wondering whether coach Jim McElwain would take the keys to the offense away from the junior from Vancouver. The players, however, stuck behind Grayson.
"He keeps his composure very well during games," senior lineman Jared Baird said. "He keeps a very good composure, he's very encouraging. He's very encouraging to the wide receivers and to us up front. He's calm, cool and collected in the pocket and on the sideline. That's part of playing quarterback, you going to get a lot of attention. It doesn't have to necessarily be your fault. Again, these losses have been on the offense as a whole and on the team as a whole, not on just one guy."