Austin Dodge scoping out new targets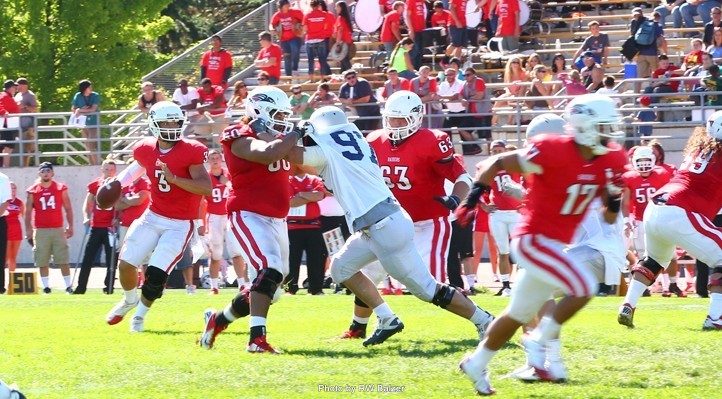 Skyview grad Austin Dodge broke all kinds of NAIA records last season as the quarterback at Southern Oregon.
The junior led an offense that set a collegiate football record for both NAIA and NCAA with an average of 642 yards per game.
But having lost five of his favorite targets from last season, Dodge will have to find new targets to repeat that success.
Eat your heart out Oregon, this video from last year gives a look into how SOU's no-huddle offense operates, with some quotes from Dodge. They want to play football "as fast as humanly possible."
Want more? This video gives you a student's eye perspective on Dodge.
This news release from SOU gives more insight into Southern Oregon's quest to reload at receiver:
ASHLAND, Ore. – The Southern Oregon University football team knows what it has in quarterback
Austin Dodge
(Vancouver, Wash./Skyview), a junior dart-thrower who led the NAIA in passing last season.In question coming into fall camp was what Dodge had around him after his five favorite targets, including the Raiders' leading rusher by a wide margin, wrapped up their careers in 2012.But answers continued to emerge Wednesday as the Raiders played their first live scrimmage. Going into Thursday night's practice, the ninth of fall camp, third-year offensive coordinator
Ken Fasnacht
said he was feeling better about SOU's arsenal the more he saw it."We still got a chance to be a really good football team," he said. "We've got some new faces but those guys came and made some big plays in the scrimmage."There is legitimate reason for any lingering doubts considering SOU's appetite for big plays when the ball is in the hands of Dodge, who averaged 423 passing yards per game in 2012. The Raiders racked up 388 receptions but brought back a group responsible for just 51 of them.Their early success this fall has started with the slot receivers, Fasnacht says. Freshman
Matt Retzlaff
(Medford, Ore./South Medford), a 5-foot-11 product of South Medford, redshirted last year but stood out alongside 6-1sophomore Teran Toga on Wednesday.
"(Retzlaff) is a guy who can do a lot with the football, and it was really pleasing to see him play," Fasnacht said. "Both those guys made some plays and looked like veteran football players, so we were really excited about that."
Equally promising has been the play of freshman running back Melvin Mason (Vacaville, Calif./Vacaville), who will be asked to play a major role in filling the void left by 1,341-yard rusher Manny Barragan (Yreka, Calif./Yreka).
"That's been a pleasant surprise because he looks, right now, like he can be the best back in the country if he keeps working hard," Fasnacht said.
Mason, a 5-10 native of Vacaville, Calif., also redshirted the 2012 season. Sophomore Zach Marshall (Camas, Wash./Camas), who averaged 5.3 yards per carry and 38 per game, is the leading rusher among returnees.
Clay Sierra (La Crescenta, Calif./Crescenta Valley), a 6-6 sophomore tight end, caught 24 passes at 13.7 yards a pop in 2012, making him the only returning Raider to have accumulated more than 100 yards receiving.
The focus now is on getting the outside receivers prepared. Having Dodge behind center and a line laced with five returning starters is at least making the transition as smooth as possible.
Donald Drisdom (Los Angeles, Calif./Los Angeles), Sean McShane (El Paso, Texas/Franklin) and Ryan Retzlaff (Medford, Ore./South Medford) are among those in the mix.
"They're still pretty new to the system and trying to grasp it, but when we got to the scrimmage it looked like the lights came on and they gained confidence as the night went on," Fasnacht said. "We were able to extend the deep ball and that was really exciting."
The Raiders have just over two weeks left to prepare for their first game, an Aug. 31 Frontier Conference tilt with Rocky Mountain (Mont.) in Grants Pass.
—-