Update on Colorado State QB Garrett Grayson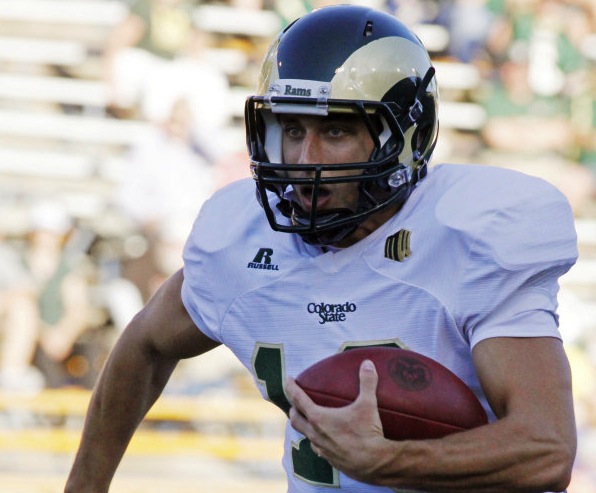 Colorado State quarterback Garrett Grayson is among the Clark County players abroad who Tailgate Talk will be tracking this season.
Now a junior, the Heritage High School grad is likely to start at quarterback when the Rams open their season Sept. 1 against Colorado.
Grayson opened last season as CSU's starter, but suffered a broken collarbone against Air Force on Sept. 29. Through four games Grayson only threw two interceptions, which were the fewest by a Ram since 1985 (Kelly Stouffer).
Colorado State held its first scrimmage of fall camp on Tuesday. Grayson went 10-for-16 for 140 yards and split time with Connor Smith, who started for the Rams last season after Grayson was injured. Smith also went 10-for-16 Tuesday for 68 yards.
After winning last season's opener against Colorado, CSU lost its next six games and finished 4-8. This season will see Colorado State travel to Tuscaloosa, Ala., to face the two-time defending national champion Crimson Tide on Sept. 21.
Here are some quotes from Grayson during the first week of camp:
(on the new wide receivers)
"I think they're a bunch of studs actually. It's nice to bring them in here; get some speed, and get some height. I think they're going to be good threats.
(on tomorrow's scrimmage and solidifying the starting QB job)
"I'm just trying to go out there every day like today, and just try and win the job and do what I can do."
(on his relationship with Conner Smith)
"I'm not going to say we're best friends, but we're pretty close. We hang out outside of football. If we've got questions we go to each other. We have no issues at all. If there are people out there thinking that because of this competition we have problems, then you're completely false.
(On having a feature running game or a feature back)
"Obviously, you know that's what we want to do. Coach Mac, that's kind of his motto, he wants to pound the rock and then that opens up everything else. So I think that we need to establish the run and get that going. I think are running backs are all real good, all really cool, so we're just trying to go out there and establish the run and keep it going."