Who will win the Beavers quarterback job?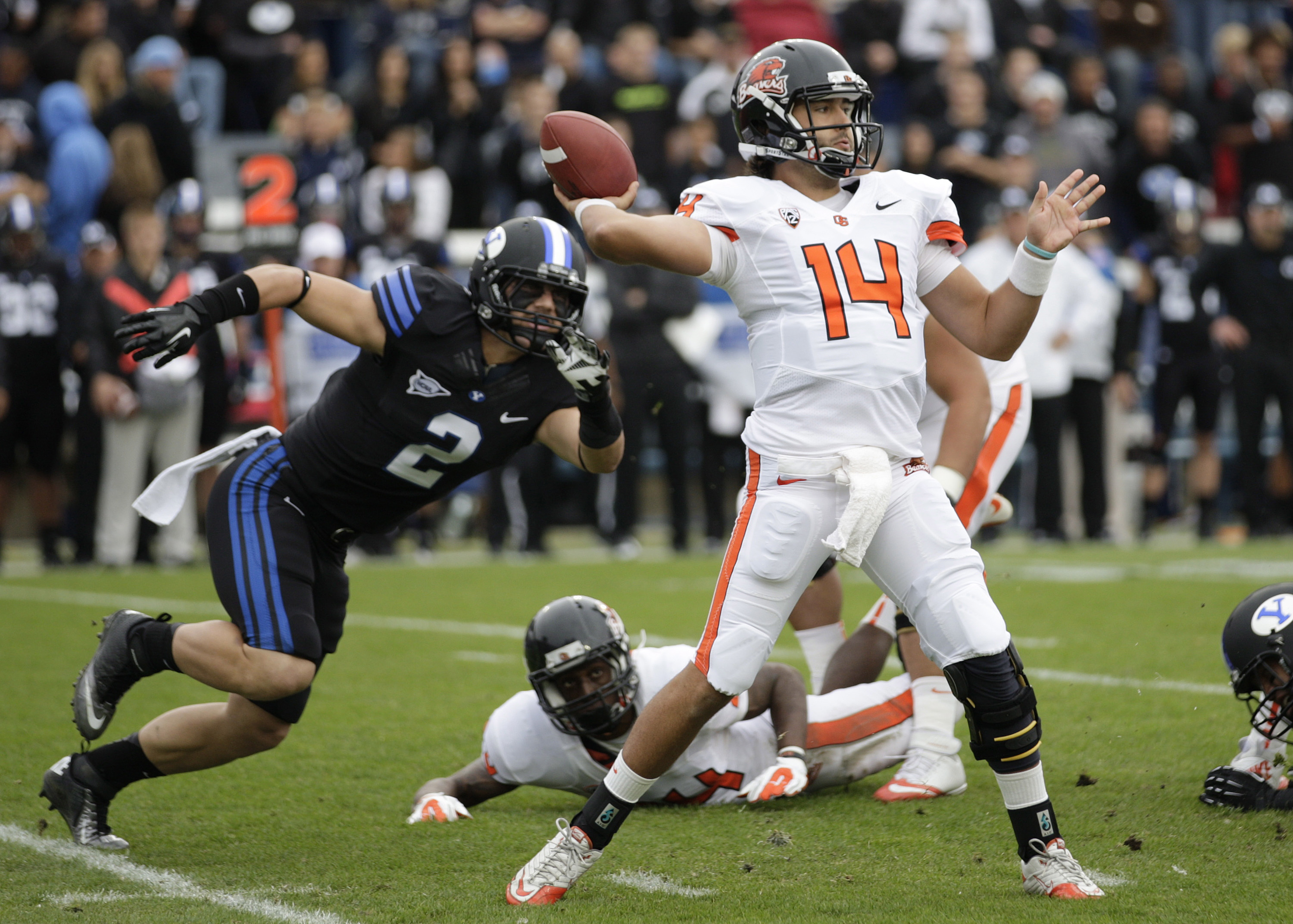 For Oregon State, the big storyline heading into fall camp is who will be starting quarterback.
In eight starts last year, Sean Mannion threw for 2,446 yards and 14 touchdowns. Cody Vaz started five games and threw for 1,480 yards and 11 TDs.
You can get to know each passer better by watching this video.
Yeah, being college kids, it's pretty tame for a mic'd up segment. It can't beat this outburst by my wife's favorite player.
Coach Mike Riley said he'll chose who he believes will be the most consistent.
Since past performance is often the best clue of future results, let's look to last year's stats to see who has the edge.
Completion percentage — slight advantage Mannion.
Mannion completed at least 60 percent of his passes in six of eight starts. His worst game still saw him complete 53 percent for a season average of 64.7 percent. Vaz completed 58.9 percent of his passes, but had two below-average games — 42 percent vs. Arizona State and 53.6 percent against Texas.
Avoiding interceptions — Advantage Vaz.
Vaz only had three interceptions in 185 pass attempts. Mannion threw 13 interceptions in 309 attempts, including four INTs against UW and Oregon, and three against WSU.
Passing yardage — Advantage Mannion.
Mannion threw for more than 300 yards in four of his eight starts. The only time Vaz eclipsed 300 was his breakout 2012 debut against BYU.
Dual threat — Advantage neither.
Beaver quarterbacks don't run. The longest run either mustered was 7 yards.
So it's clearly a tough call. Pundits give a slight edge to Mannion, as they have put him on the watch list for the Manning Award given to the nation's top quarterback.
We'll keep our ears tuned to Corvallis for any hints, perhaps even a two-quarterback system. Hey, it can work. Just ask Arizona's 1998 team that gave us Keith Smith, Ortege Jenkins, and the play that still gives Husky fans nightmares.