Gingerbread Stout Cake with Orange Eggnog Frosting and Candied Pistachios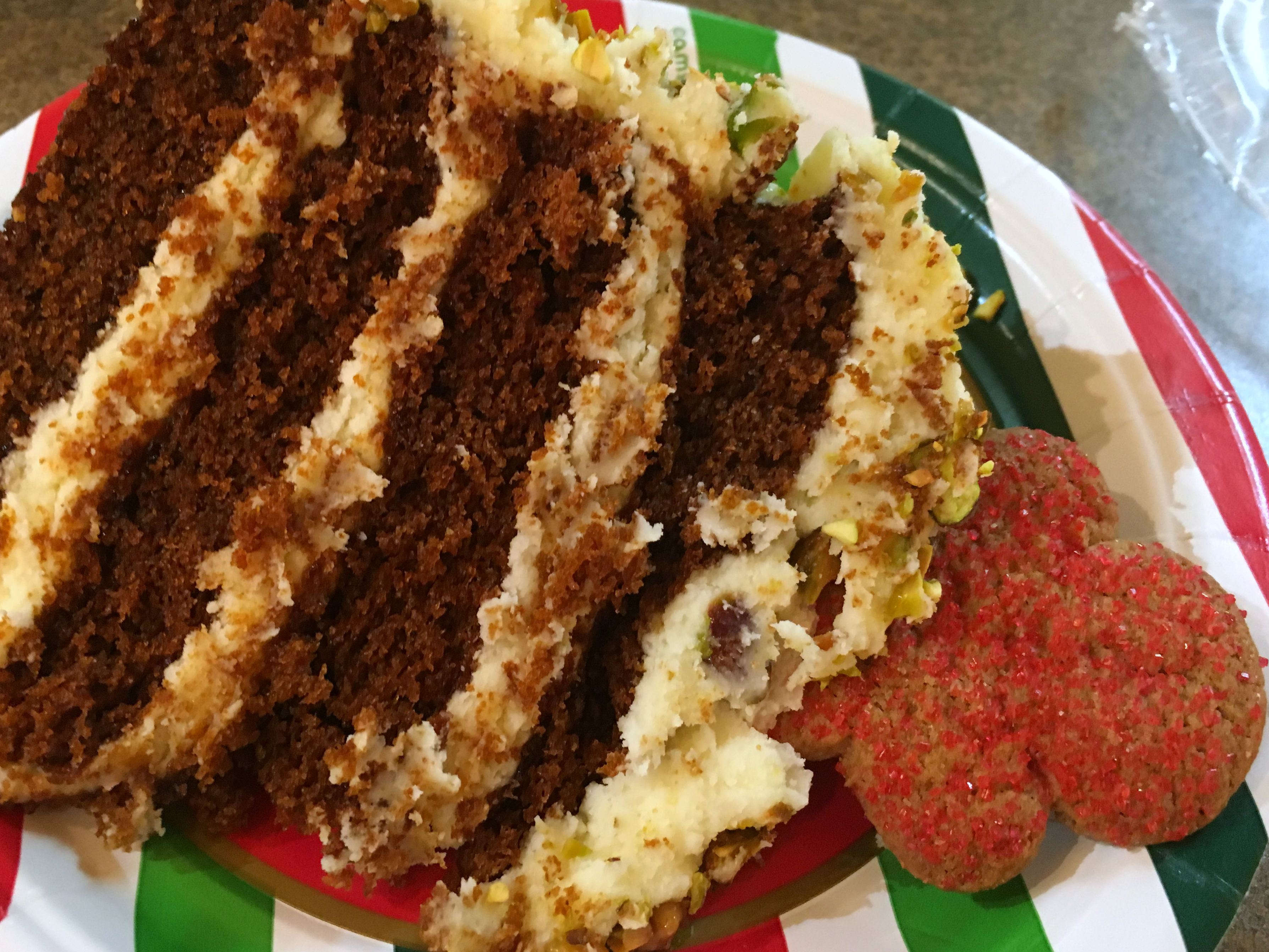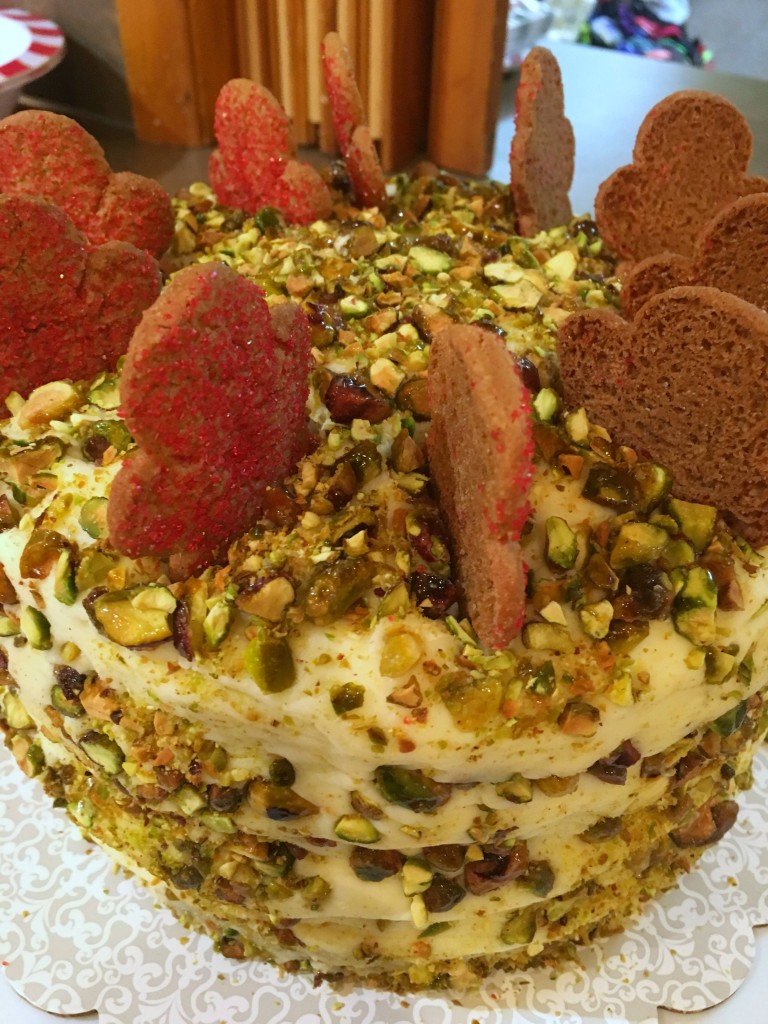 Gingerbread Stout Cake with Orange Eggnog Frosting and Candied Pistachios is the ultimate holiday extravaganza.  The spicy gingerbread features dark beer with creamy citrus frosting and salty, sweet nuts on top.  I made this with 4 layers (although you could switch to cupcakes) for the office holiday party.  Don't skip the pistachios, they polish off an amazing flavor combination.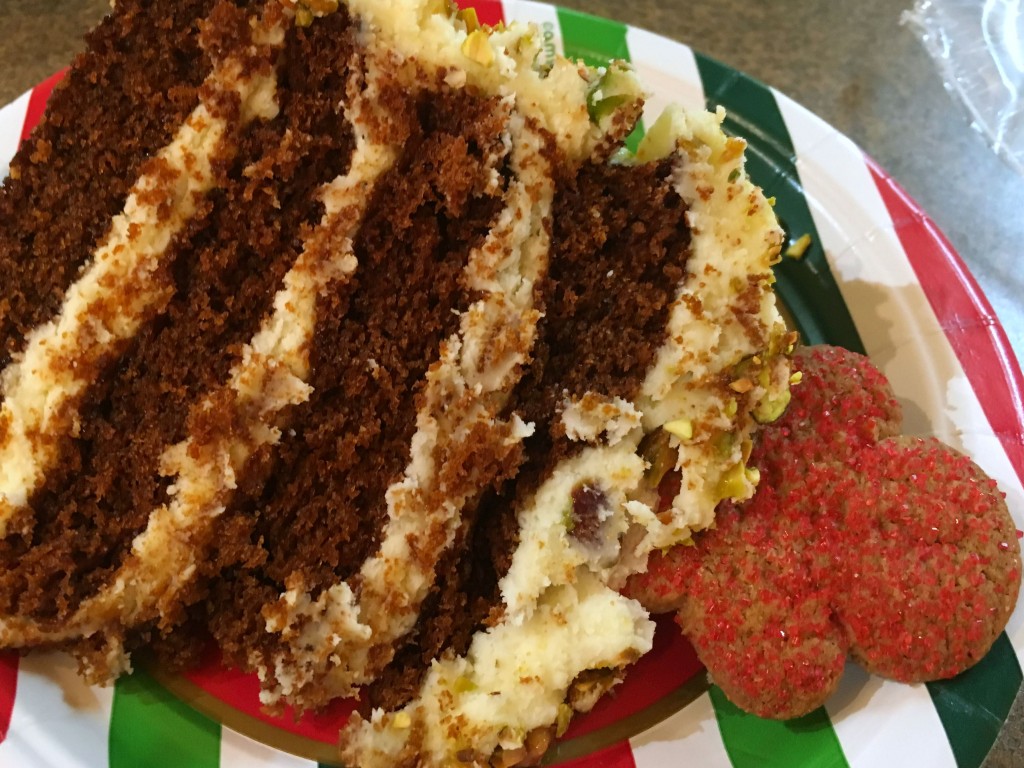 Gingerbread Stout Cake with Orange Eggnog Frosting and Candied Pistachios
Serves 12
Ingredients:
Gingerbread Stout Cake
 1 C Guinness extra stout or dark beer
1 C mild (light) molasses
1 1/2 t baking soda
2 C flour
2 T ground ginger
1 t ground cinnamon
1/4 t ground cloves
1/4 t ground nutmeg
1/4 t ground cardamom
4 eggs
1/2 C sugar
1/2 C packed dark brown sugar
3/4 C vegetable oil
Orange Eggnog Frosting
 2 8oz packages cream cheese, softened
1/2 C (1 stick) butter, softened
Zest of 1 medium orange
2 T eggnog extract
1-2 T heavy cream
8 C powdered sugar
Candied Pistachios
 1 C shelled, salted pistachios
1 T light corn syrup
2 T sugar
Directions:
For the cake:
Combine stout and molasses in a medium sauce pan,  Bring to a boil, boil and stir for 5 minutes.  Stir in baking soda.  Be aware the mixture will bubble and double in size for a few minutes.  Set aside to cool to room temperature.
While the mixture is cooling, butter and Butter and flour 4 8-inch diameter cake pans.  Cut rounds of parchment paper to fit in the bottom of the cake pans.  Don't skip this step, it makes releasing the cake much easier.
Heat the oven to 350.  Mix together flour and spices.  Set aside.
Use a stand mixer to blend eggs, sugar and brown sugar.  Add oil and cooled stout mixture.  Add flour mixture until just combined.  Scrape sides if needed.
Distribute evenly into cake pans.  Bake until a tester comes out clean, about 20-25 minutes.
Cool in pans for about 15 minutes, invert on a cooling rack.  Cool completely before frosting.
To make candied pistachios, line a rimmed baking sheet with aluminum foil.  Drop the oven to 325.
In a bowl, pour the corn syrup over the pistachios.  Toss to coat.  Sprinkle with sugar.
Pour on prepared pan, spread out evenly.  Bake until lightly golden, 10-12 minutes.  They will look like they are foaming, this is the sugar cooking.  Keep a close eye, these can burn easily.  Cool and chop into small pieces.
To prepare frosting, use a stand mixer to combine cream cheese and butter.  Blend at high-speed for at least 2 minutes until light and fluffy.  Add orange zest and eggnog extract.  Add powdered sugar in 2 C increments until frosting reaches desired consistency.  I aim for something that feels like peanut butter, feel free to add a bit of heavy cream if the frosting is too thick.
To assemble the cake, level the layers if needed.  Place 1 layer on a platter and add about a quarter of the frosting.  Spread frosting evenly.  Add the next layer and repeat.  When you reach the top, spread the frosting evenly and level the sides.  If you have remaining frosting, you can enclose the cake.  If not, "naked cakes" are popular (meaning the layers are visible).  Sprinkle top of cake with candied pistachios and press into frosting on the sides.
If desired, garnish with gingerbread cookies.  Save a slice for Santa!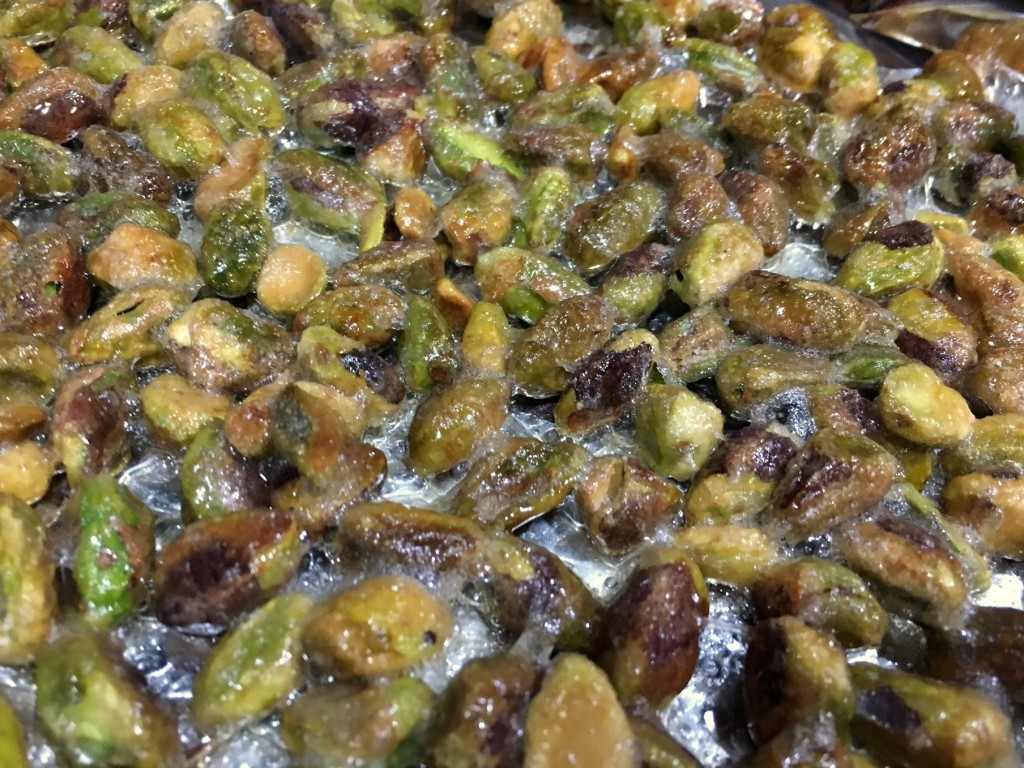 Recipe modified from "Gingerbread Layer Cake with Cream Cheese Frosting and Candied Pistachios," epicurious.com