Dark Chocolate Peppermint Whoopie Pies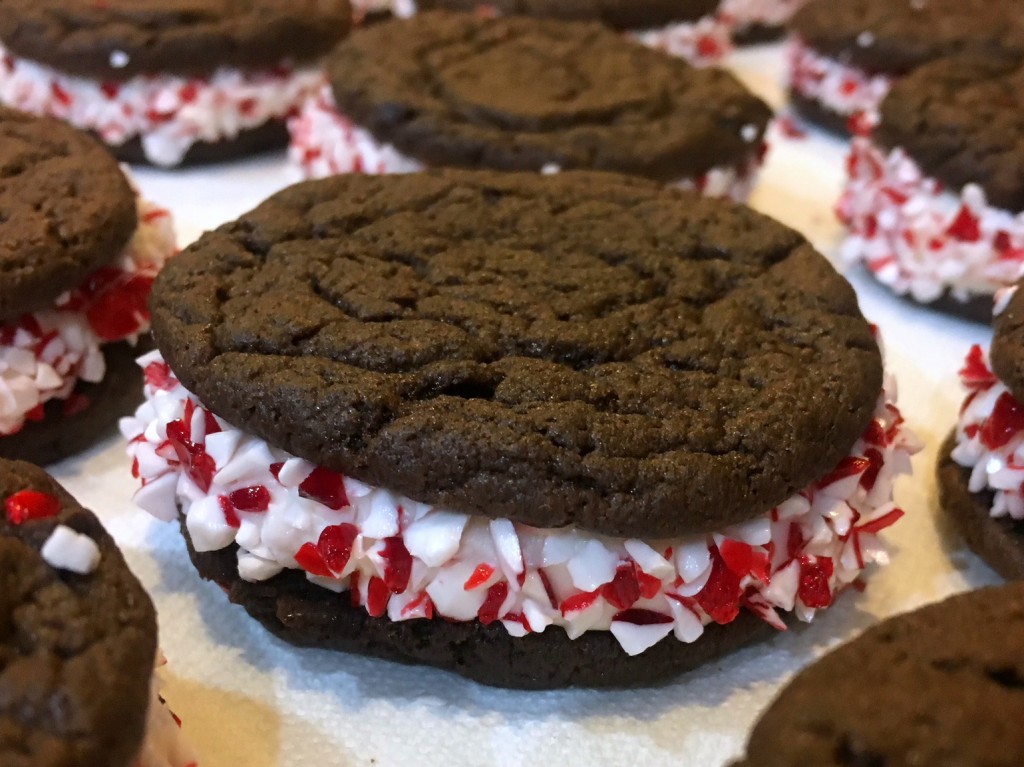 Dark Chocolate Peppermint Whoopie Pies are a perfect answer to the cookie exchange blues.  These gems are quick to make, pretty to display and taste delicious.
I recommend scoops for whoopie pies.  It keeps the sizing consistent which is important for sandwich cookies.  If you are making for friends, use a tablespoon cookie scoop (about 2 inch balls).  If you are working on a cookie exchange, go with a teaspoon cookie scoop (about 1 inch balls).  This will help you get to the required number of cookies more quickly.  Be sure to keep a close eye on the first batch if you make smaller cookies, the bake time will be about 3 minutes shorter.
If you're not done with holiday shopping, consider a set of cookie scoops for the baker in your life.  I received a good quality set from my sister-in-law.  They are indestructible and I use them for EVERYTHING.  Seriously, don't get cheap ones because they rust and break and aren't worth it.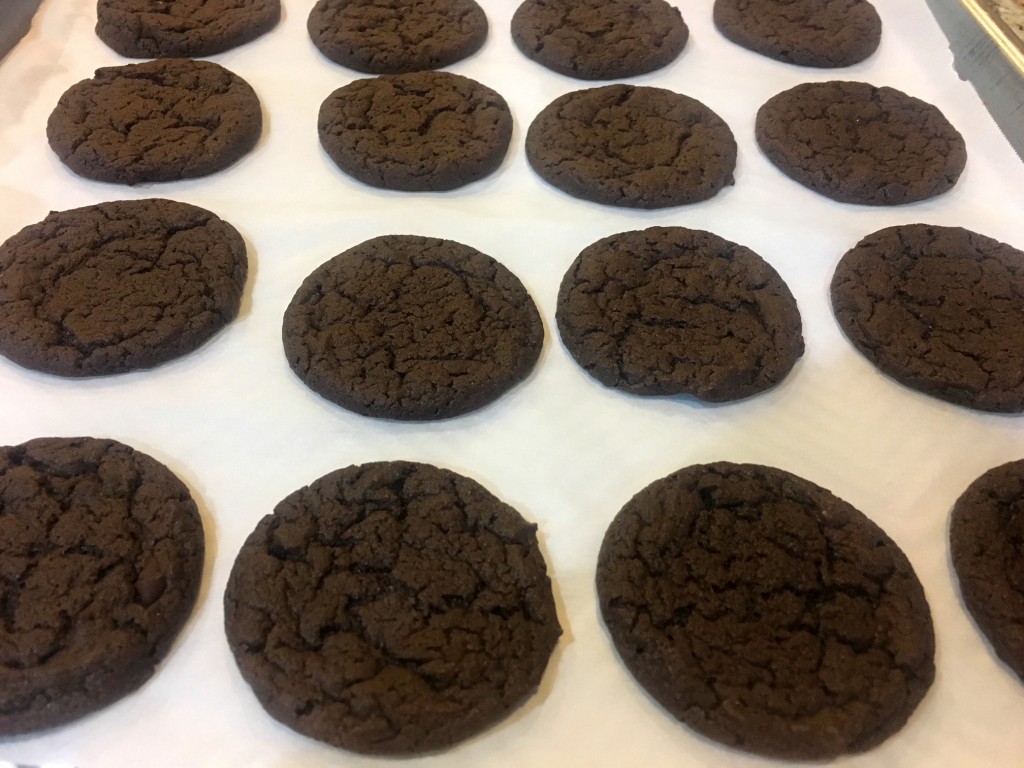 Dark Chocolate Peppermint Whoopie Pies
Makes 20 pies
Ingredients:
Dark Chocolate Cookie
1 box dark chocolate cake mix
2 eggs
2 T brown sugar
1/2 C oil
Pinch espresso powder
Peppermint Buttercream
 8 oz cream cheese, softened
1/2 C (1 stick) butter, softened
3 t peppermint extract
2 t vanilla extract
6-8 C powdered sugar
1/2 C crushed candy canes (about 8 regular size)
Red food coloring (optional, if you want pink peppermint centers)
Directions:
Heat oven to 350.  Line baking sheets with parchment powder.
In a large bowl, combine dark chocolate cake mix, brown sugar, eggs, oil and espresso powder.  Mixture will be very thick.
Use a tablespoon cookie scoop to place balls of dough on the cookie sheets.  Flatten slightly.
Bake for 10 minutes, splitting time between upper and lower racks.  Adjust baking time for smaller cookie scoops.  Cookies are done when they start to crack on the surface and are not shiny.
Remove from oven.  Immediately use a butter knife to pat any odd sized cookies into perfect circles.  Cool cookies completely before filling.  (Melted buttercream sucks.  Just saying.)
To make peppermint buttercream, use a stand mixer to whip butter and cream cheese for about 2 minutes until fluffy.  Add peppermint and vanilla extract.  Add red food coloring (if using).  Add powdered sugar in 2 C increments until frosting reaches desired consistency.  I aim for something that feels like peanut butter, it needs to stay standing up at room temperature if the cookies warm up at the exchange.
Pair up cookies in to matched sets.  Transfer frosting into a large plastic bag and snip the corner.  Pipe frosting on bottom cookie, leaving space to the edge.  Gently set another cookie on top, using a gentle twisting motion to help it stick.  Immediately roll edges in crushed candy canes.  Repeat.  Keep refrigerated until serving.
Recipe modified from "Chocolate Candy Cane Whoopie Pies," yourcupofcake.com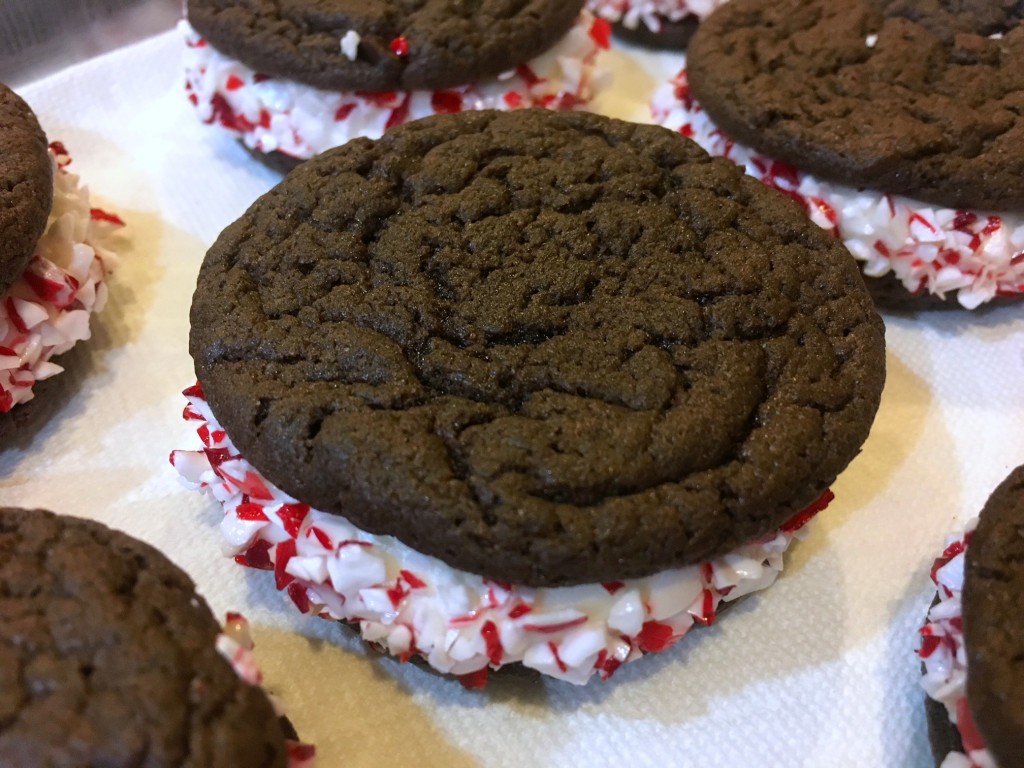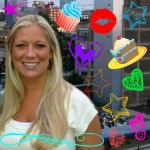 I'm a self-taught Betty Crocker. Food should be pretty, delicious and have sprinkles. Professionally I'm a clinical social worker. Follow me on Facebook and Pinterest- Sugar and Spice Baking Blog- for great recipes, amazing restaurants and culinary adventures.