Pumpkin Gingerbread turns into 3 different and delicious treats.  One kind has toasted pecans and golden raisins, the second has dried cranberries and white chocolate chips and the last is plain with white chocolate and fresh orange zest.  Pumpkin Gingerbread makes a delicious gift for friends, family and coworkers.
You can easily modify the add-in ingredients to accommodate allergies or preferences.  (For example, everyone knows Janice in accounting hates nuts.  Use regular raisins instead of pecans.  Or leave the pecans in and watch Janice get upset.  Either way.)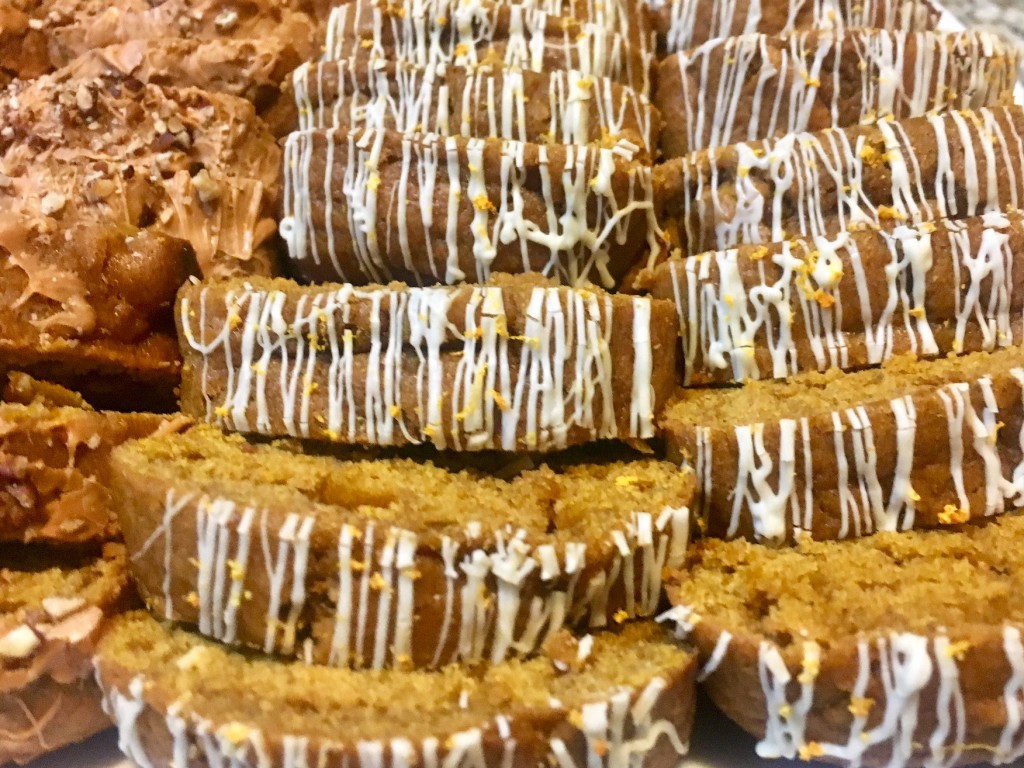 Pumpkin Bread 3 Ways
Makes 12 miniature loaves
Ingredients:
3/4 C (1 1/2 sticks) butter, softened
1 1/4 C brown sugar
2 3/4 C flour
2 t baking powder
3/4 t salt
2 t cinnamon
1/4 t allspice
1/4 t ground cloves
1/2 t freshly grated nutmeg
3 eggs
2 T molasses
2 C pumpkin puree (not pumpkin pie filling)
1/2 C toasted pecans
1/2 C golden raisins
1/2 C dried cranberries
1/2 C dark chocolate chips
1/4 C white chocolate chips
Fresh orange for zesting
Directions:
Heat oven to 350.  Grease miniature loaf pans.
In a medium bowl mix flour, baking powder, cinnamon, allspice, cloves and nutmeg.  Set aside.
In a large bowl use hand mixer to cream butter and brown sugar.  Add in eggs one at a time, scrape sides.  Add in molasses and pumpkin puree.
Add flour mixture and mix until just combined.
Separate batter into three bowls, making one slightly bigger than the others.
Add toasted pecans and golden raisins to one bowl.
Add dark chocolate chips and dried cranberries to the second bowl.
Allow the third (and slightly bigger) bowl to stay plain.  You want to leave a bit more batter because the extra ingredients in the other two batches increase the volume.
Distribute into miniature loaf pan, filling wells 2/3 full.
Bake 22-25 minutes until loaves lightly browned on the edges and the middle springs back if touched.  A toothpick inserted in the center will come out clean.
Set aside to cool.  You may have to run a butter knife around the edges to loosen the loaves.
Finish the plain pumpkin gingerbread by melting the white chocolate chips in the microwave using 30 second bursts.  Drizzle on top and sprinkle with fresh orange zest.
Want to get extra fancy?  Melt a handful of dark chocolate chips and add chocolate sprinkles to dark chocolate cranberry bread and butterscotch chips with pecans for the pecan golden raisin.
To send as gifts, wrap in pretty food safe paper.  Another option would be to buy holiday themed disposable mini loaf pans or a cute ceramic pan you can gift with dessert baked inside.
Recipe modified from "Pumpkin Gingerbread with Orange," kingarthurflour.com