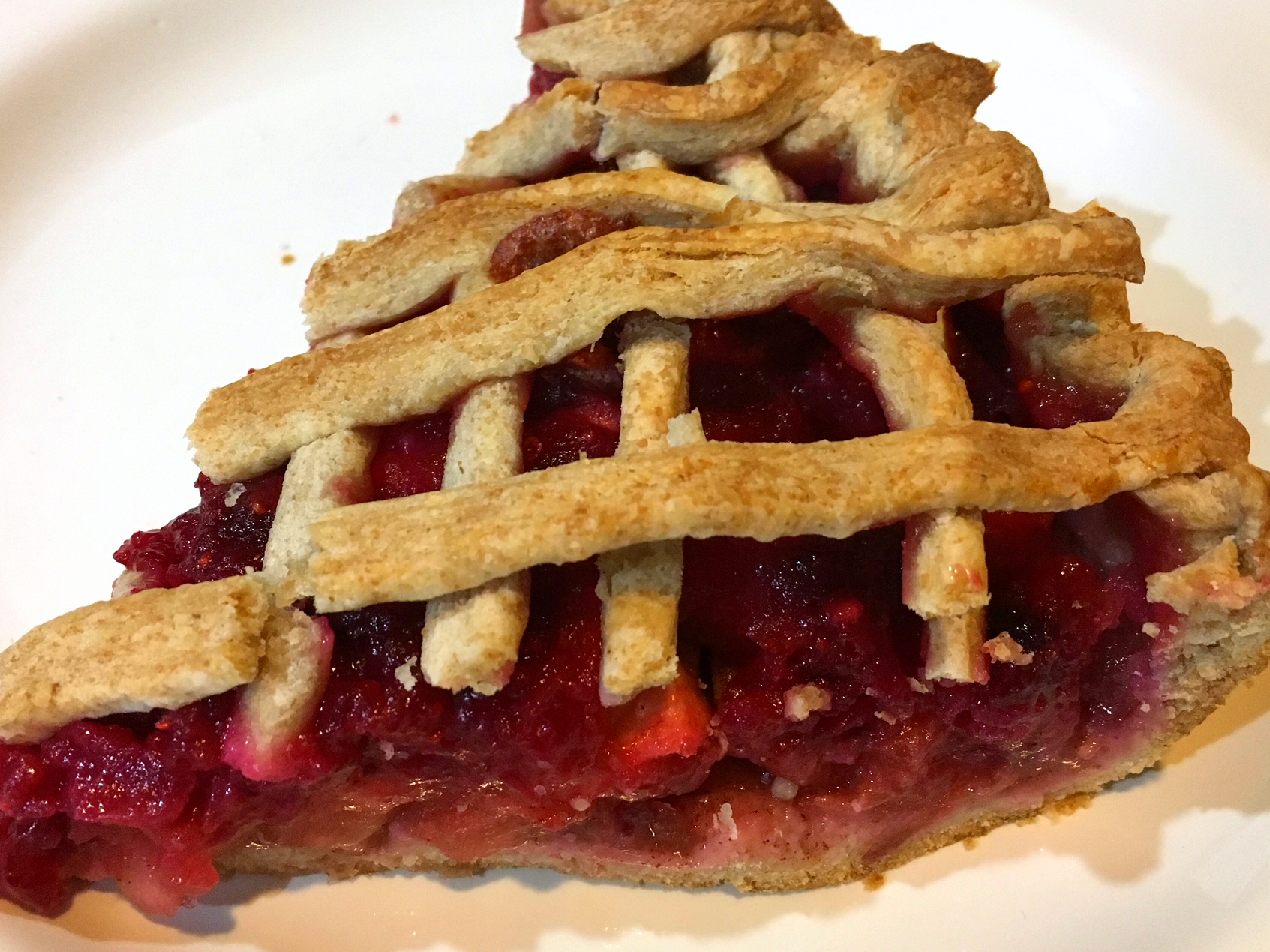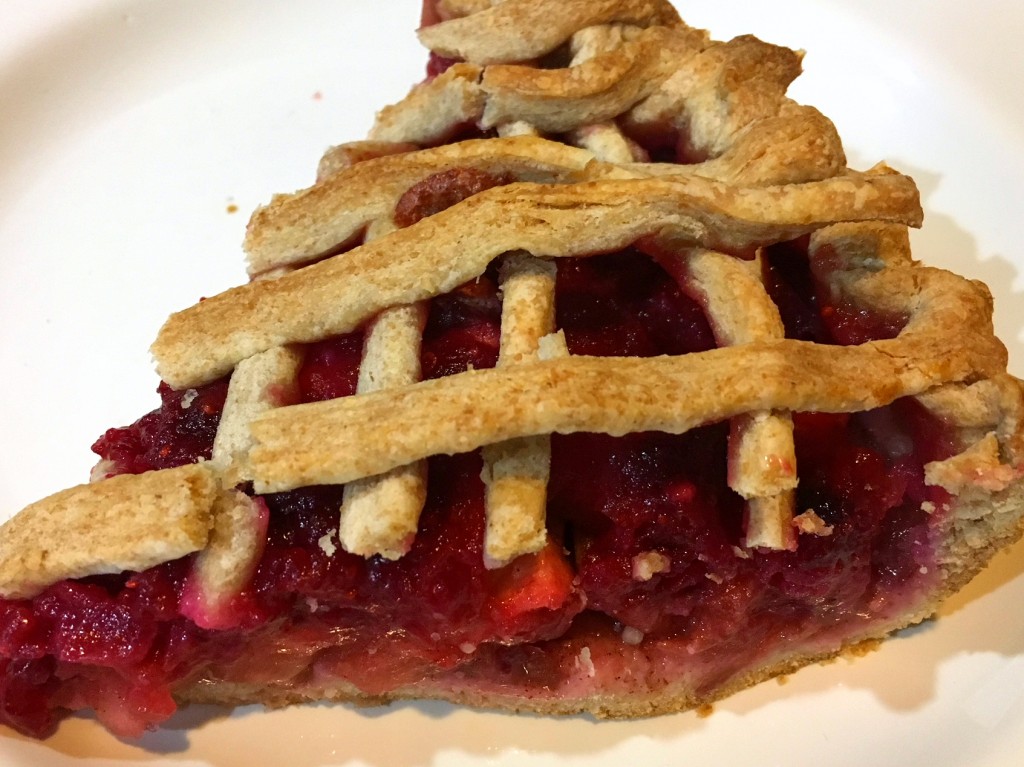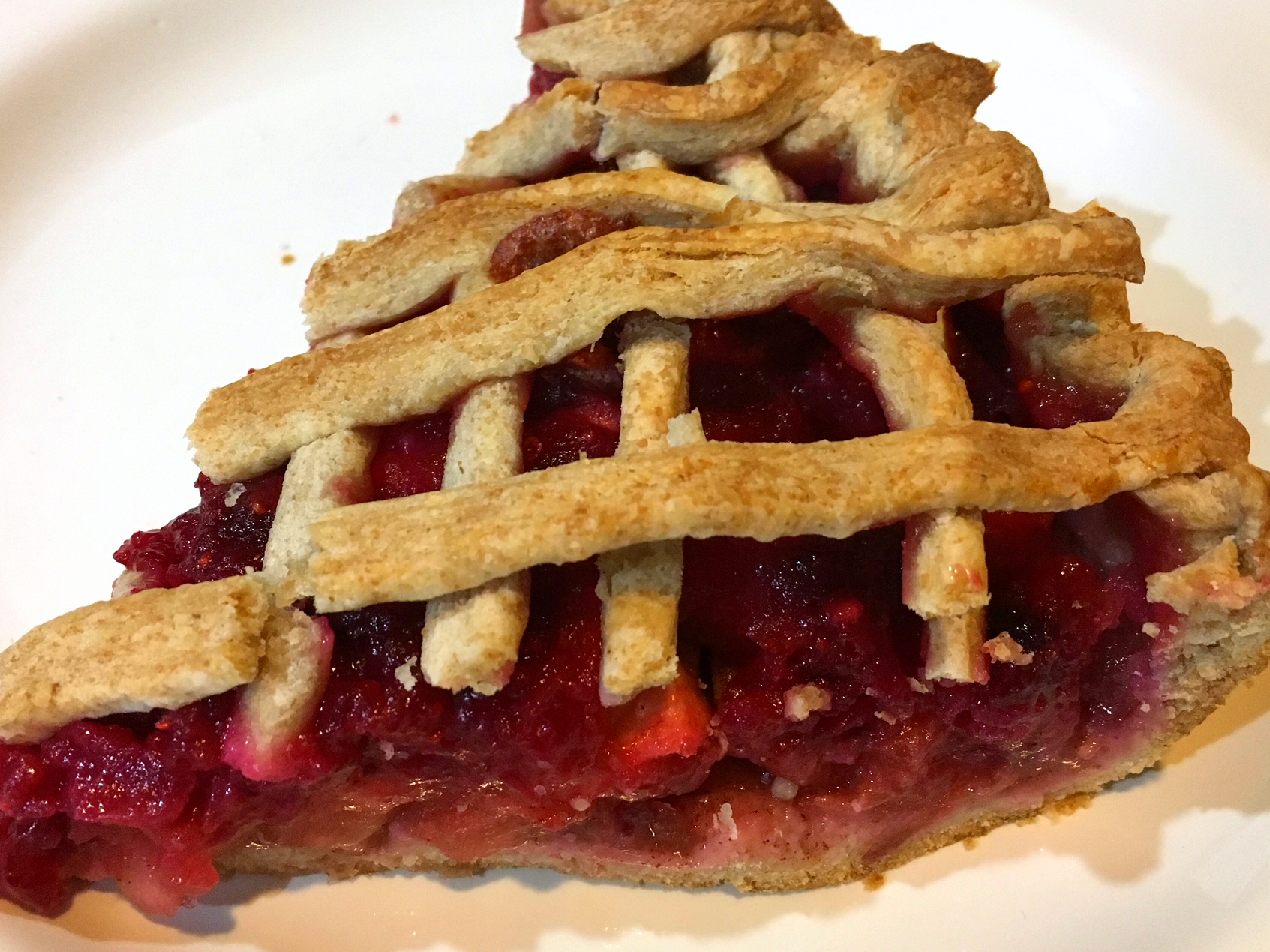 Cranberry Apple Pie is a beautiful addition to a holiday meal.  Perfect for Thanksgiving or Christmas, the crust and cranberry compote can be made ahead of time.  Just add apples and bake, serving with ice cream.  Your guests will be thankful for you!
Cranberry Apple Pie
Serves 12
Ingredients:
Whole Wheat Pie Crust
2 C flour
1 C whole wheat flour
3/4 t salt
2 sticks butter, softened slightly
About 10 T ice water
Cranberry Compote
1 1/2 C fresh or frozen cranberries
1 C sugar
1/2 t freshly grated orange zest
1 T flour
1/3 C apple juice
1/2 t almond extract
Apple Filling
3 large baking apples, peeled and sliced
1/4 C pecan pieces, toasted
1/2 cinnamon
1 T butter
Directions:
Prepare the pie crust and cranberry compote a day ahead.  This will make things easier on "Big Dinner Day."
To make pie crust, put butter, flour, whole wheat flour and salt in a large bowl.  Use a pastry cutter or two forks to cut butter into the dry mixture.  Stop when it resembles coarse cornmeal.
Sprinkle ice water in 2 T increments, mixing gently until the crust comes together.  Sometimes it takes a little more or less water depending on the weather.  Wrap tightly in plastic wrap and refrigerate at least 3 hours, overnight is better.  Don't skip this step, pie crust needs to rest for gluten bonds to form and hold the dough together.
To make cranberry compote, combine cranberries, sugar, apple juice, flour, orange zest and almond extract in a small sauce pan with a lid.  Boil on medium for 2 minutes or until cranberries begin to pop.  Use a potato masher or a fork to make sure cranberries have burst.  Transfer to another bowl, cool and refrigerate.
To prepare pie, heat oven to 425.
Remove pie crust from the refrigerator and cut into two pieces.  Roll out one crust on a clean, lightly floured counter top.  Place in pie pan.
To prepare the apple filling, toss the peeled and sliced pieces in a bowl with cinnamon and toasted pecan pieces.  Pour into pie crust.  Divide butter into little pieces, set on apples.
Gently spoon cooled cranberry compote over apples, spreading evenly.
Roll out remaining pie crust.  The wheat flour makes the dough easier to handle, this pie is perfect for lattice crust or pretty shapes with cookie cutters.
Crimp the edges and top the pie.  If you are using a full crust on top, be sure to cut vents.
Bake for 40-45 minutes until filling is bubbling and pie crust is lightly golden.  Cool slightly and serve with vanilla ice cream.
Recipe modified from "Apple Cranberry Pie," kingarthurflour.com