Lemon Blackberry Unicorn Cupcakes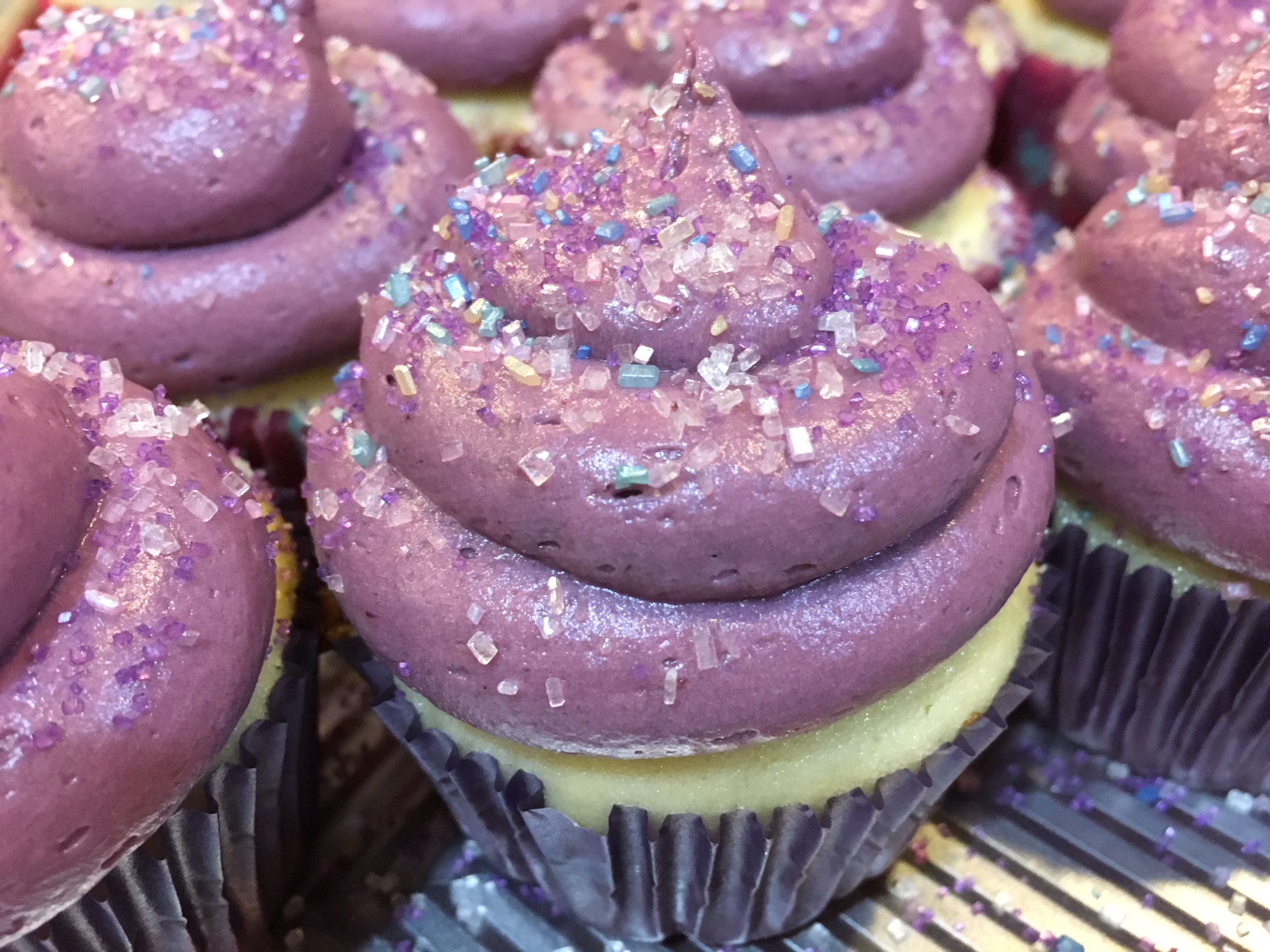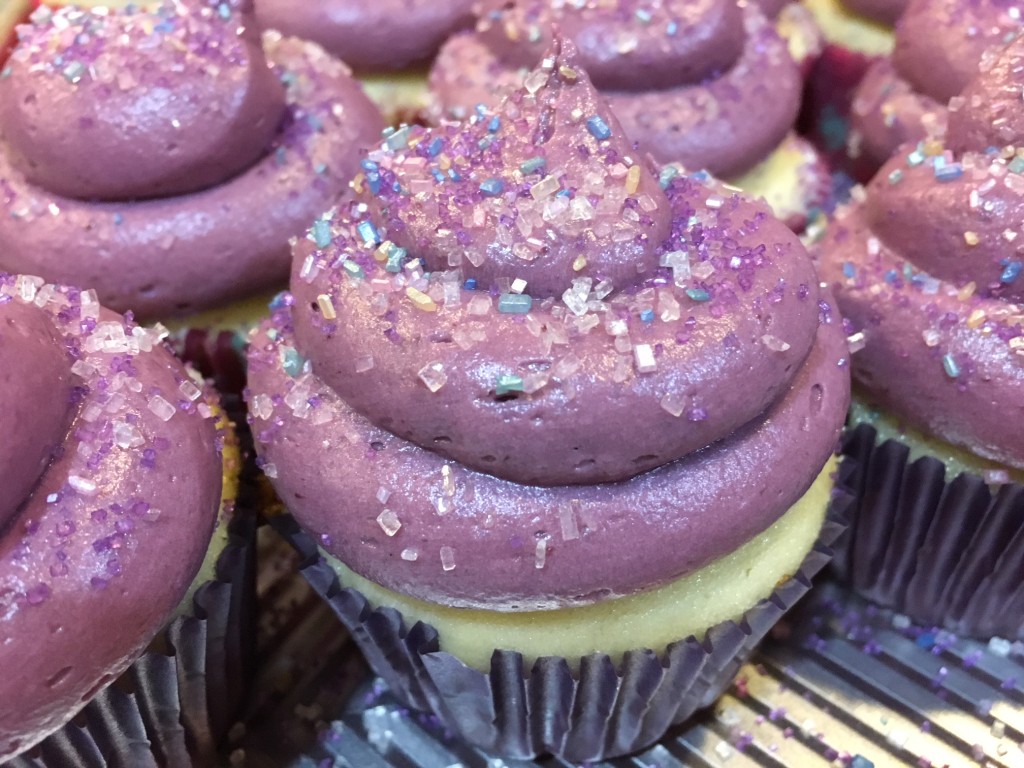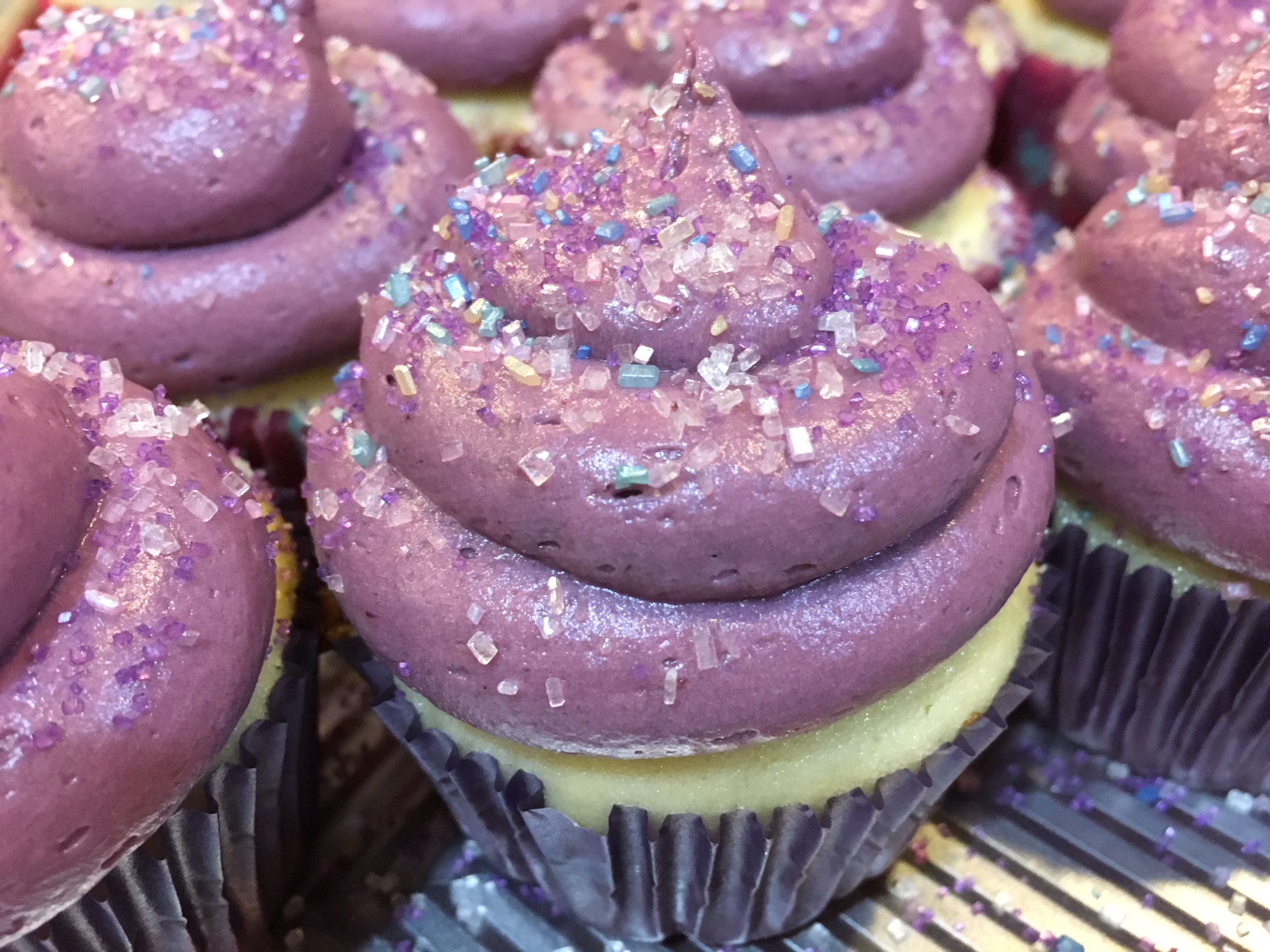 A friend at work brought me a cupcake and asked me to figure out what went wrong.  She thought she messed up, the cupcake was a lemon brick and the blackberry frosting had curdled.  I asked if she had the recipe, when I looked it over it turned out she did everything right.  She had a bad recipe.
This stinks and totally happens.  Sometimes you follow every little teeny tiny direction… and the recipe still turns out poorly.
She asked me to fix the recipe because she really wanted lemon blackberry cupcakes.  Although it seems out of season, it's a nice surprise among heavier flavors of pumpkin, maple and gingerbread.  I went with my lemon sunshine cupcake recipe and filled them with homemade blackberry jam.
The best part was the blackberry frosting, it turned out an amazing shade of purple and begged for sprinkles…  and I accidentally ended up cupcakes which are spot on for the unicorn craze.  (We will not talk about how many kinds of sprinkles are in my cupboard… hint: 20+).
I'm not sure if my friend was planning for Lemon Blackberry Unicorn Cupcakes… I hope she likes them!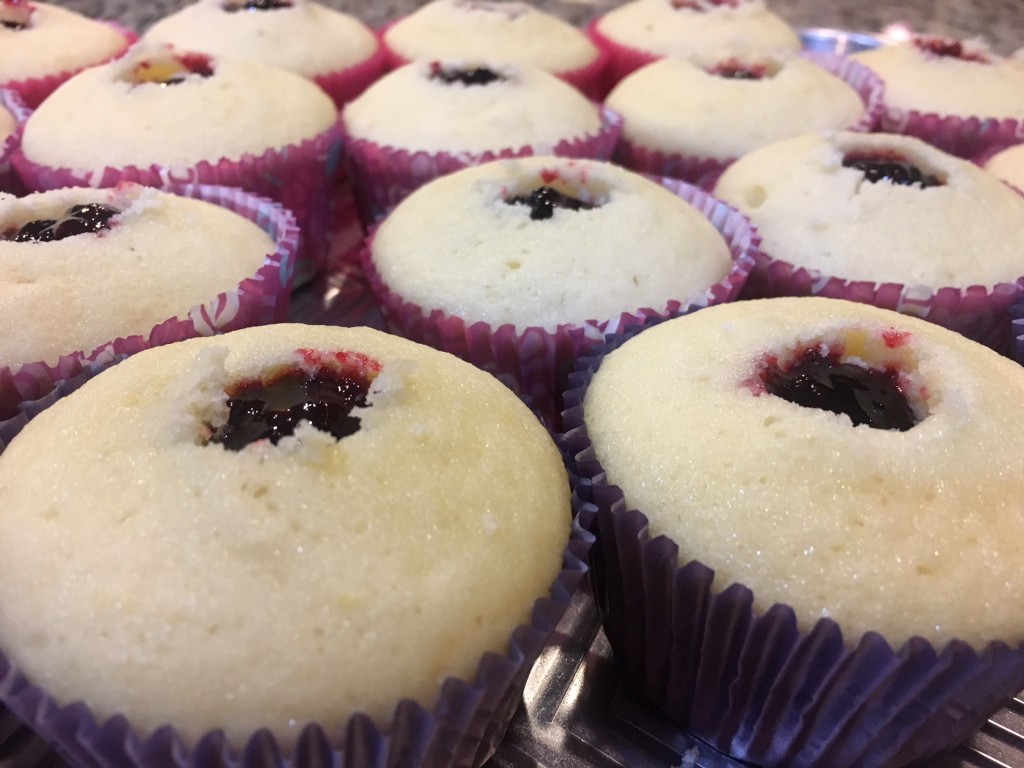 Lemon Blackberry Unicorn Cupcakes
Makes 24 cupcakes
Ingredients:
Lemon Sunshine Cupcakes
3 1/3 C cake flour
3 t baking powder
1/4 t salt
1 C butter, softened
2 C sugar
4 eggs
1 1/2 t vanilla extract
3 large lemons
1 C buttermilk
1 C blackberry jam or preserves
Blackberry Frosting
1 C (2 sticks) butter
1 C fresh blackberries
1 large lemon, zest and juice
12 C powdered sugar
1/2 t fiori di sicilia extract
Blue food coloring (optional)
Directions:
Heat oven to 375.  Line muffin pans with wrappers.
Wash, zest and juice lemons.  Set aside.  You should have around 4 T lemon zest and 4 T lemon juice.  I recommend a plane grater and a citrus juicer.  You don't need anything fancy, mine were generic brand for about $5 each at the grocery store.
Combine flour, baking powder and salt.  Set aside.
In stand mixer with paddle attachment, cream butter and sugar.
Add eggs one at a time.  Add vanilla.  Add lemon juice and zest.
Alternate adding flour mixture and buttermilk.  Try not to overbeat.  Batter will be fluffy.
Distribute into prepared muffin pan, about 2/3 full.
Bake 15-18 minutes until toothpick inserted in the center comes out clean.  Divide time between lower and upper oven racks.  Set aside.
When cupcakes are cool, use a small sharp knife to make a 1/2 inch hole into the center of each cupcake.  Put the blackberry jam into a plastic bag and snip the corner.  Pipe into cupcakes.
You can start the blackberry frosting while the cupcakes are baking.  Combine blackberries, lemon juice and lemon zest in a saucepan.  Cover and cook over medium, berries will start to burst.  Mash with a fork.  Set a strainer over a bowl and work blackberry mixture through the strainer.  You should end up with about a cup of juice.  If you skip straining the liquid you will end up with frosting full of seeds, blackberries have tons.  Allow to cool to room temperature.
Use a stand mixer to cream butter.  Add blackberry juice mixture and fiori di sicilia.  Mix until combined.  It will probably look curdled, don't worry.  Add powdered sugar in 2 C increments.  Beat on medium high.  The frosting will smooth out.
If you wish, add a few drops of blue food coloring.  Blackberries are more of a pink purple shade, blue moves the color to "true" purple.  They're delicious either way.
Pipe frosting on cupcakes.  Cover the jam.  Add sprinkles.  I used coarse white sugar, pastels and purple sanding sugar.
Recipe modified "Lemon Cupcakes," friedbluetomato.com