Salted Espresso Oatmeal Cookies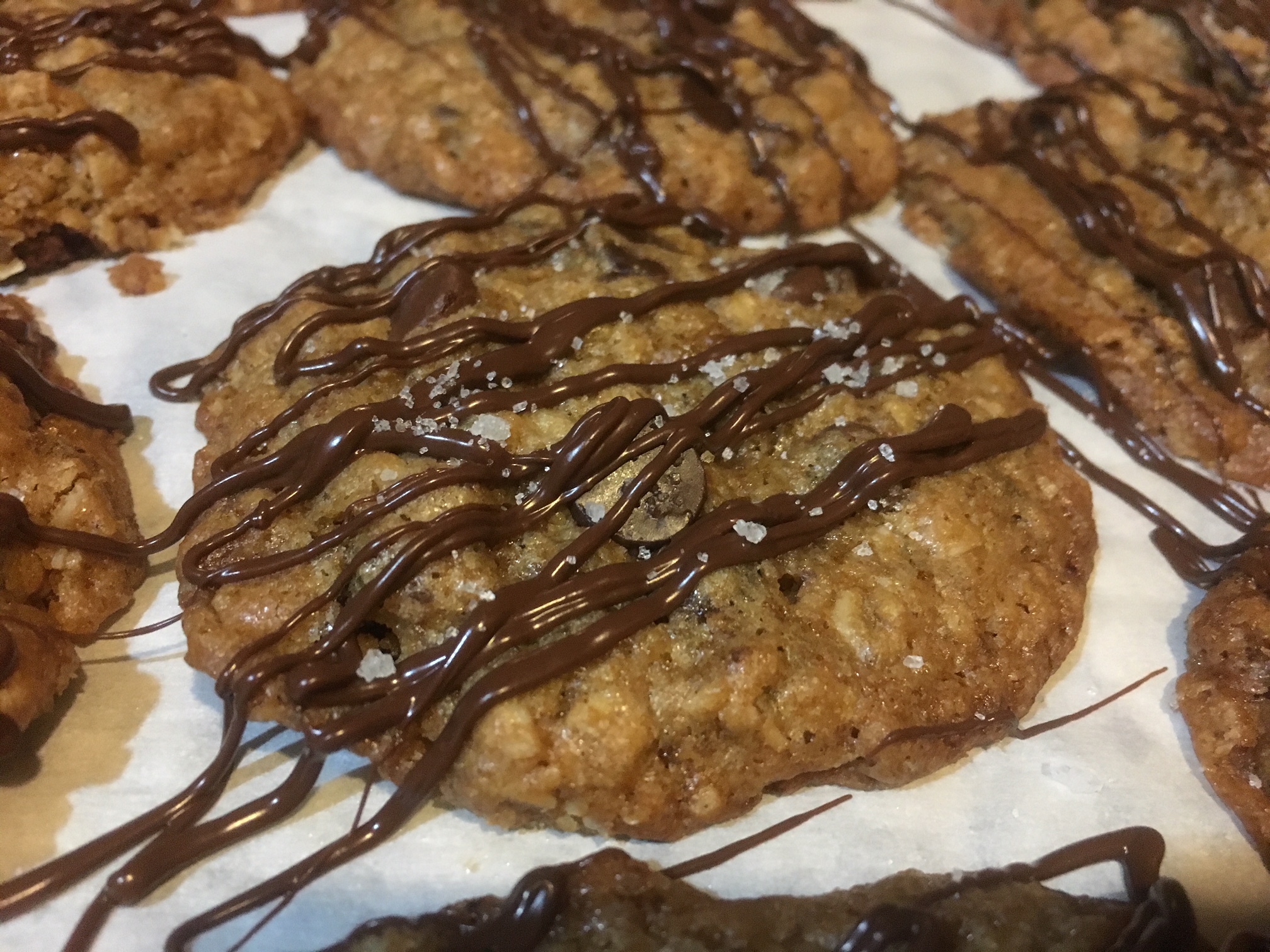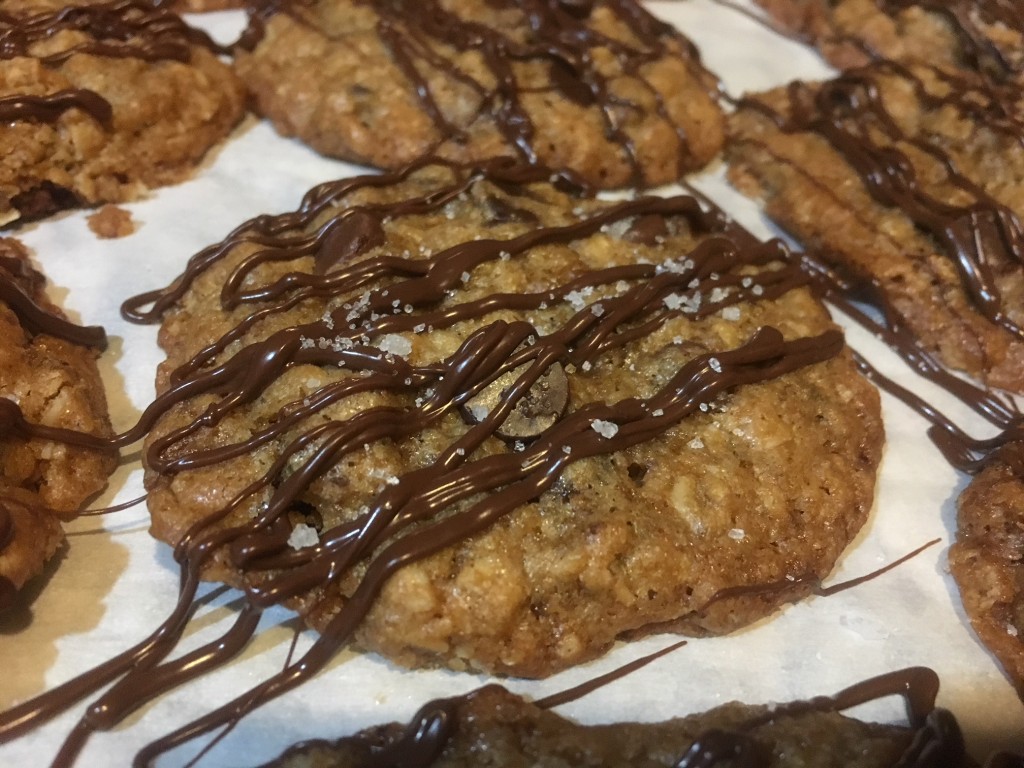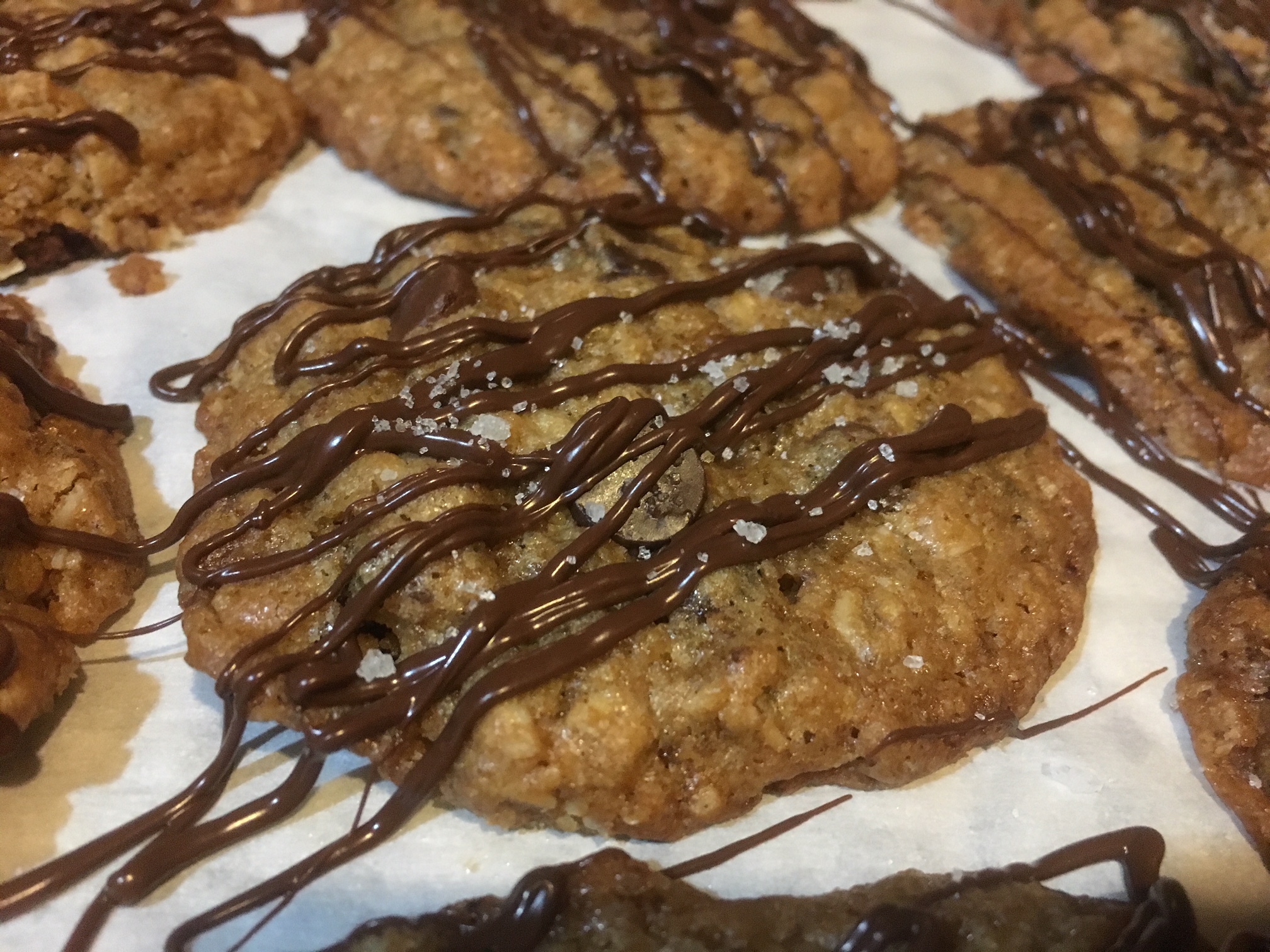 I just got back from a trip to the east coast.  We visited multiple states, fun restaurants, local bakeries, hole-in-the-wall eateries and historical attractions.  One of my favorites encounters was meeting Mama Jo and her famous pepperoni rolls at the Step in Time Bake Shop in Harper's Ferry, West Virginia.  To stay in touch with my culinary adventures, follow Sugar and Spice Baking Blog on Facebook.
While we were away, I tried a salted oatmeal cookie from a bakery in New York.  They served it with coffee and the bitterness of the espresso was a perfect counterpoint to the salty, sweet cookie.  I figured we could put the two together and came up with a crispy, chewy, chocolate wonder.  These would also be delicious with milk.
Salted Espresso Oatmeal Cookies
Makes 24 cookies
Ingredients:
1 1/2 C flour
1 T instant espresso powder
1/2 t baking powder
1/4 t salt
1 C butter, softened
1 C brown sugar
1 C sugar
1/2 t vanilla
2 eggs
 3 C rolled oats
2 C dark chocolate chips
3 T flaked sea salt or fleur de sel for sprinkling
1/4 C dark chocolate chips
Directions:
Heat the oven to 350.  Line baking sheets with parchment paper.
Mix flour, espresso powder, baking powder and salt.  Set aside.
Use a stand mixer to cream butter until light and fluffy, about 2 minutes.  Add brown sugar.  Add vanilla and eggs.  Scrape sides if needed.
Add flour espresso mixture.  Blend on low until just combined.  Add oats and dark chocolate chips.  Mix gently, mixture will be very thick.
Place balls of dough about 2 T in size on the cookie sheets.  These will spread, allow room. Bake 20-22 minutes until edges are golden.  I split the time 10 minutes on the lower third rack, 10 minutes on the upper third rack.
Cookies will be soft immediately when they come out of the oven, you can use this time to carefully reshape them if they get a little lumpy during baking.  I use a butter knife and gently pat the edges.  Allow to cool.
Melt 1/4 dark chocolate chips and drizzle over cookies.  Sprinkle with fleur de sel.
Recipe modified from "Espresso Chocolate Cookies," browneyedbaker.com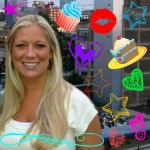 I'm a self-taught Betty Crocker. Food should be pretty, delicious and have sprinkles. Professionally I'm a clinical social worker. Follow me on Facebook and Pinterest- Sugar and Spice Baking Blog- for great recipes, amazing restaurants and culinary adventures.