Pumpkin Spice Cake with Brown Butter Frosting and Hazelnut Brittle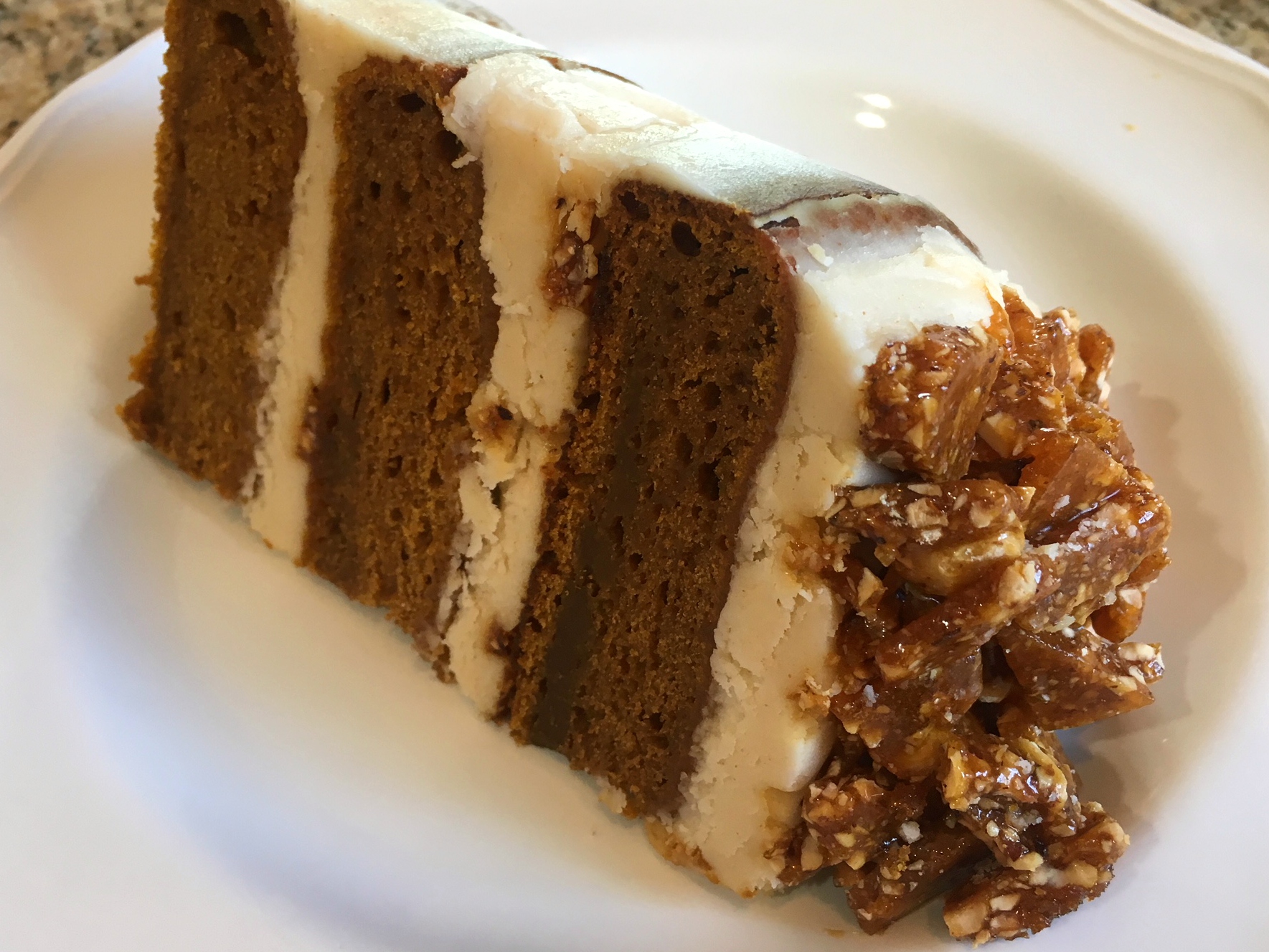 It's been a busy few weeks.  Between being out of town for work and juggling the rest of my life, blogging sometimes gets shuffled to the back burner (pun intended).  This doesn't mean I quit cooking or baking, it just means I haven't extra time to write things up.
Back on task.  I made this incredible Pumpkin Spice Cake with Brown Butter Frosting and Hazelnut Brittle a few weeks ago for my father-in-law's birthday.  The cake is dense and fragrant and the Brown Butter Frosting is to die for.  Lastly, the crunchy, sweet and slightly burned sugar taste of the Hazelnut Brittle tops things off perfectly.  This cake is perfect for a fall celebration.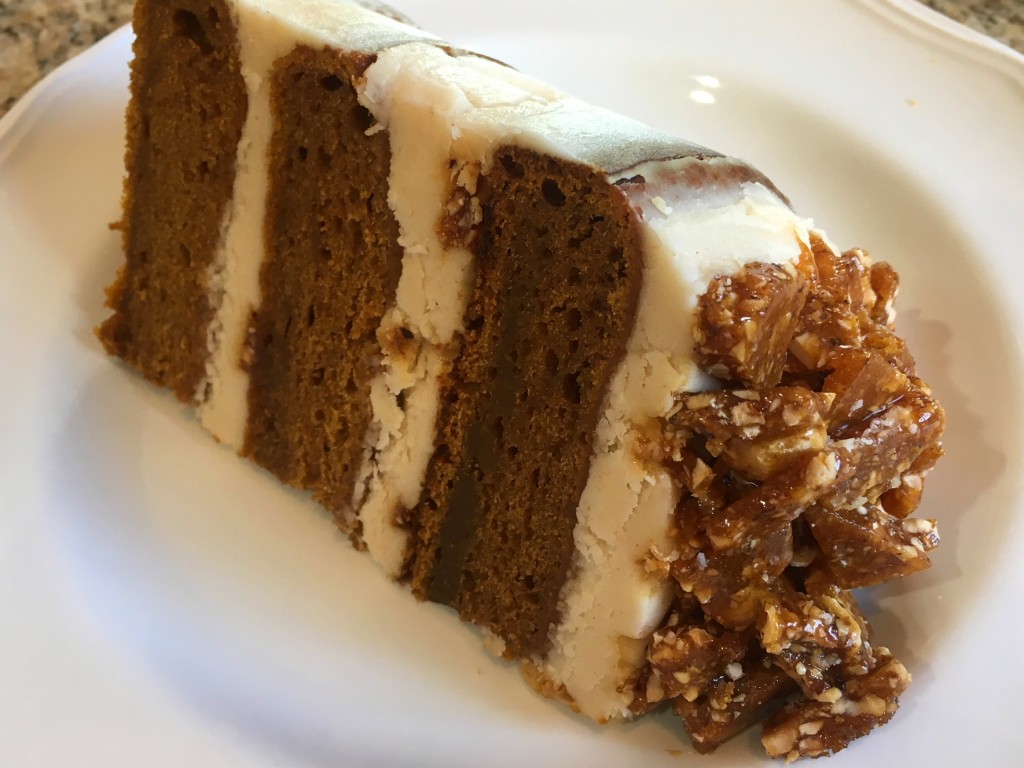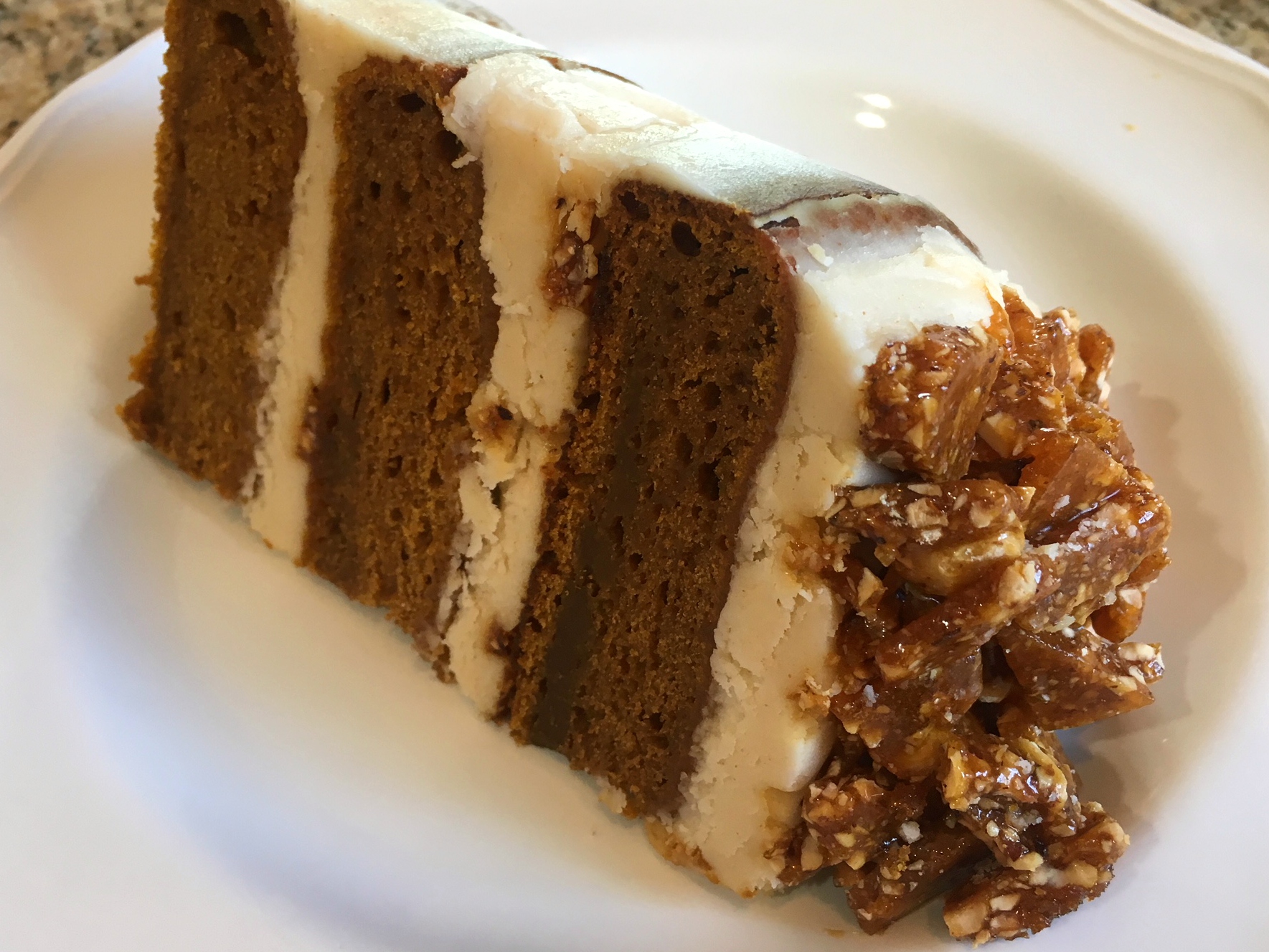 Pumpkin Spice Cake with Brown Butter Frosting and Hazelnut Brittle
Serves 12
Ingredients:
Pumpkin Spice Cake
2 C flour
2 t baking powder
1/2 t baking soda
1/2 t salt
1 1/2 t cinnamon
1 t ginger
3/4 t freshly grated nutmeg
1/2 C toasted pecan pieces (optional)
3/4 C (1 1/2 sticks) butter, browned and cooled
1 1/2 C brown sugar
1/4 C sparkling apple cider (or bourbon if it's only for adults)
2 eggs
1 1/2 C pumpkin puree (not pie filling)
Brown Butter Frosting
 1 C (2 sticks) butter, browned and cooled
8 oz (1 package) cream cheese, softened
Pinch salt
1/2 t vanilla extract
8 C powdered sugar
Hazelnut Brittle
1 C sugar
1/4 C water
pinch salt
1 C toasted hazelnut pieces
Directions:
Heat oven to 350.  Grease 3 8-inch cake pans and line with parchment circles.
In a separate bowl, combine flour, baking powder, baking soda, salt, cinnamon, ginger, freshly grated nutmeg and pecan pieces (if using).
In another bowl, use a hand mixer to combine browned butter, brown sugar, sparkling cider (or bourbon), eggs and pumpkin puree until smooth.  Gently fold the pumpkin mixture into the flour until just mixed.
Distribute between the 3 pans, smooth the tops.
Bake cake for about 45 minutes, rotating between racks in the oven.  A toothpick will come out clean.  Cool and remove from pans.  Be sure to pull off the parchment paper.  Allow cake to be completely cooled before frosting.
To make Brown Butter Frosting, use a stand mixer to beat together browned butter and cream cheese until smooth.  Add vanilla and pinch salt.  Add powdered sugar in 2 C increments.  Frosting should be thick but spreadable.
To make Hazelnut Brittle, line a rimmed baking sheet with a piece of parchment paper.  (I used wax paper by accident the first time because I wasn't paying attention.  I had a melted sugary mess glued to the baking sheet.  Aargh.  Stick with parchment paper, it will work fine.)
Dump water and sugar into a saucepan.  Turn stove to medium high heat until the sugar dissolves and the pan becomes a deep amber color.  Don't stir, you can swirl the pan if you need to.  Remove and immediately stir in hazelnuts then pour on prepared pan.  This stuff hardens quickly, you want to make sure everything is ready before you start boiling the sugar.  Once cooled, break into pieces.
To assemble the cake, place one layer on a cake stand.  Roughly split frosting into quarters.  Put one quarter of the frosting into the middle of the first layer, spread with spatula.  Sprinkle a few pieces of hazelnut brittle.  Gently set on the next layer and repeat.  When you get to the top, pause before piling on brittle.
Use the remaining quarter to fill in the gaps around the layers on the edges, scraping until everything is even.  Apparently "naked cakes" are super trendy right now, meaning you can see the layers.  Pile up any extra frosting on the top of the cake and add remaining hazelnut brittle.
Serve with milk or coffee.  Refrigerate leftovers if you have any.
Recipe modified from "Hazelnut Crunch Pumpkin Cake with Brown Butter Cream Cheese Frosting" by Cindy, hungrygirlporvida.com