Blackberry Sour Cream Crumble Pie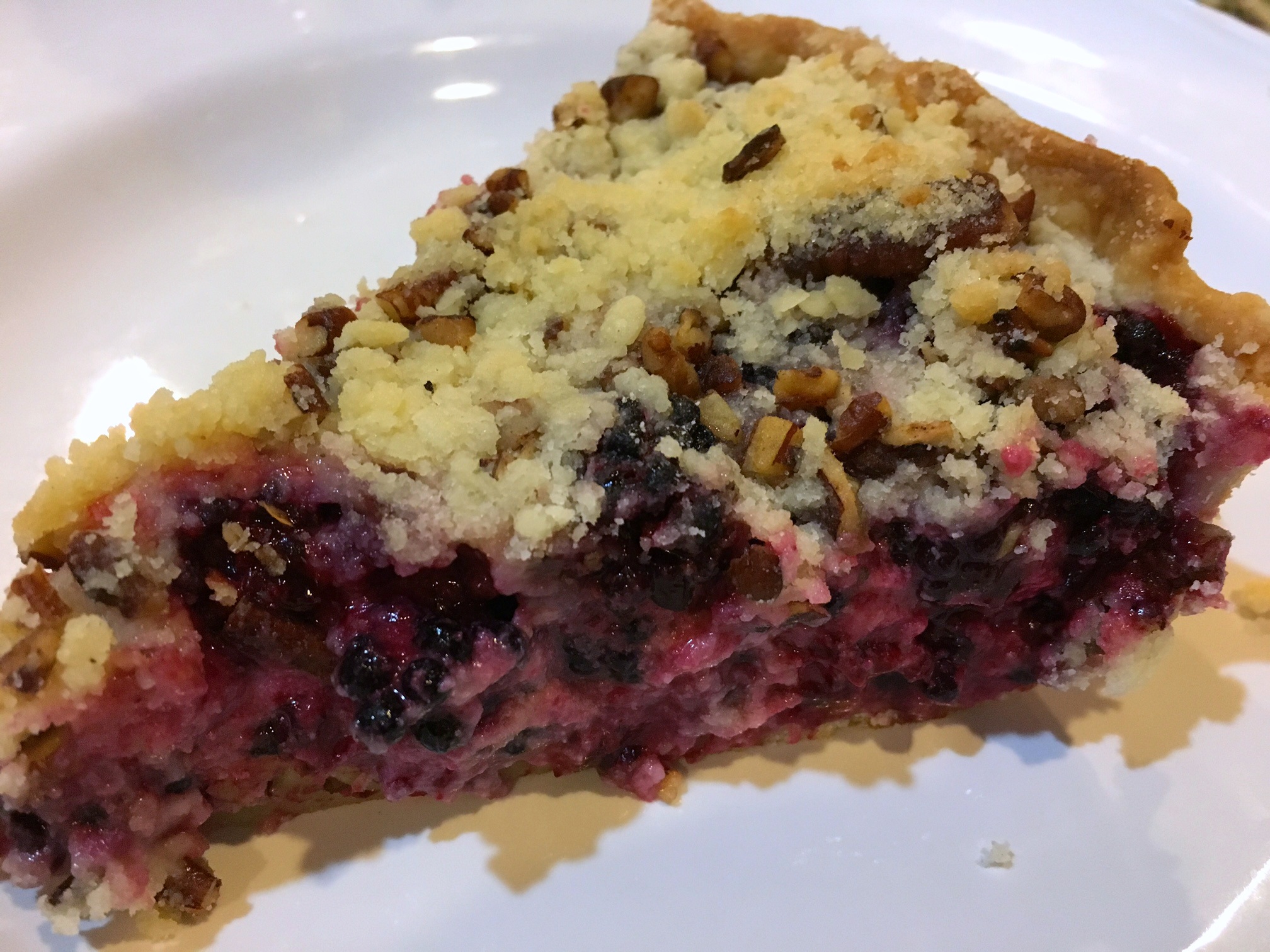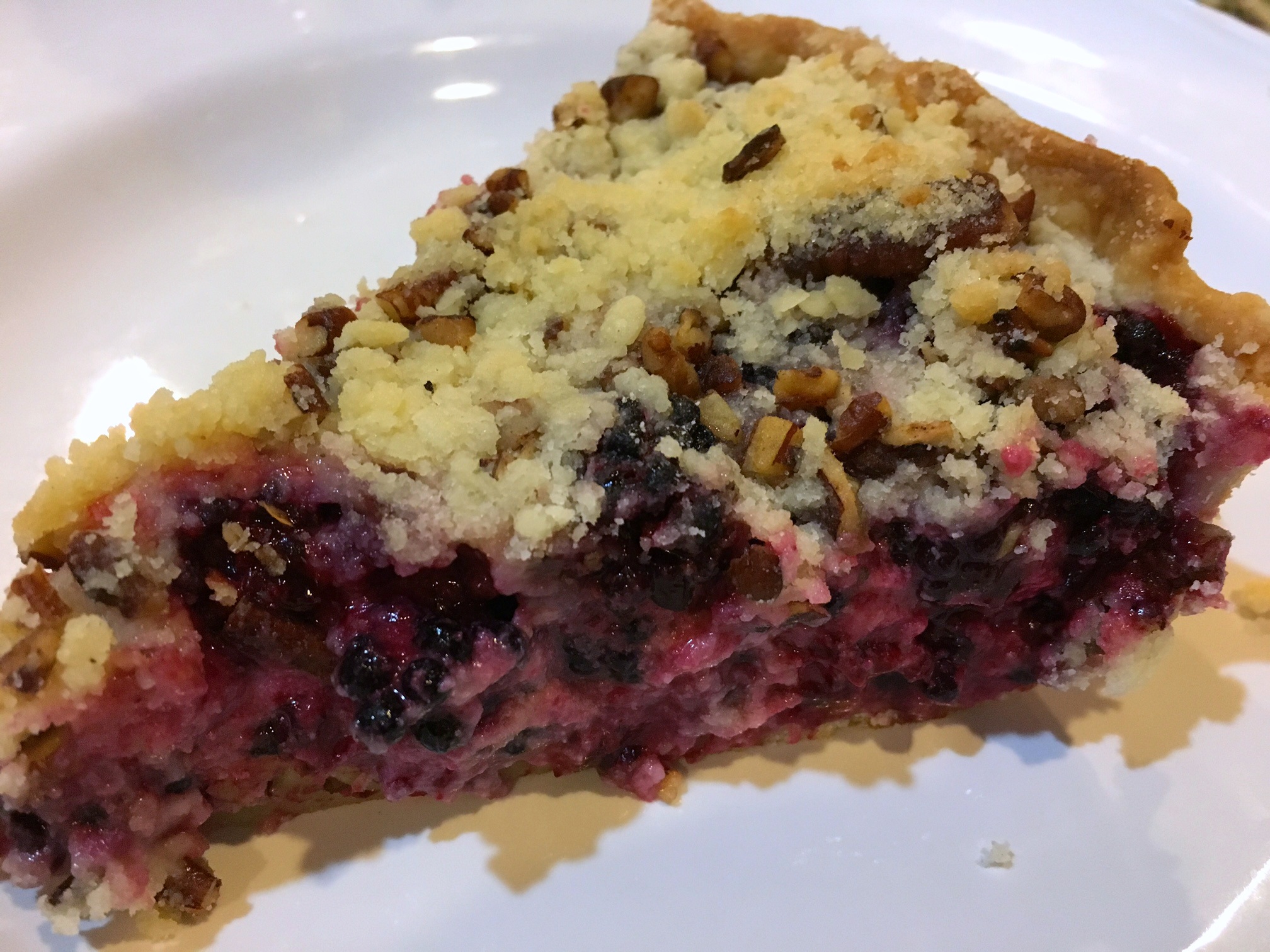 Blackberry Sour Cream Crumble Pie is a perfect way to show off summer fruit.  Make the pie crust a day ahead and be sure to let it rest before baking.  Don't cheat… you'll be grateful for the flaky, tender buttermilk pie crust that doesn't tear when you roll it out.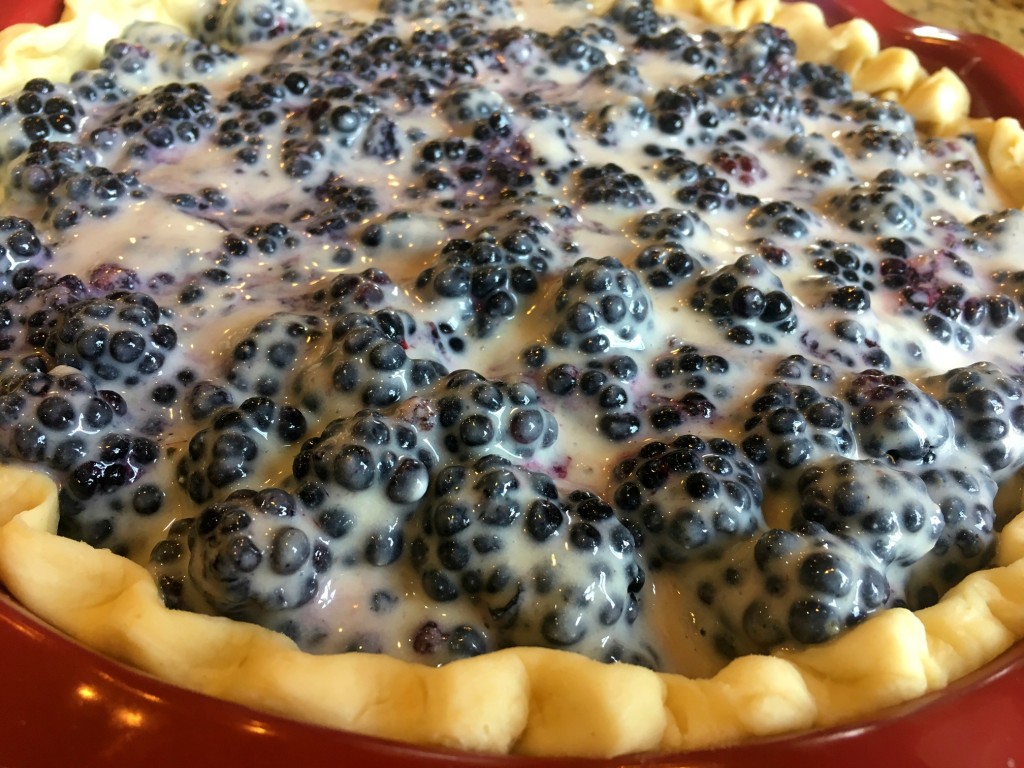 Blackberry Sour Cream Crumble Pie
Serves 8-12 (depending how big you slice it)
Ingredients:
Buttermilk Pie Crust
1 stick (1/2 C) butter, slightly softened
1 1/2 C flour
1/4 t salt
1/4 t baking powder
2-6 T buttermilk
Blackberry Sour Cream Filling
1 C sour cream
1 beaten egg
3/4 C sugar
2 1/2 T flour
1/4 t salt
1 t Fiori di Sicilia extract (almond can substitutes)
4 C fresh blackberries, rinsed and patted dry
Crumble Topping
6 T flour
2 T brown sugar
4 T cold butter, cut into pieces
1/2 C chopped pecans
Directions:
Start a day ahead of time.  Use a pastry cutter to cut butter and flour together in a large bowl.  Sprinkle salt and baking powder.  Continue to blend until mixture resembles coarse crumbs.
Pour 2 T buttermilk into flour mixture.  Carefully mix with very clean hands, dough will start to come together.  It will be sticky at first.  If you need more liquid, add buttermilk in 1 T increments.  It may not need all the liquid.  This isn't an exact process, just mix gently, using the dough to pick up dry bits of flour in the bottom.  When dough pulls into a ball, wrap tightly in plastic and refrigerate overnight.
Heat oven to 400.
Remove pie crust from refrigerator.  Roll out crust on a lightly floured countertop.  Place in pie pan.  If you want to be fancy, flute the edges with your fingers.
Mix sour cream, beaten egg, sugar, flour, salt and Fiori di Sicilia.  Carefully fold in blackberries and transfer into pie crust.
Bake for 30 minutes.  While pie is baking, prepare crumble topping.
Use a pastry cutter to cut butter, flour and brown sugar.  Mixture will resemble coarse crumbs.  Add pecans and mix together.
Remove pie from oven, sprinkle crumble topping over blackberries.  Return the pie to the oven for about 15 more minutes or until crumble topping is lightly golden.  Cool at least 4 hours before serving.  Refrigerate leftovers.
Recipe modified from "Blackberry Sour Cream Pie," by Clarissa Randolph, 2/28/17