We have blueberries growing like mad in the front yard.  While I love fresh summer berries as much as the next girl, it's getting out of control.  Enter King Arthur Flour Bake-A-Long recipes.  The recipes are amazing and a new one is sent to your email FREE every month.  These cute little pies feature a sour cream crust with tangy, sweet filling… they are an excellent solution to the ever-growing pile of blue fruit happening at my house.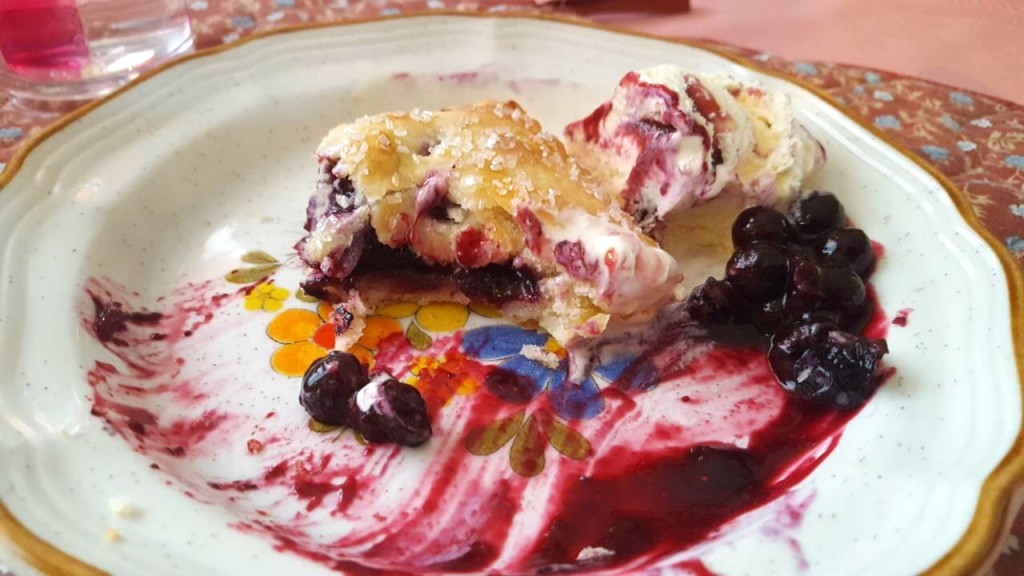 Blueberry Hand Pies
Makes 8 hand pies
Ingredients
Pastry
2 C flour
3/4 t salt
1/2 t baking powder
1 C (2 sticks) cold unsalted butter
1/2 C cold sour cream
Blueberry Pie Filling
2 C blueberries, fresh or frozen
2 T cornstarch (2 1/2 T for frozen berries)
1/3 C sugar
1/8 t salt
1 T fresh lemon juice
1/2 t grated lemon zest
Topping
Instructions
Make the pastry ahead of time.  Whisk flour, salt, and baking powder.  Cut cold butter into pieces, use a pastry cutter to work it into a crumbly mixture.  It is good to leave some chunks, no larger than a pea.  Add sour cream, and stir until the mixture starts to come together in lumps.  Dump it on a clean, floured work surface and knead a few times.  This is not bread, be gentle.
Form the dough into a rough log; use a floured rolling-pin to create an 8″ x 10″ rectangle.  Dust both sides of the dough lightly with flour.  Start with the short end; fold it in three like a business letter.  Flip the dough over, turn 90° and roll it again into an 8″ x 10″ rectangle.  Fold it in three again.  This helps make sure uniform thickness.
Wrap the dough tightly in plastic and chill for at least 30 minutes before using.   Overnight is better.
To make filling, rinse and drain fresh berries.  Place in saucepan.  Mix cornstarch with sugar, pour over berries.  Add salt, fresh lemon juice and lemon zest.  Stir.
Turn sauce pan to medium-high heat.  Stir with a wooden spoon until the small amount of liquid in the bottom of the pan starts to simmer.  Reduce the heat to medium.  Continue to cook, stirring frequently, until the mixture starts to thicken.  This takes about 5 minutes.  You will have a mixture of intact and burst berries.  Transfer the berries to a bowl and cool to room temperature.   You can also make the filling ahead of time and cool overnight.
To assemble and bake pies, heat oven to 425.  Place oven rack in the middle.  Line a baking sheet with parchment paper.
Roll the dough on a clean floured surface, about 14″ x 14″ square.  Dough will be thin but should not tear.  Trim edges and set scraps aside.  Cut out sixteen squares, about 3.5 inches.
Use a pastry brush to lightly apply beaten egg to the edges of 8 squares.  It will look like a picture frame.  Place a heaped tablespoon of blueberry filling in the middle of each one.  Do not over fill.
Set the 8 remaining squares of dough on top of the filling.  Gently press the edges together and use a fork or decorative cutter to press together and seal.  Patch with dough scraps if needed.  Brush the tops of the squares with remaining beaten egg.  Sprinkle with sparkling sugar.  Cut vents. Use a thin spatula to carefully lift the squares on to prepared baking sheet.
Bake 18-20 minutes until golden brown.  Cool for 20 minutes.  Serve warm with ice cream.  If you have left over blueberry filling you can serve it over the tarts.
Pies store covered at room temperature for a couple of days.  They freeze well.
Recipe modified from "Blueberry Hand Pies," kingarthurflour.com, July 2017 Bake-A-Long recipe