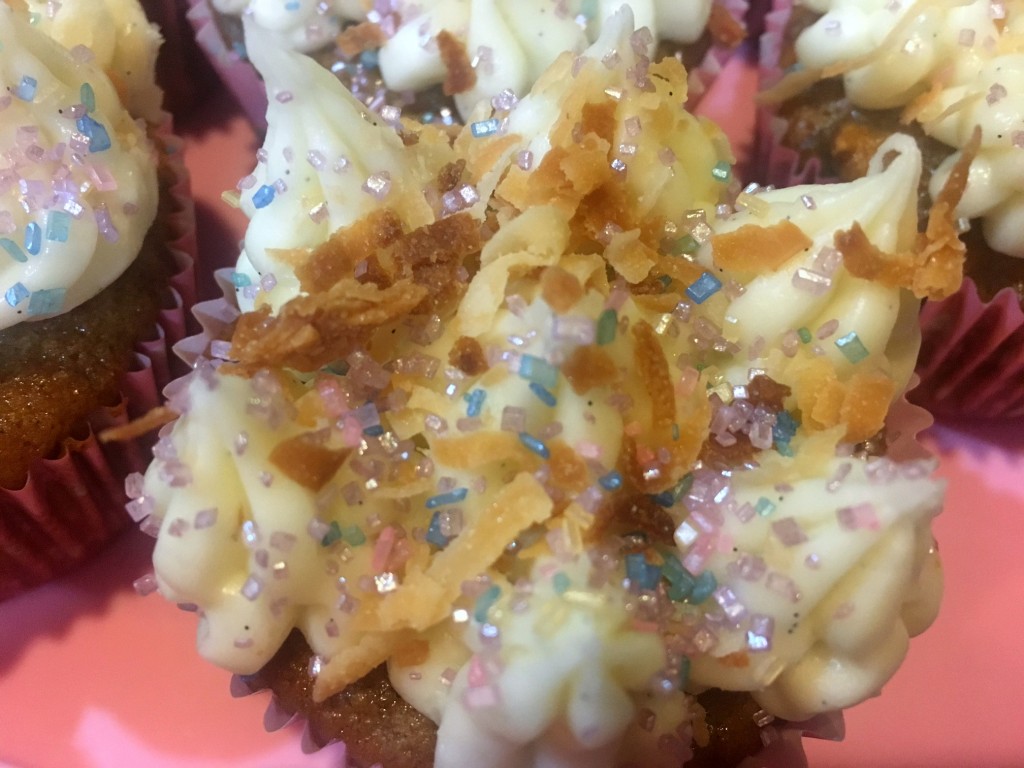 Hummingbird Cake is not made with hummingbirds.  It's a classic Southern recipe that is similar to a piece cake or carrot cake.  Hummingbird Cake is a party of wonderful flavors; banana, applesauce, pineapple, coconut, nutmeg, cardamom and cinnamon.  Add cream cheese frosting and you'll be instantly saying "thank y'all so much for the hospitality."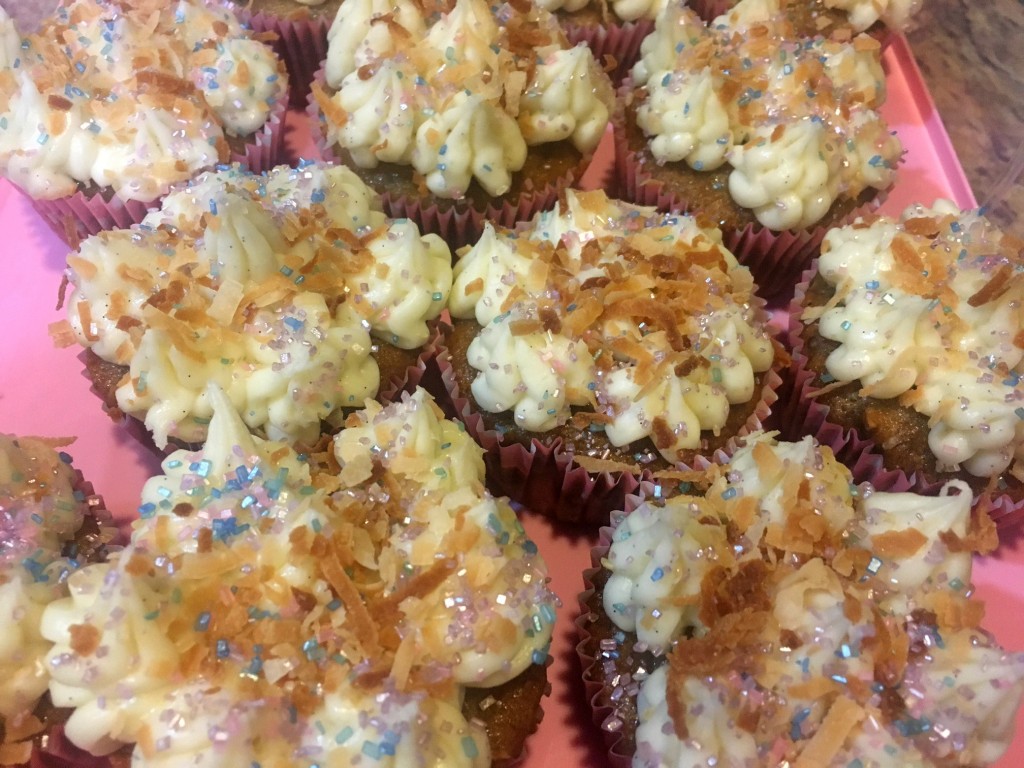 Hummingbird Cake
Makes 24 cupcakes or 2 8-inch rounds
Ingredients:
3 C flour
1 1/2 C sugar
1 t baking soda
1 t cinnamon
1/2 t salt
1/2 t cardamom
1/2 t freshly grated nutmeg
2 eggs
1/2 C applesauce
3 T vegetable oil
1 T vanilla
1 1/2 C very ripe mashed bananas (about 4)
8 oz crushed, undrained pineapple
1 C pecans, toasted and chopped
Simple Cream Cheese Frosting
 2 8oz cream cheeses, softened
2 sticks butter, softened
2 vanilla beans split and scraped
1/4 t salt
6 C powdered sugar
1-2 T whole milk
1 C toasted coconut
Directions:
Heat the oven to 350.  Line muffin pan with baking cups.
Whisk together flour, sugar, baking soda, cinnamon, salt, cardamom and nutmeg.  Set aside.
In another bowl, use a hand mixer to combine eggs, applesauce, oil, banana, pineapple and vanilla.
Dump wet ingredients into dry, mix until just blended.  Add pecan pieces.
Scoop into prepared pan filling 3/4 full.  Bake for 18-20 minutes, splitting time between upper and lower racks of oven.  Use a toothpick to test the center, will come out clean.  Set aside to cool.
To make the frosting, use a hand mixer to beat together cream cheese and butter until smooth.  Add salt and split/scraped vanilla bean paste.  Add powdered sugar in 2 C increments.  Add 1-2 T whole milk or until frosting reaches desired consistency.
Pipe frosting on cupcakes and garnish with toasted coconut.
Listen closely as people eat them… the story of hummingbird cake is people say "Hmmmm… this is good!" every time they have one.
Recipe modified from "Hummingbird Cupcakes," mybakingaddiction.com, guest post by Megan