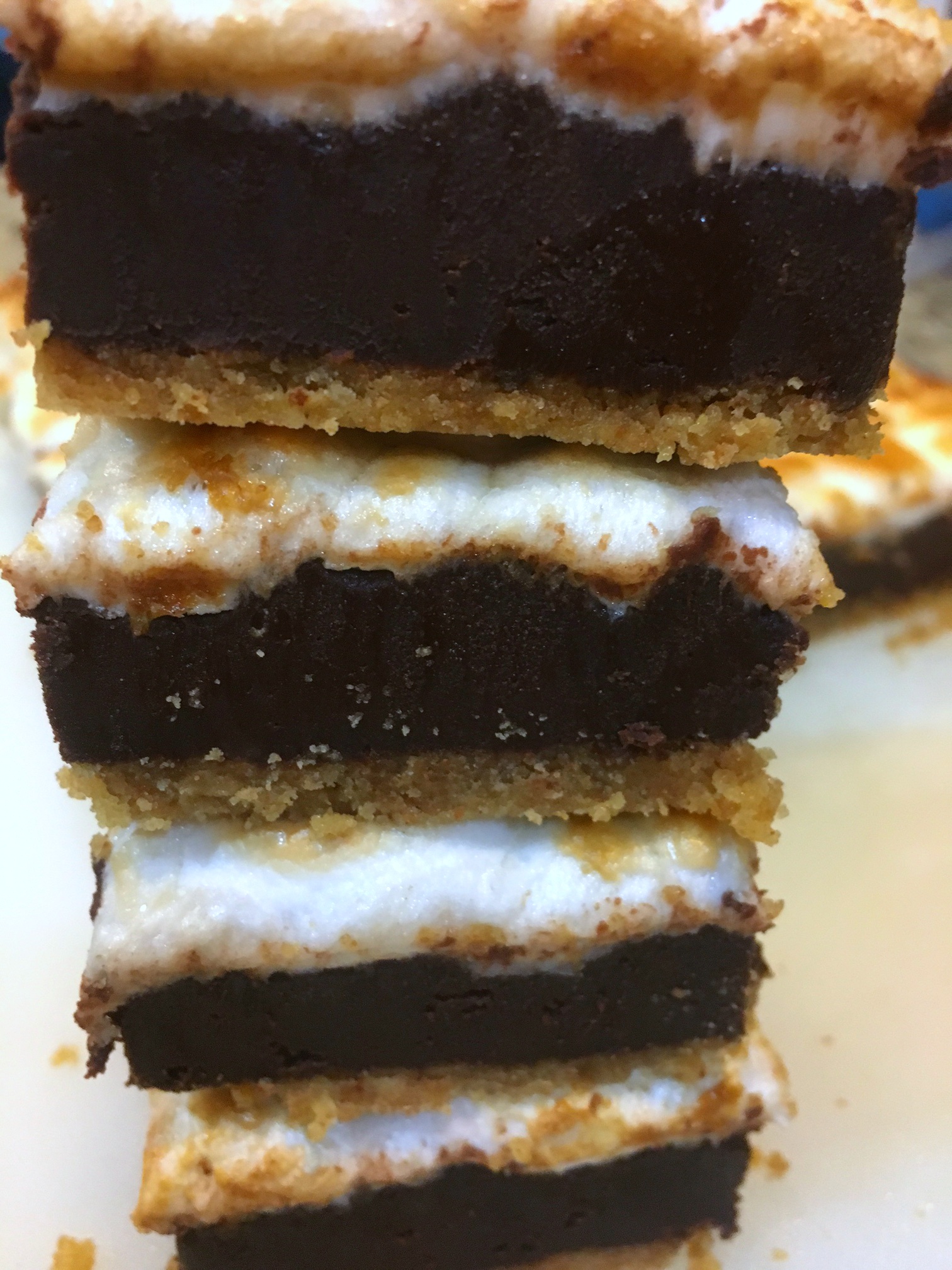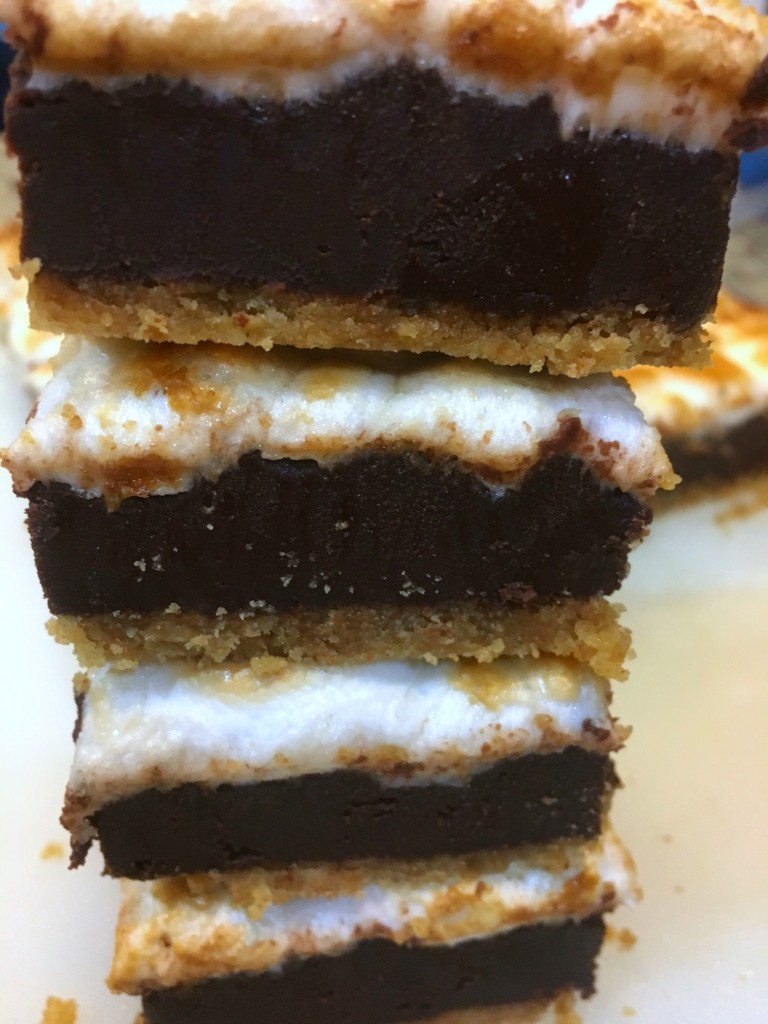 Smores Nutella Bars feature a graham cracker crust, dark chocolate ganache filling with hazelnut spread and toasted marshmallow topping.  Perfect for summer picnics.
Smores Nutella Bars
Makes 24 bars
Ingredients:
16 sheets graham crackers, pulverized into crumbs
10 T (1 stick + 2 T) butter, melted
1/4 C sugar
1/4 T salt
1 C heavy cream
8 oz dark chocolate chips
8 oz semi sweet chocolate chips
1 C Nutella
16 regular sized marshmallows
1 C mini marshmallows
Directions:
Heat oven to 350.  Line a 9×13 pan with foil and coat with nonstick cooking spray.
Combine graham cracker crumbs, melted butter, sugar and salt.  Carefully press into prepared pan, use the bottom of a measuring cup to help.  Try to push the crumbs up on the sides about 1 inch.  Bake crust for 8 minutes.
While the crust is baking, heat the heavy cream on the stove on medium low heat.  Add dark and semi sweet chocolate chips, stir with spatula until melted.  Add Nutella and stir until blended.
Pour chocolate mixture smoothly on the baked crust.
Cut regular size marshmallows in half and set randomly on melted chocolate mixture.  Fill in spaces with mini marshmallows.
Turn on the oven broiler and carefully move pan from one side to the other, watching closely.  Marshmallows will puff up and turn golden brown.  This takes less than 2 minutes.  Do not walk away, answer your phone, get distracted etc while bars are under the broiler.
Refrigerate for at least 2 hours.  Slice and serve.
Recipe modified from "Baked Smore Bars," tasteandsee.com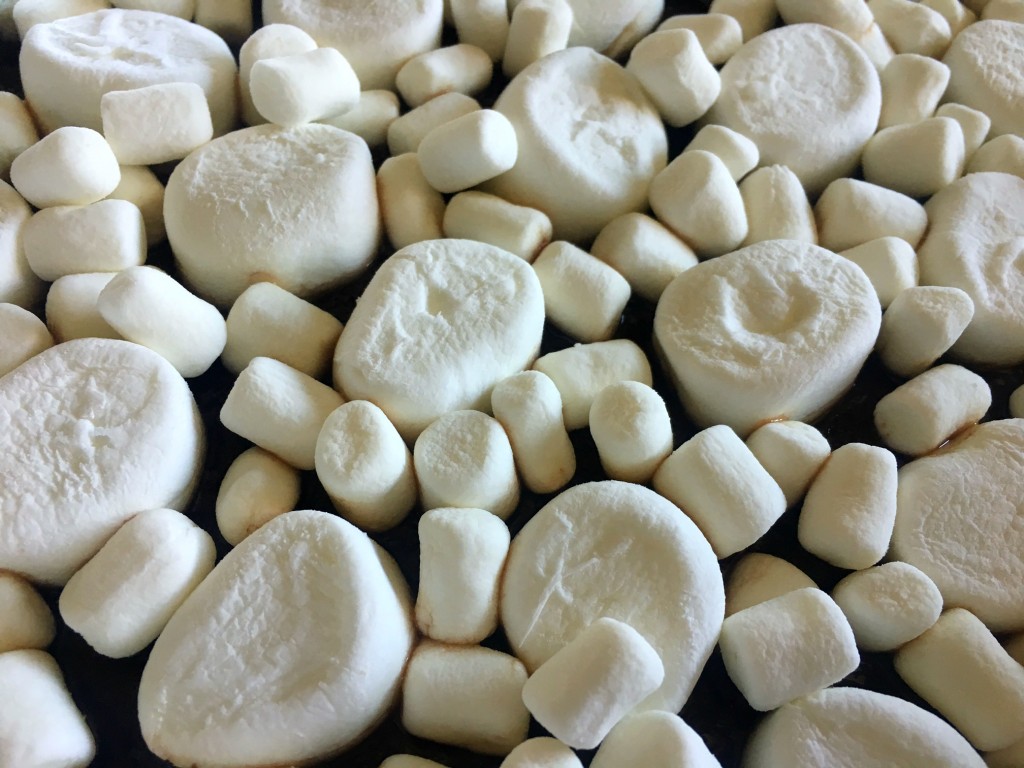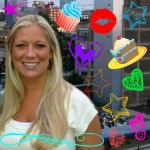 I'm a self-taught Betty Crocker. Food should be pretty, delicious and have sprinkles. Professionally I'm a clinical social worker. Follow me on Facebook and Pinterest- Sugar and Spice Baking Blog- for great recipes, amazing restaurants and culinary adventures.