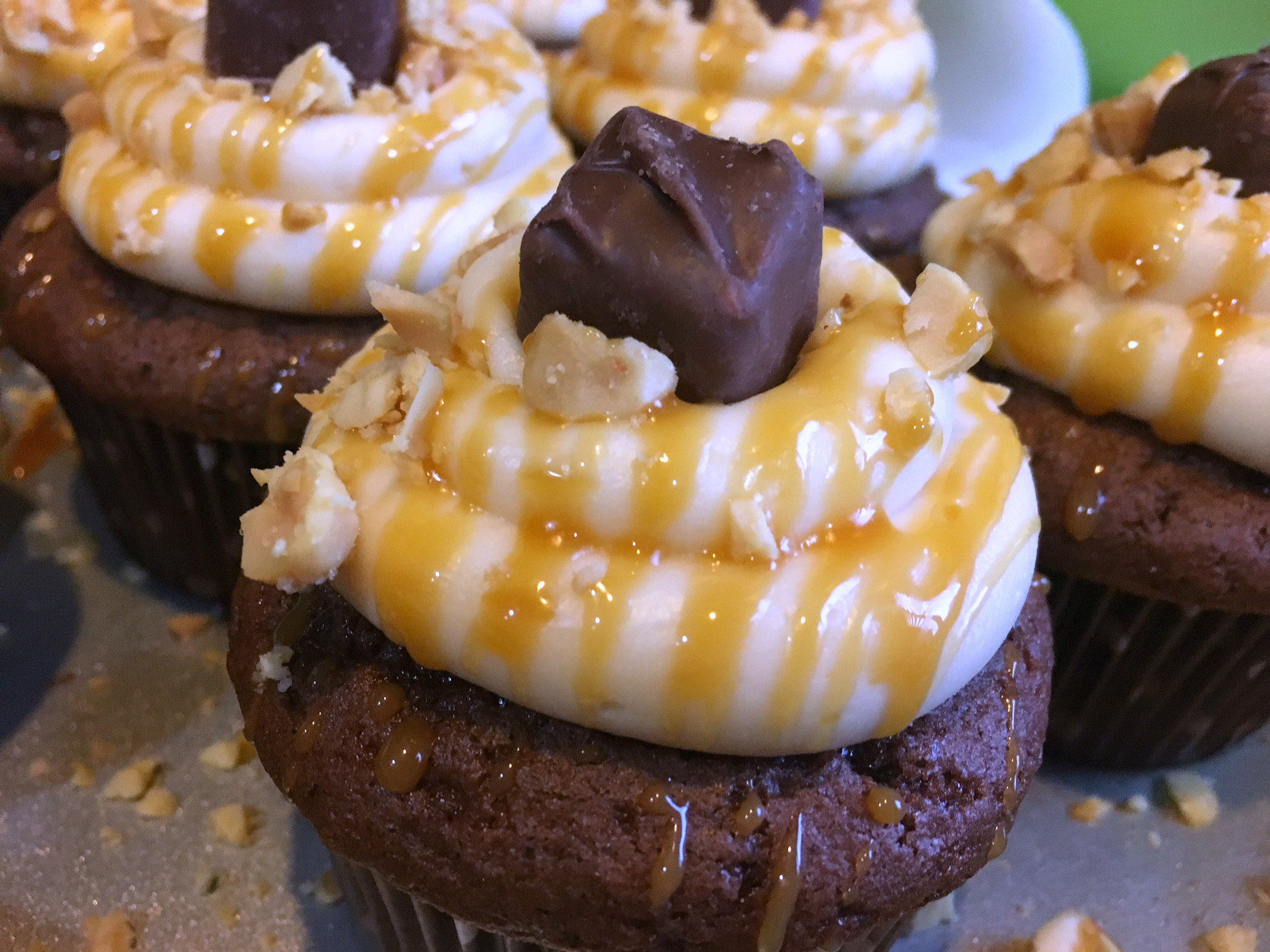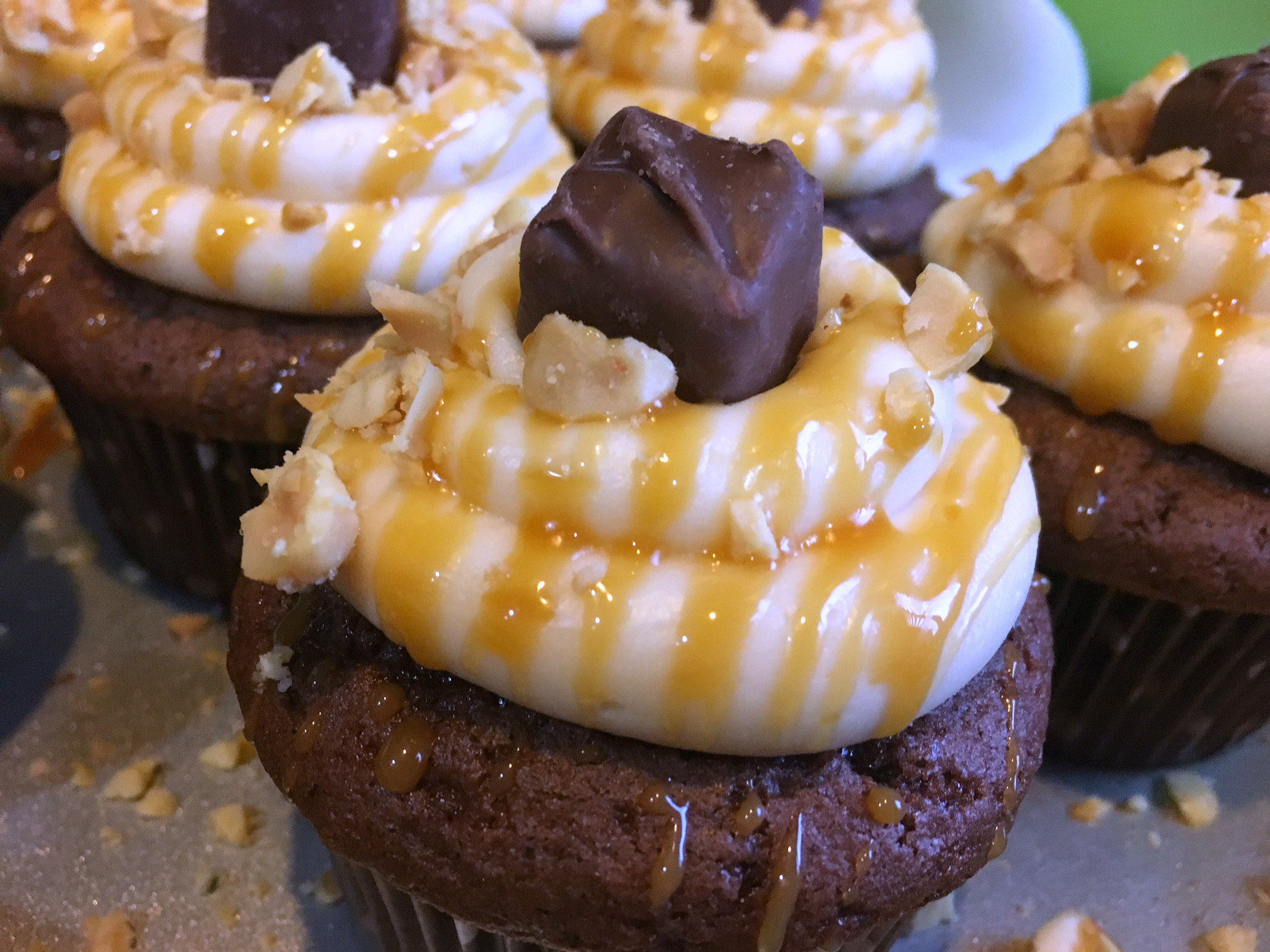 Snickers Bar Cupcakes are a delicious replication of the favorite candy bar.  With milk chocolate cupcakes, nougat filling and salted caramel frosting, these are a perfect treat for Father's Day.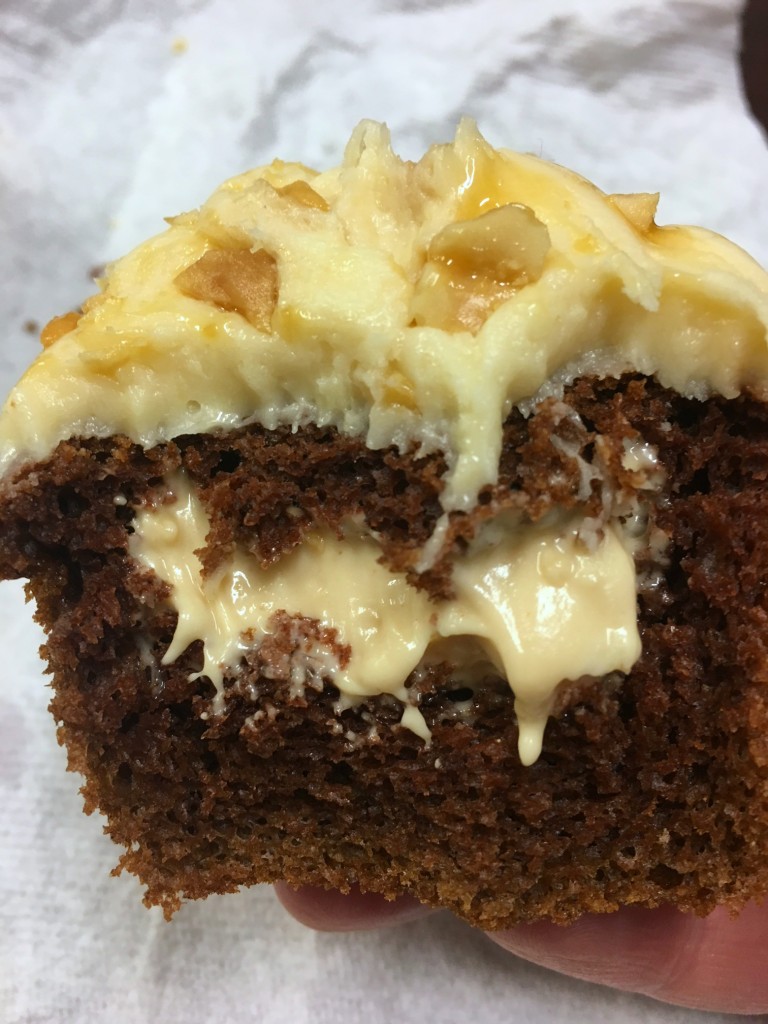 Snickers Bar Cupcakes
Makes 24 cupcakes
Ingredients:
Milk Chocolate Cupcakes:
1 box German chocolate cake
1 small box instant milk chocolate pudding
3/4 C whole milk
3/4 C vegetable oil
4 eggs
Nougat Filling:
1/4 C butter (half a stick)
1 C sugar
1/4 evaporated milk
1 1/2 C marshmallow fluff
1/4 C creamy peanut butter
1 t vanilla extract
1 1/2 C salted peanuts, chopped
Salted Caramel Frosting
1 C (2 sticks) butter, softened
8 oz cream cheese, softened
1/2 C thick salted caramel sauce (I found some in the ice cream topping aisle)
4 C powdered sugar
Garnish:
1/4 C salted caramel sauce
1/4 C salted peanuts, chopped
Miniature Snickers candy bars
Directions:
Heat oven to 350.  Line cupcake pans with liners. Stir together German chocolate cake mix and instant pudding.  Add whole milk, vegetable oil and eggs.  Combine evenly and distribute into cupcake pans.
Bake 18-22 minutes, dividing time between upper and lower racks.  Cupcakes are done when a toothpick comes out clean.  Set aside to cool.
While cupcakes are baking, prepare nougat filling Melt butter in a saucepan over medium heat, adding sugar and evaporated milk.  Bring to a boil.  Reduce heat to medium low and stir, it will continue to bubble, for 5 minutes.
Remove pan from heat and add marshmallow cream, peanut butter and vanilla extract.  Blend until smooth.  Stir in peanuts.  Set aside and cool to room temperature.
To prepare frosting, use a stand mixer to beat butter and cream cheese together on high-speed for at least 3 minutes.  Add salted caramel sauce. Turn speed to low and add powdered sugar, 1 C at a time.  Turn speed back up to medium and beat until fluffy.
Assemble cupcakes by removing a small core from the center of each cupcake.  Transfer cooled nougat filling into a plastic bag and snip the corner.  Fill cupcakes.
Transfer salted caramel frosting into a piping bag and apply to cupcakes.  Cover the nougat completely.
Drizzle a small amount of salted caramel sauce over the frosting.  Garnish with salted peanuts and a miniature Snickers candy bar.
Refrigerate until serving.
Recipe modified from "Snickers Cupcakes," browneyedbaker.com, 2/29/16