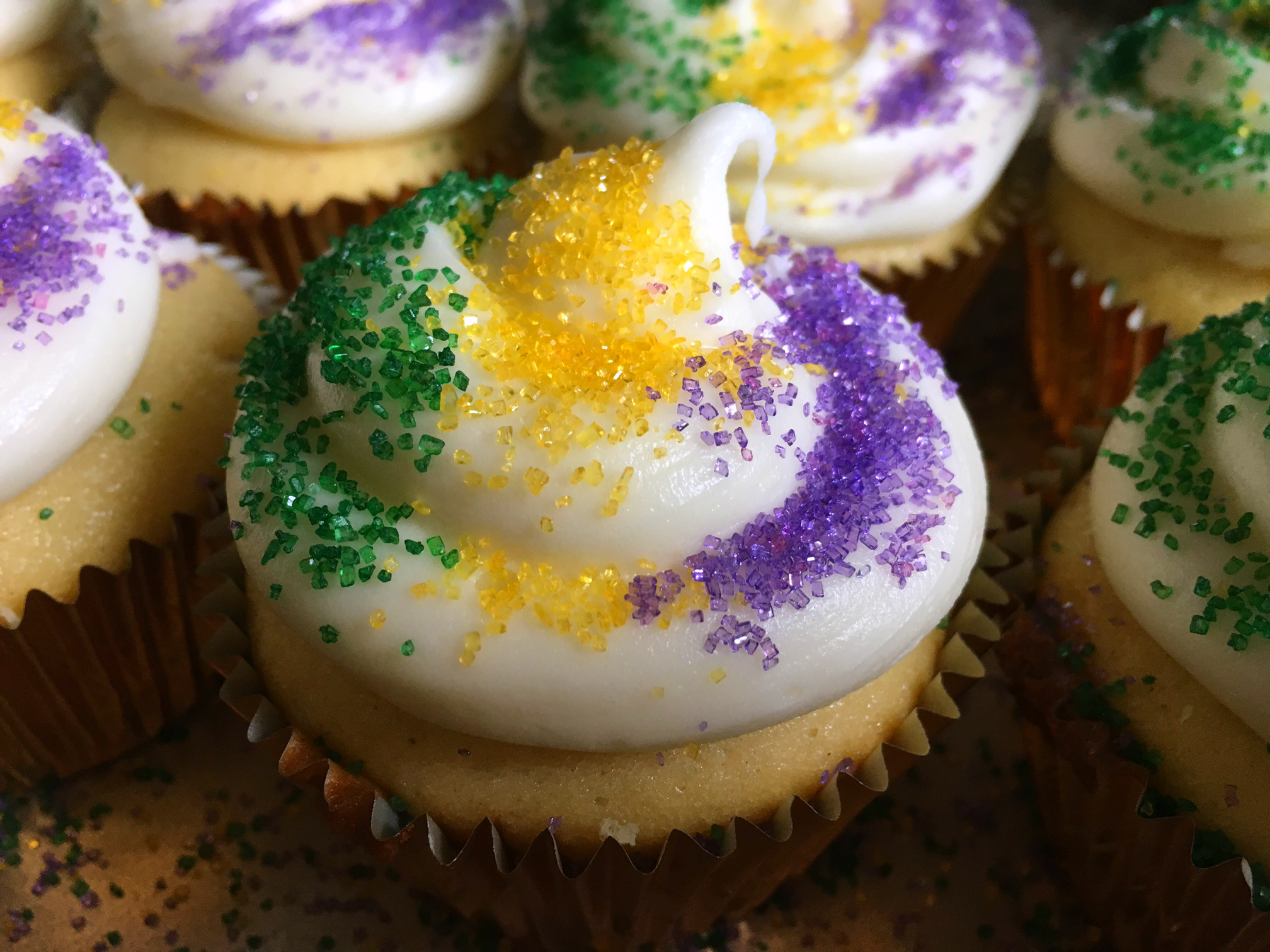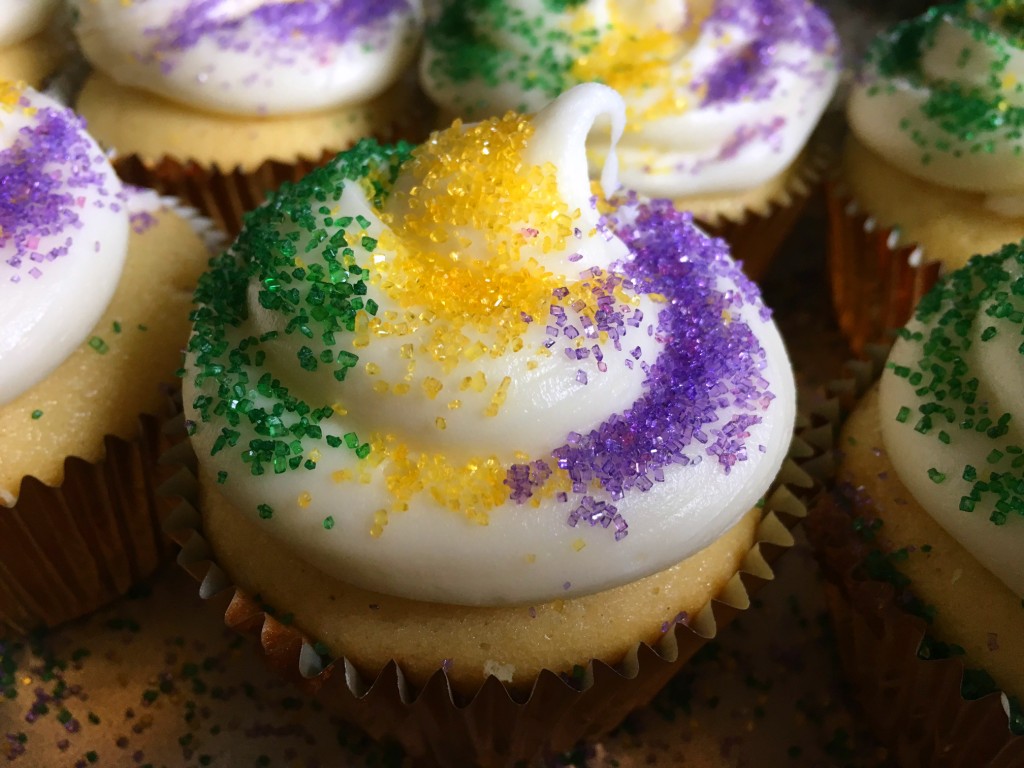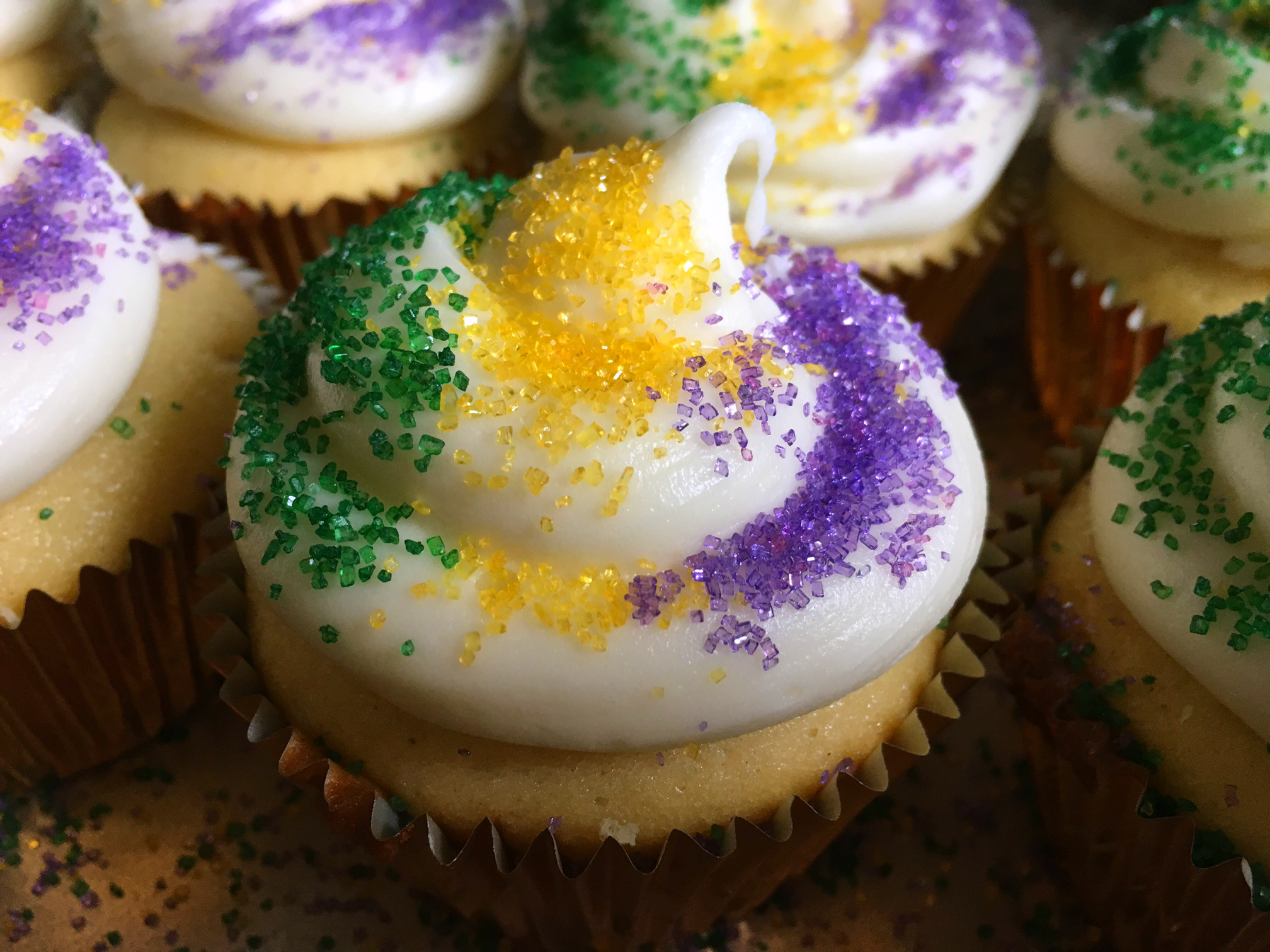 Mardi Gras is Tuesday!  After a trip to New Orleans a few years back, we always do something to celebrate.  I'm making King Cake Cupcakes, a spin on a classic Fat Tuesday treat.
King Cake Cupcakes are a dense buttermilk cupcake with lemon filling, fresh nutmeg and a swirl of cream cheese frosting.  To be authentic, hide a plastic baby in one cupcake.  The person who finds it has the promise of prosperity for the year AND is on the hook to make King Cake Cupcakes next year!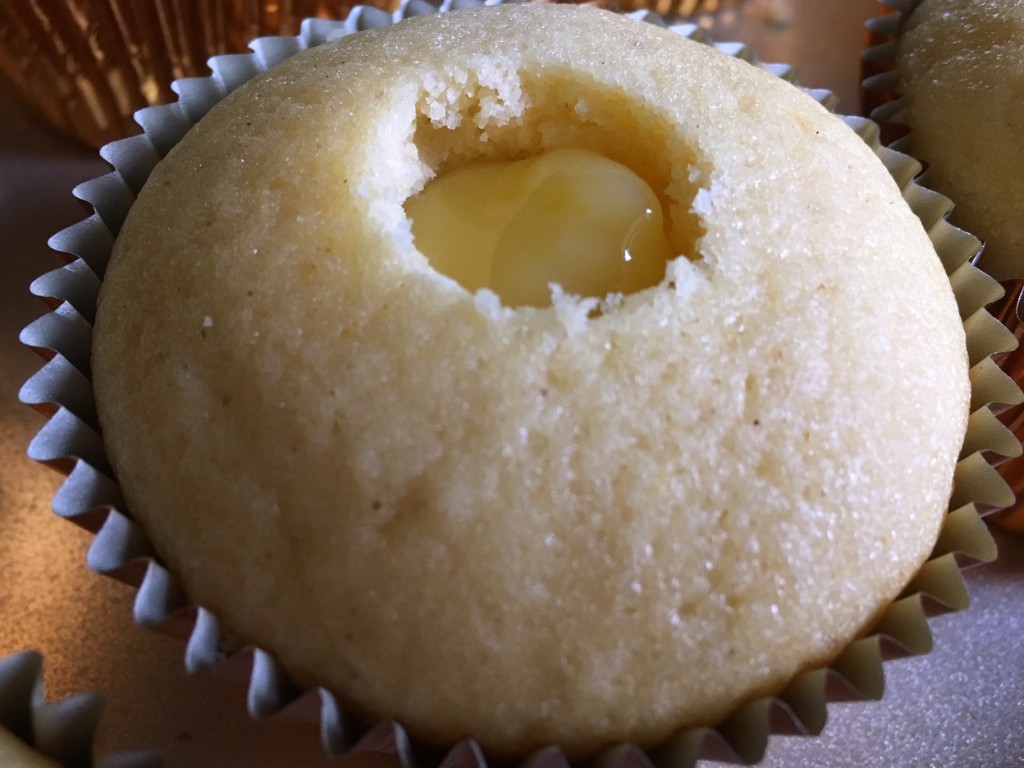 King Cake Cupcakes
Makes 24 cupcakes
Ingredients:
Cupcakes
2 C sugar
3 1/3 C flour
1 t freshly grated nutmeg
1/2 t cinnamon
3/4 t salt
3 t baking powder
3/4 C (1 1/2 sticks) butter, softened
1 1/3 C buttermilk, room temperature
1 t Fiori di Sicilia OR 2 t vanilla + 1/2 t lemon oil
4 large eggs, room temperature
1 C lemon curd (homemade or store-bought)
Cream Cheese Frosting
8oz cream cheese, room temperature
1/2 C (1 stick) butter, softened
1 t Fiori di Sicilia OR 1 t vanilla + 1/4 t lemon oil
1-2 T milk
Green, purple and yellow sugars
Directions:
Heat oven to 350.  Line muffin pans.  Spray insides of cupcake liners.
To make cupcakes, whisk together sugar, flour, nutmeg, cinnamon, salt and baking powder.
Cream butter with electric mixer.  Add dry ingredients.  Mix until combined.
Add vanilla and milk, mix at medium speed.
Add eggs one at a time, beating for 30 seconds between each egg.
When cupcake batter is smooth, scoop into prepared pans.  Fill 2/3 full.  There is enough batter for 24 cupcakes.
Bake for 22-24 minutes, splitting time between lower and upper oven racks.  A toothpick inserted in the center will come out clean.
Allow to cool completely.
Transfer lemon curd to a plastic bag and snip the corner.  Make a small hole in each cupcake using a cupcake corer or small knife.  Pipe lemon curd filling into the hole.
To make frosting, use electric mixer to cream together butter and cream cheese.  Add fiori di sicilia.  Mix until smooth.
Add powdered sugar gradually, beating well.  If needed, add milk to obtain desired consistency.
Pipe on cupcakes.  Decorate with Mardi Gras colored sugars.
Refrigerate until serving.  Laissez les bons temps rouler!
Modified from "Mardi Gras King Cupcakes," kingarthurflour.com, 2/8/10