New York Style Cheesecake with Lemon Curd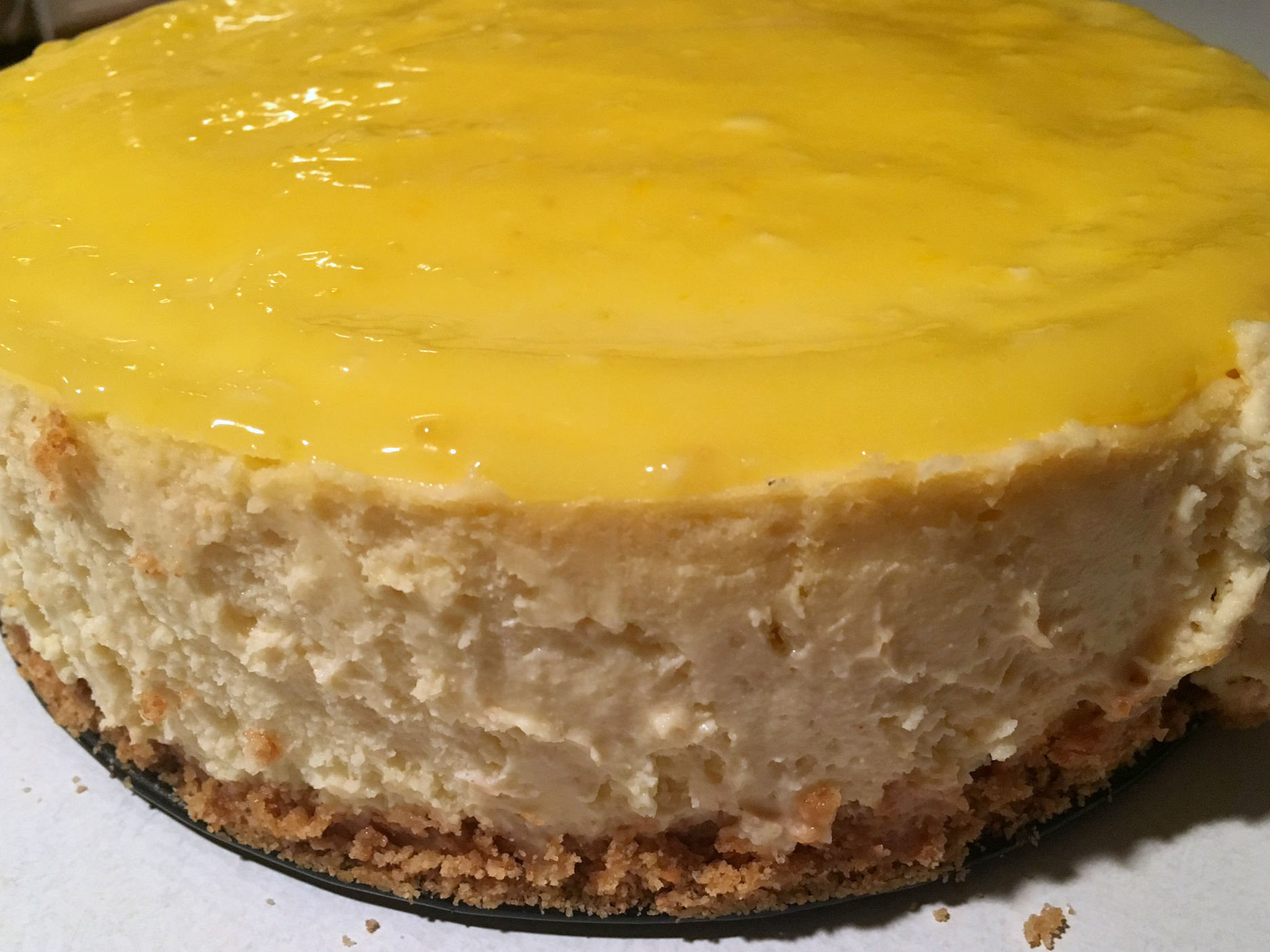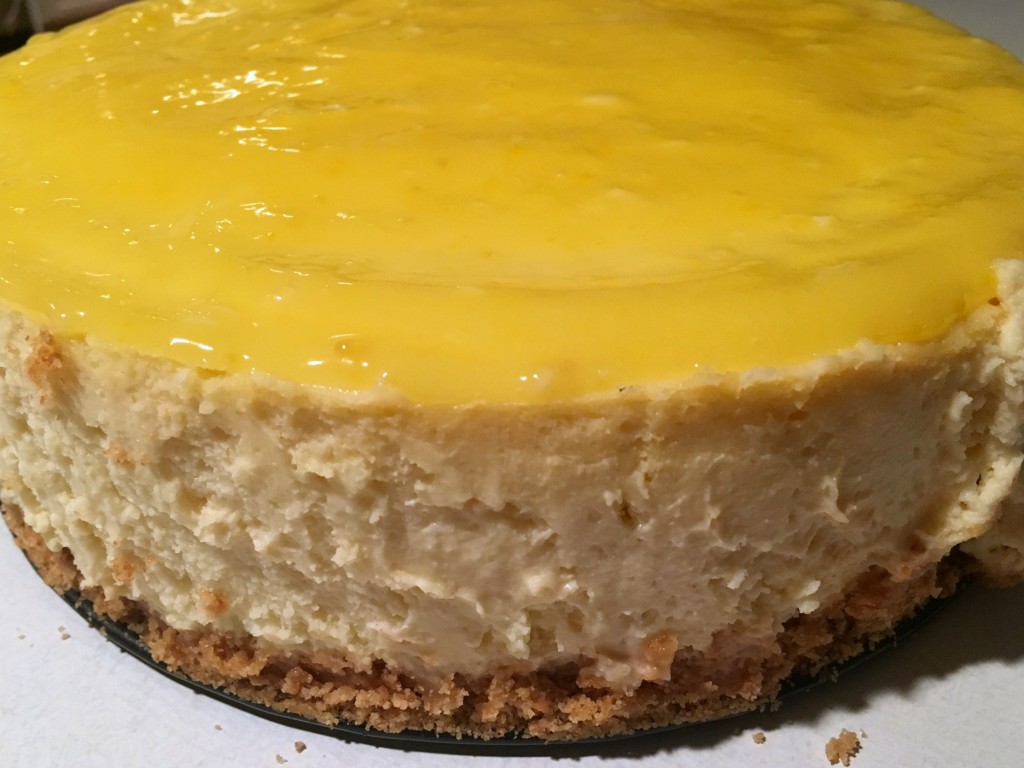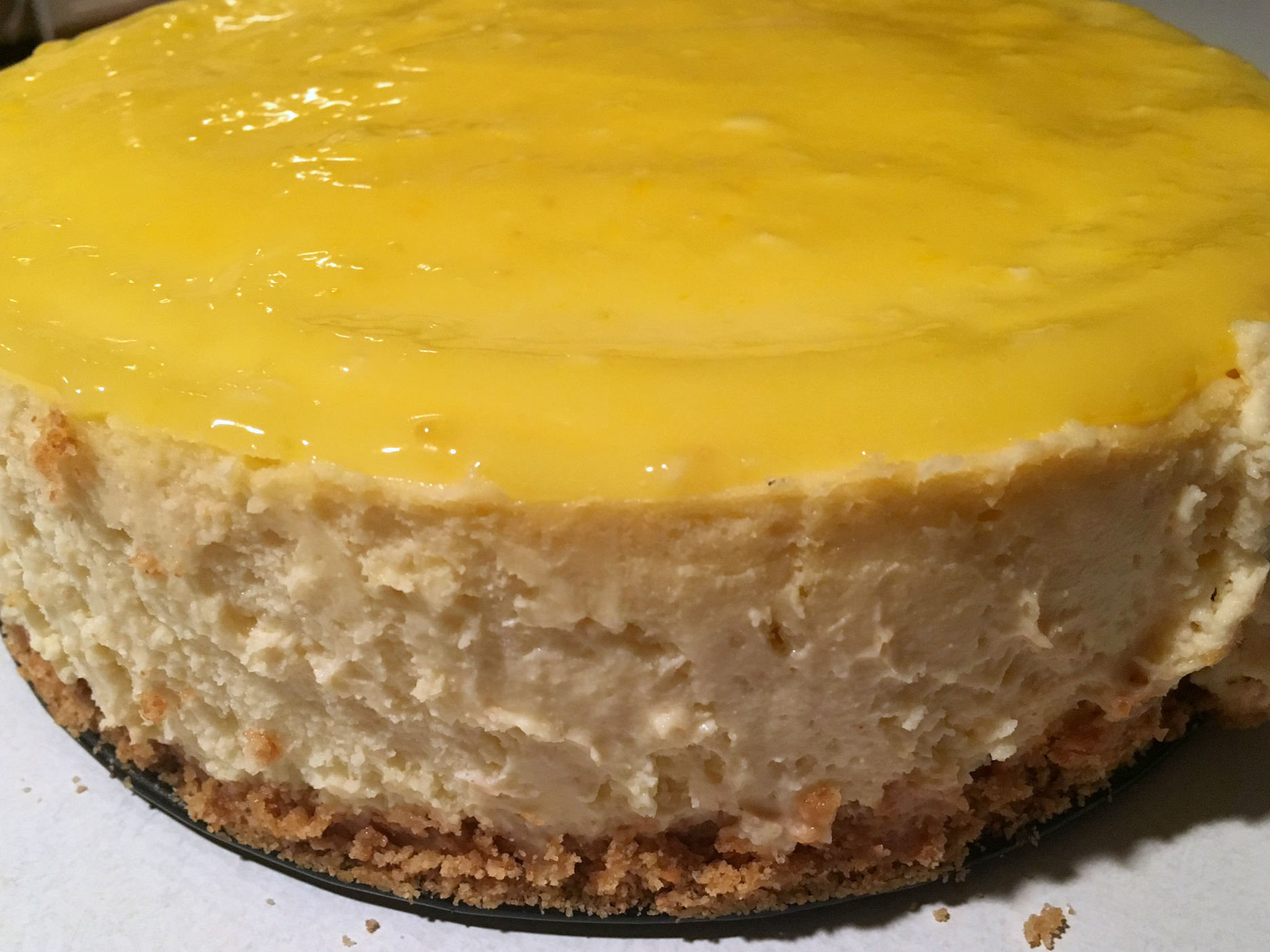 I've made lemon curd forever.  It's one of those things I don't really think to post because I just make it.  It's bursting with tart flavor and is thick enough to fill a cake.  Plus is freezes well so you can make it ahead of time.  Yes, you can absolutely substitute limes for lemon in the same recipe and make lime curd.  Key limes would be especially good.
I use lemon curd to top New York Style Cheesecake.  It's a perfect complement to the sweet and creamy filling.  If you follow the directions exactly, the cheesecake shouldn't sag or crack.  (This means don't open the oven.  At all.  Period.  Not even once.)  And if it does crack or sag?  Drown it in lemon curd and no one will know.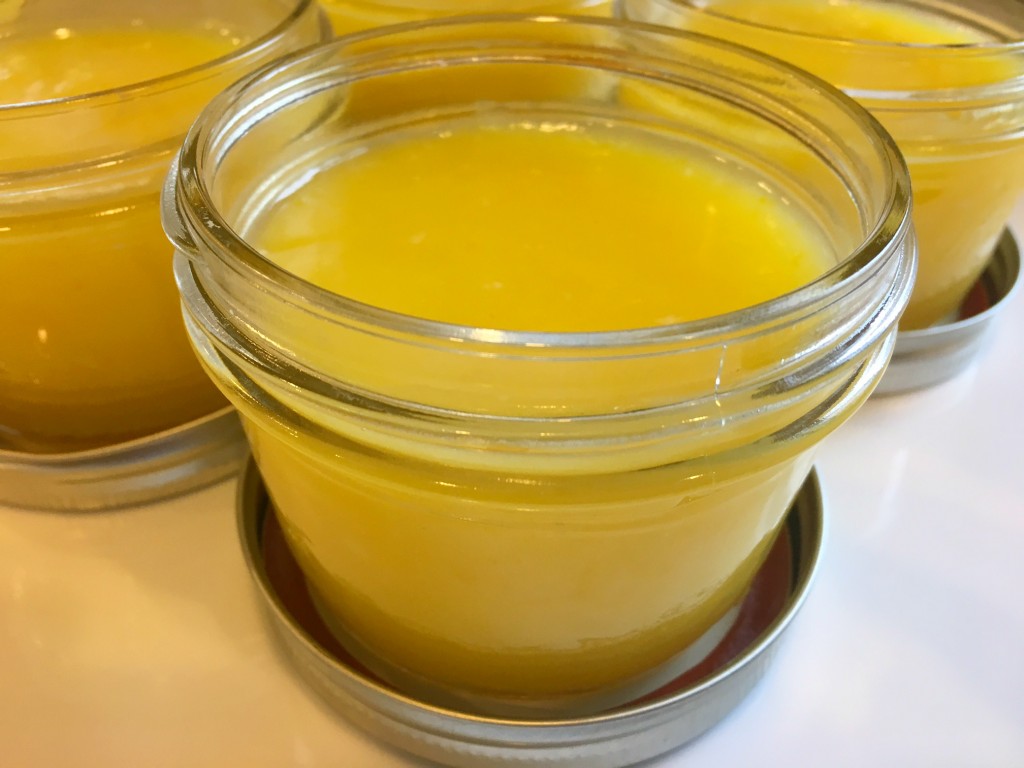 New York Style Cheesecake with Lemon Curd
Serves 8-12
Ingredients:
Lemon Curd
2 eggs
2 egg yolks
3/4 C white sugar
1/2 C freshly squeezed & strained lemon juice (no bottled stuff allowed.. about 4 lemons)
2 T lemon zest (about 2 lemons)
6 tablespoons butter
New York Cheesecake
15 whole graham crackers, crushed
6 T butter, melted
2 T sugar
4 8oz packages cream cheese, room temperature
1 1/2 C sugar
3/4 C whole milk, room temperature
4 eggs, room temperature
1 C sour cream, room temperature
1 T vanilla extract
1/4 C flour
Directions:
Make lemon curd ahead of time.
Beat eggs, yolks and sugar with a whisk.  Ignore while you zest and juice lemons, stirring periodically.  When sugar and eggs join, add zest and lemon juice.
Pour into sauce pan.  Heat medium low and swirl with spatula or whisk.  Supervise closely; the mixture in contact with the bottom of the pan can cook fast.  In  5-8 mins the mixture thickens and can coat a spoon.  Continue stirring for 3-5 minutes over heat.  Lemon curd will be thick like pudding.
Remove from heat, add butter.  Stir until butter incorporate.  Pour into heat proof storage container with lid.  Apply plastic wrap directly to lemon curd.  Plastic wrap prevents the curd from forming a crust.  Chill in refrigerator for 2 or more hours.
Lemon curd keeps refrigerated for about a week or frozen for up to 3 months.
When you're ready to make cheesecake, heat the oven to 350.  Grease a 9-inch springform pan.  Wrap outside of the pan tightly with foil, I use at least 2 pieces.
Mix graham cracker crumbs, 2 T sugar and melted butter.  Press into bottom of springform pan.
Use a mixer to combine cream cheese and sugar until smooth.  Add milk and eggs one at a time.  add sour cream, vanilla and flour.  Mix until just incorporated, scrape sides if needed.  Having the ingredients the same temperature helps everything blend evenly.
Scoop filling into prepared pan.  Set cheesecake into a larger pan (I used a big rimmed baking sheet) and surround with boiling water.  Do not allow water to come over the top of pan, part way up the sides is enough.
Carefully transfer to oven, ask for help if you needed it.
Bake in preheated oven for 1 hour.  After an hour, turn the oven off.  DO NOT OPEN THE OVEN.  No peeking.  Hang a sign on the oven door if you have to.  The cheesecake remains in the oven for 5-6 hours.  This prevents cracking.  Remove from water bath and transfer to refrigerator.
Top with lemon curd before serving.
Lemon curd recipe from a tatty old newspaper article, no date or author
Cheesecake modified from "Chantal's New York Cheesecake," allrecipes.com