Cookie Dough Brownie Bombs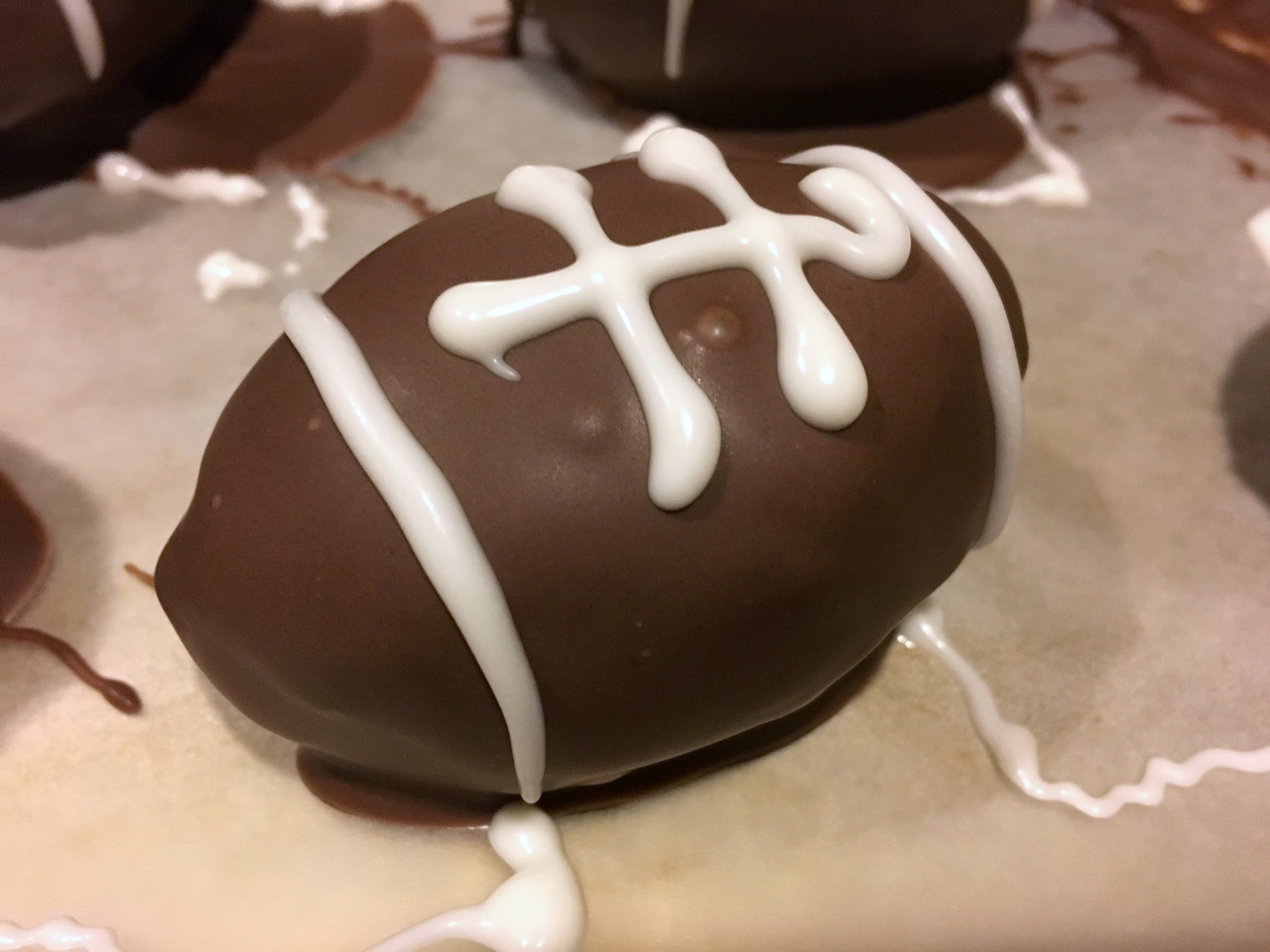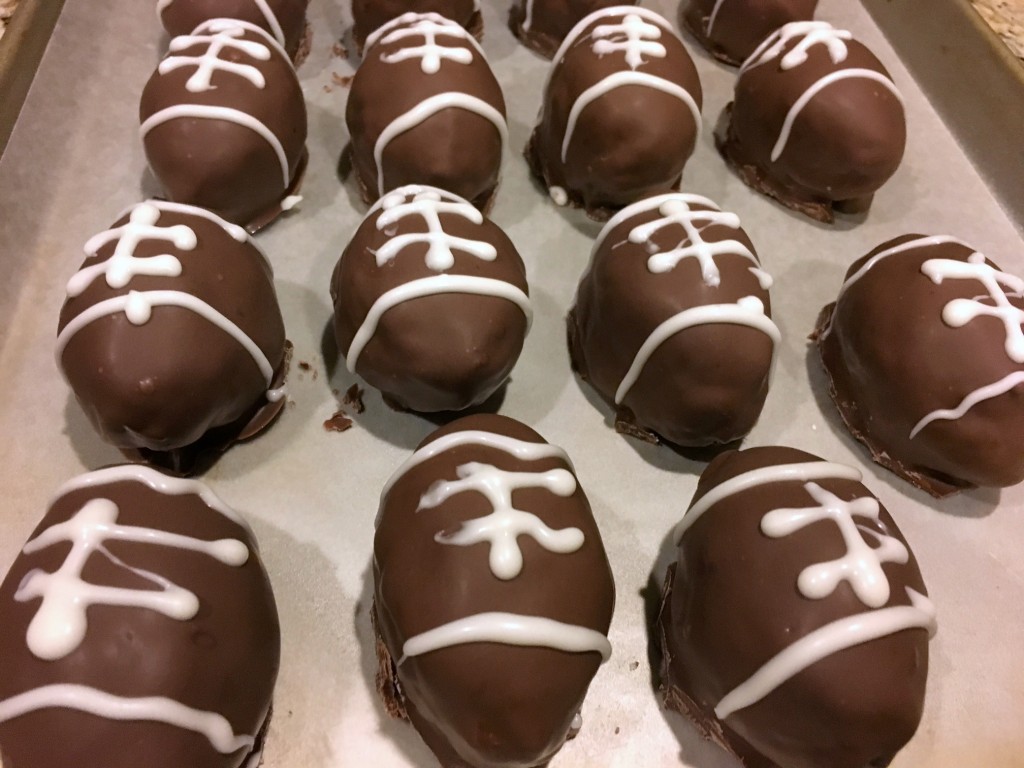 Super Bowl is this weekend and I wanted to make a delicious grab-and-go treat.  Cookie Dough Brownie Bombs can be made ahead of time and if you shape them like footballs, they make a perfect addition to any Super Bowl party.
Cookie Dough Brownie Bombs
Makes 18
Ingredients:
1 box 9×13 fudge brownies, baked to "fudgy" directions and cooled
3/4 C (1 1/2 sticks) butter, softened
3/4 C brown sugar
1/4 C white sugar
2 T heavy cream
1 t vanilla
2 C flour
pinch salt
1 1/2 C miniature chocolate chips
1 package chocolate almond bark
1/2 C white chocolate chips or 2 squares vanilla almond bark
Directions:
Bake and cool 9×13 box of brownies on "fudgy" directions.  The "cakey" directions won't work.
Use a stand mixer to cream butter, brown and white sugars until smooth.  Add vanilla, heavy cream and pinch salt.
Add flour and mix gently until just combined.  Add miniature chocolate chips.
Make tablespoon sized balls of cookie dough.  If you are making footballs, carefully pull the ends to make an elongated shape.  Freeze for at least an hour.
Trim the edges off the baked and cooled brownies.  Cut into 18 equal squares.
Remove cookie dough from freezer.  With very clean hands, flatten a brownie square with the shiny side facing up.  Place cookie dough in the brownie and gently wrap it around the outside.  Continue to make elongated football shape.  It's ok if it doesn't quite cover the dough, no one will notice.
Once dough is wrapped in brownies, return to the freezer.
Spread wax paper on the counter top.  Melt chocolate almond bark in a microwave safe bowl.  Watch it closely, usually 1 1/2 minutes is needed.
Remove brownie bombs from freezer.  Use a fork to dip in chocolate almond bark.  Place on wax paper to harden.
Melt white chocolate chips or vanilla almond bark in a separate bowl.  Transfer to a plastic zip top bag and snip the corner.  Carefully pipe on football stitching.
Keep cookie dough brownie bombs into the refrigerator until serving.
Recipe modified from "Cookie Dough Brownie Bombs," Hayley Parker, thedomesticrebel.com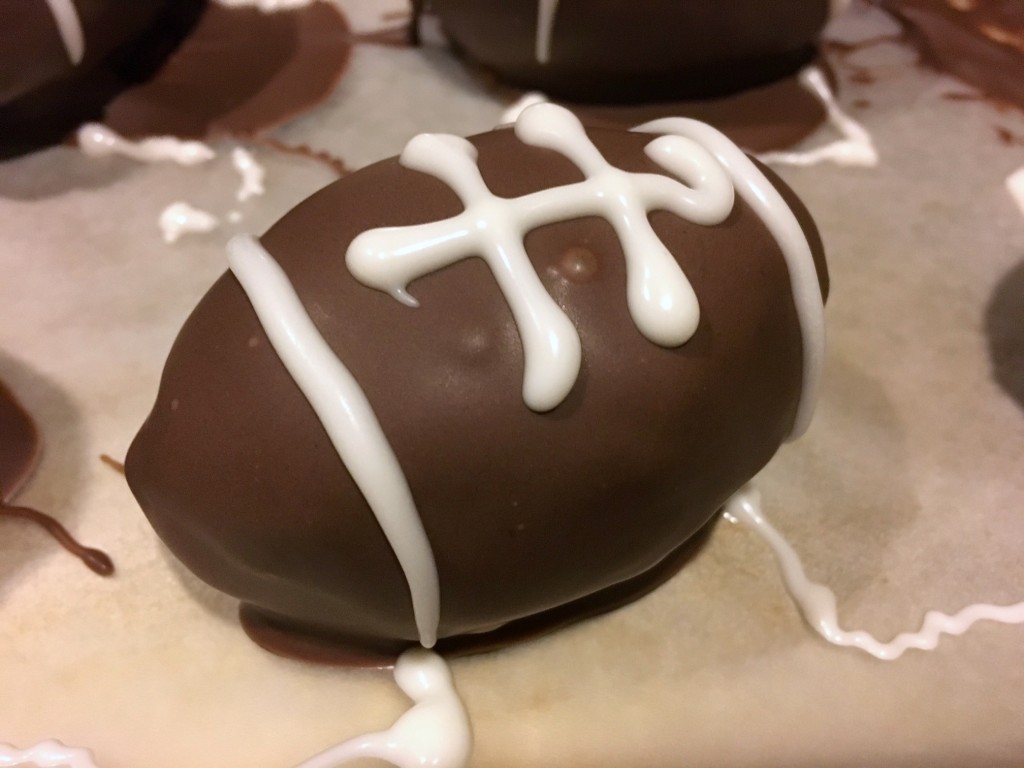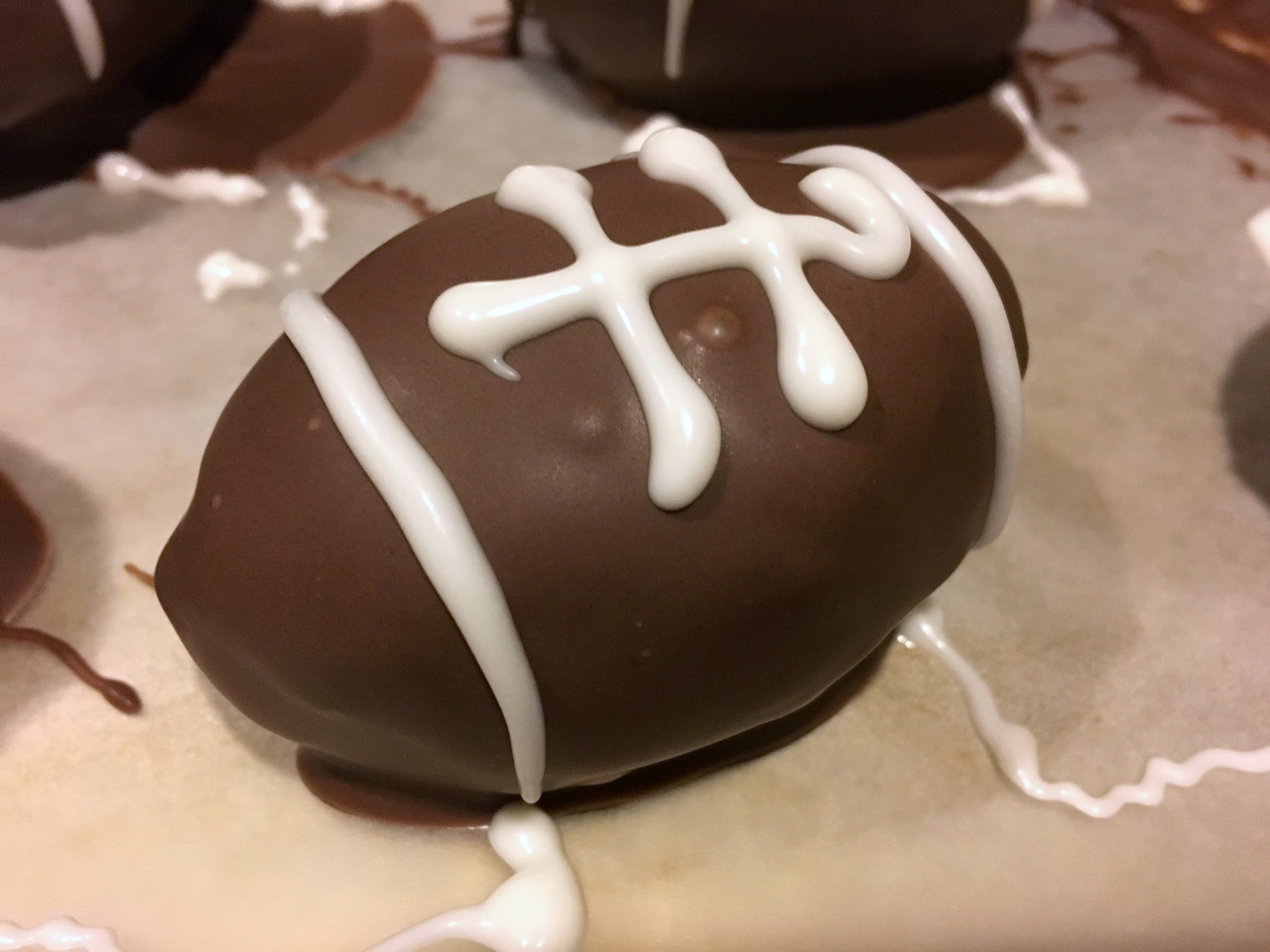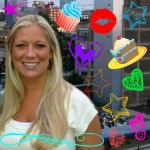 I'm a self-taught Betty Crocker. Food should be pretty, delicious and have sprinkles. Professionally I'm a clinical social worker. Follow me on Facebook and Pinterest- Sugar and Spice Baking Blog- for great recipes, amazing restaurants and culinary adventures.