Rainbow Funfetti Doughnuts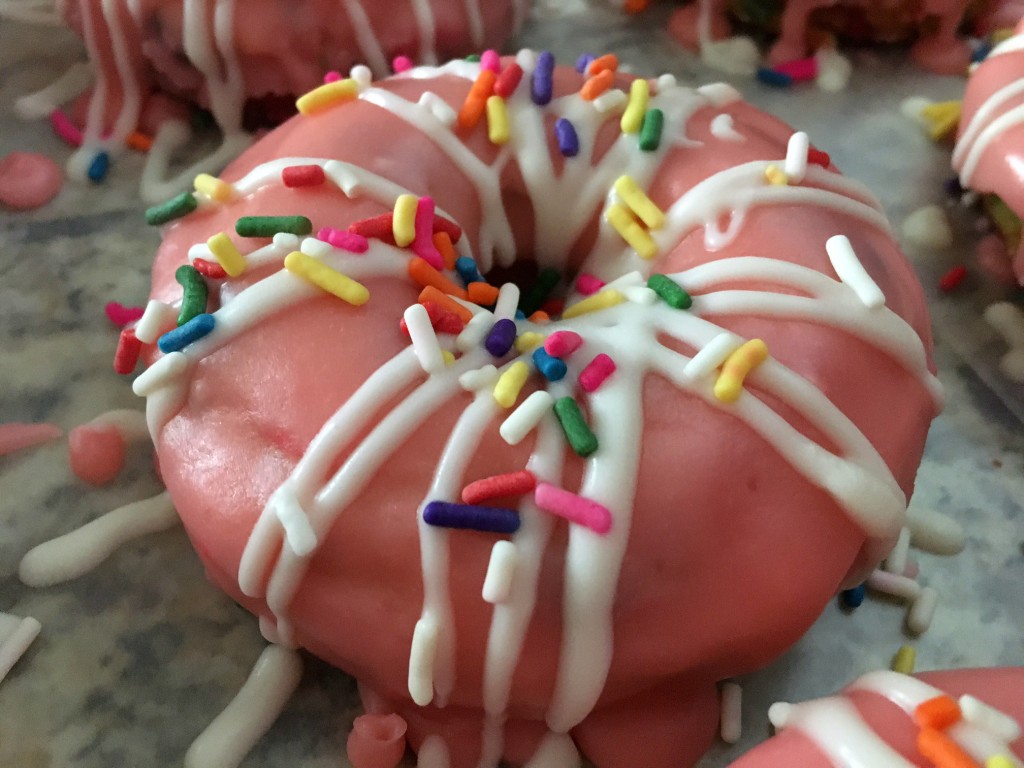 We were snowed in for a week!  Rainbow Funfetti Doughnuts are a delicious double glazed treat which offers a nice break from cabin fever.  These would be cute at a birthday party, baby shower or other special event.
Be sure to use rainbow jimmies as the sprinkles.  Rainbow jimmies are small rectangles, think ice cream sundaes.  Nonpareils are small circles, think cupcake topping.  Nonpareils sprinkles will bleed into the batter.
Rainbow Funfetti Doughnuts
Makes 16 doughnuts
Ingredients:
2 C flour
2 t baking powder
1/2 t baking soda
3/4 t freshly grated nutmeg
2/3 C sugar
1/2 C whole milk
1/2 C sour cream
2 eggs
1/2 stick (4 T) melted butter
2 T vanilla extract
1 C rainbow sprinkles
Glaze
Directions:
Heat the oven to 325.  Spray doughnut pan with nonstick cooking spray.
Combine flour, baking powder, baking soda, nutmeg and sugar.  Set aside.
Use a hand mixer to blend milk, sour cream and eggs.  Add melted butter and vanilla until smooth.
Add wet ingredients to dry ingredients, mix gently until just combined.  Add rainbow sprinkles.
Transfer batter to a gallon sized zipped-top bag and snip the corner.  Pipe into doughnut pan, filling wells 1/2 to 2/3 full.  Do not overfill or the doughnuts will warp.
Bake for 12-15 minutes or until a toothpick comes out clean.  Allow to cool then remove from pan.  If the doughnuts stick you may need to loosen carefully with a small spatula.
As doughnuts are cooling, make the glaze.
Combine milk and powdered sugar in a small sauce pan.  Heat over medium low until glaze is warmed and smooth.  Do not boil.  Add pinch salt, princess (or vanilla) extract and food coloring (if using.).
Line very clean countertop with wax paper.
Dip the top half of a doughnut into the glaze and set it on the wax paper to set.  When glaze is no longer liquid, dip again and garnish with sprinkles.  Allow glaze to harden completely.  Double dipped doughnuts are the best!
Recipe modified from "Baked Funfetti Doughnuts," sallysbakingaddiction.com, 1/12/14