Traditional Gingerbread Cookies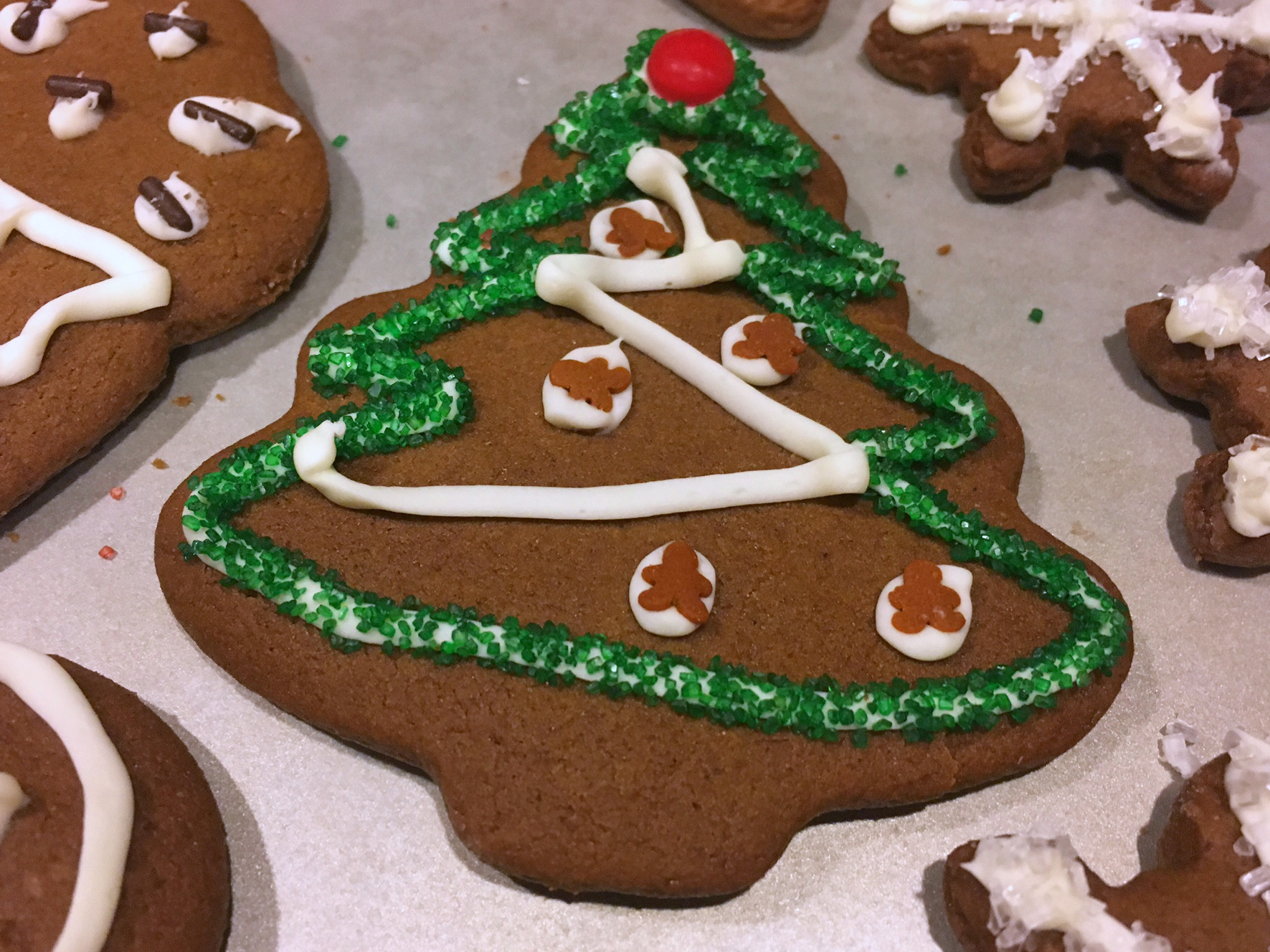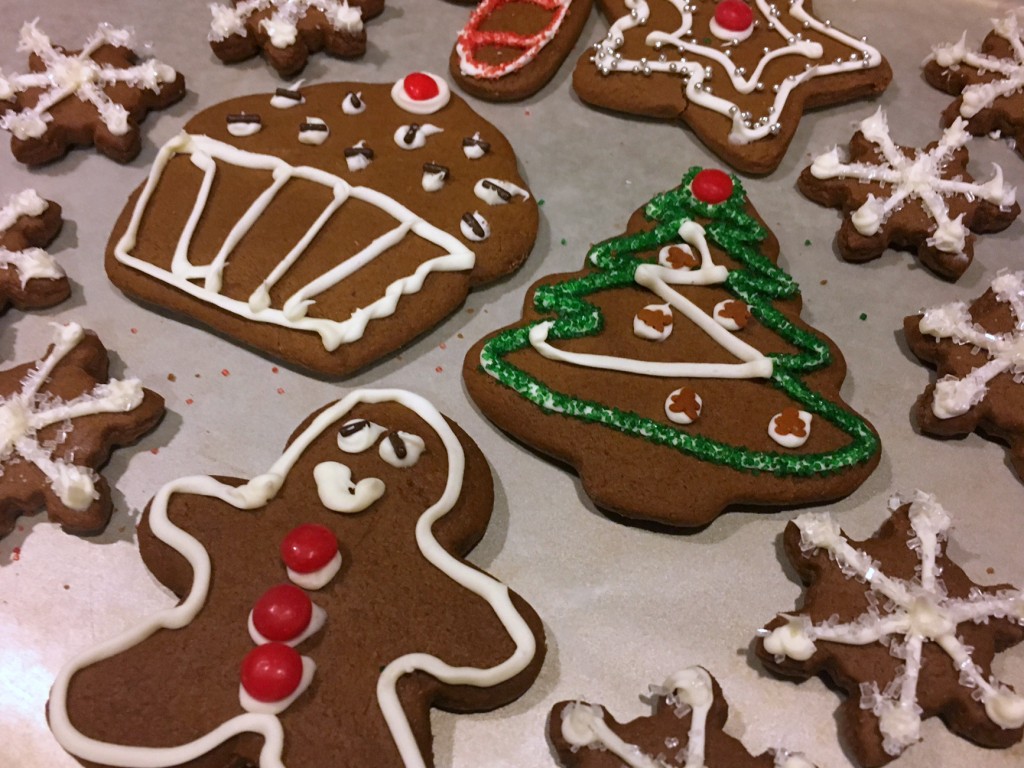 Nothing says Christmas like a batch of sweet and spicy Traditional Gingerbread Cookies.  For excellent tips, see the article  "How to Make Gingerbread Cookies" by allrecipes.com.
Traditional Gingerbread Cookies
Makes 36 medium-sized cookies
Ingredients:
3 C flour
1 1/2 t baking powder
1 t baking soda
1/4 t salt
1 T ground ginger
2 t cinnamon
1/4 t ground cloves
6 T butter, softened
3/4 C dark brown sugar
1 egg
1/2 C molasses
2 t vanilla
1 t freshly grated lemon zest
Royal icing or can of vanilla frosting
Decorating items such as sprinkles, cinnamon buttons, MnM candies, food coloring, gum drops and more
Directions:
Mix flour, baking powder, baking soda, salt, ginger, cinnamon and ground cloves in a bowl.  Set aside.
Use a stand mixer to cream butter, brown sugar, egg and vanilla.  Add molasses and scrape sides.
Add flour and mix until just combined.  Split the dough in half and wrap tightly with plastic wrap, making thick, flat discs.  Refrigerate at least 2 hours or overnight.
Select a few cookie cutters.  I pick cutters without too many sharp edges or skinny parts (like animal legs).  I like classic, simple holiday shapes (gingerbread man, tree, star, candy cane, snowflake) and one or two silly shapes (cupcake, unicorn etc) to keep people paying attention.
Heat oven to 375.  Line baking sheets with parchment paper.
Lightly flour very clean countertop.  Roll out one of the discs, dusting with flour and flipping it over.  If the dough is sticky you need a little more flour.  Go carefully, you don't want to dry out the cookies.  When dough is 1/4 inch thick, cut out cookie shapes and transfer to baking pan.  Leave an inch between cookies.
Bake 8-10 minutes.  Group cookies of similar size on the same baking sheet, i.e. medium trees together, small snowflakes together etc.  This allows you to add or subtract a minute or two from baking time depending on size.  Cool on pan until cookies are firm enough to transfer to rack.
Combine dough scraps and roll out and cut more cookies.
When cookies are cut and cooled, decorate as desired.  Allow frosting to dry completely, this may require an overnight.  (if you skip this part the cookies stick together in a giant, gluey pile.  Oops.)  Leave some out for Santa or your favorite holiday friends.
Recipe modified from "Wonderful Gingerbread Cookies," food.com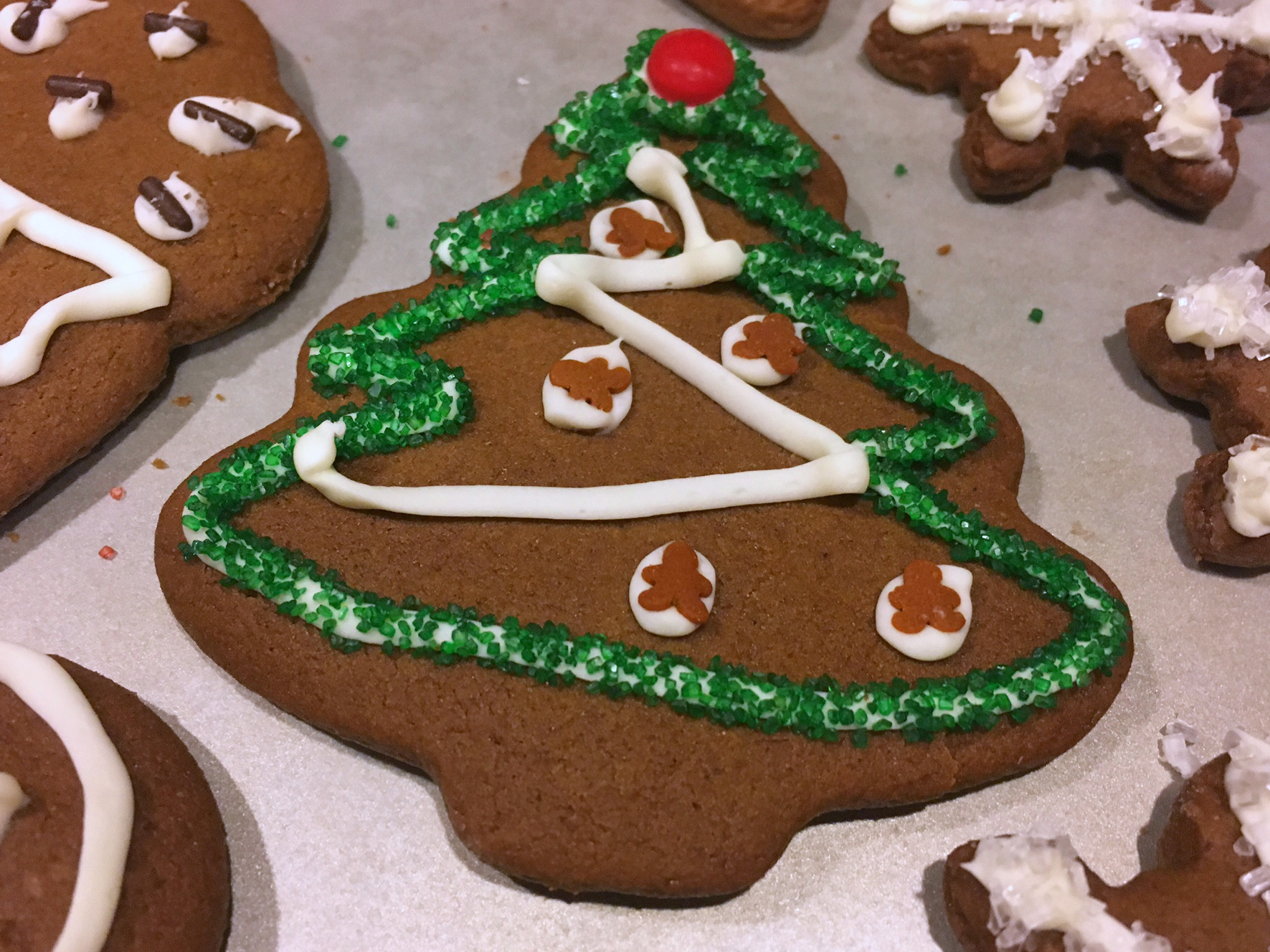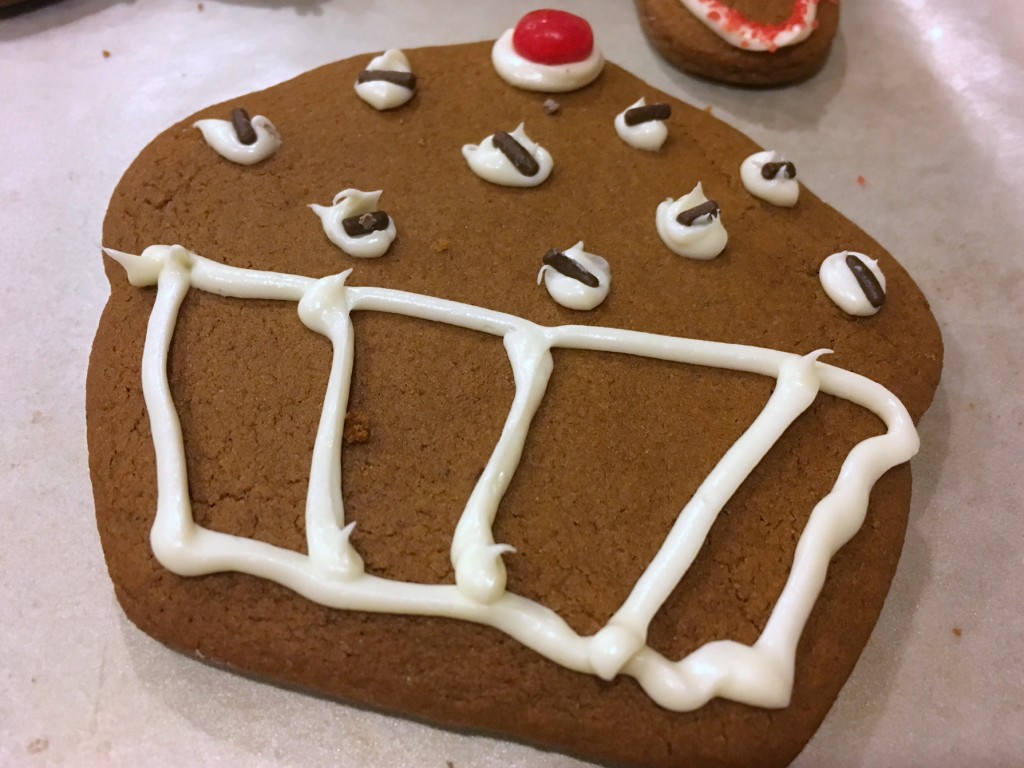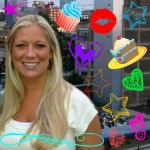 I'm a self-taught Betty Crocker. Food should be pretty, delicious and have sprinkles. Professionally I'm a clinical social worker. Follow me on Facebook and Pinterest- Sugar and Spice Baking Blog- for great recipes, amazing restaurants and culinary adventures.