Marshmallow Snowman Cupcakes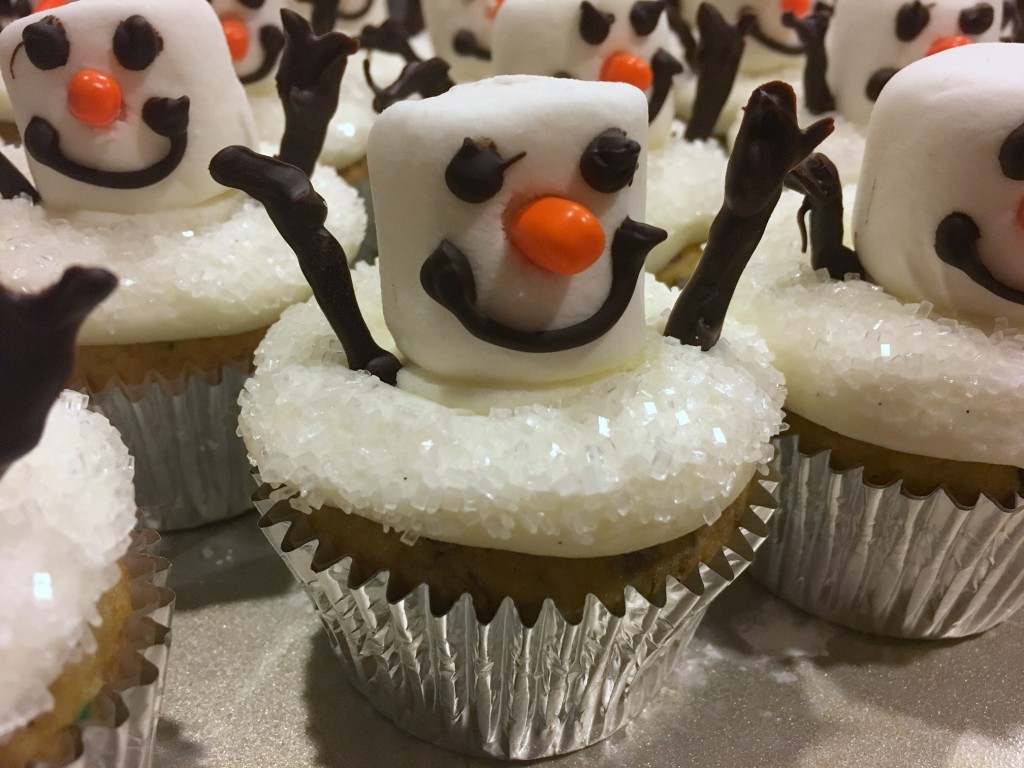 Marshmallow Snowman Cupcakes are on the menu my nephew's first birthday party with a Winter ONEderland theme.  (Get the pun?  My sister is so clever!)
Marshmallow Snowman Cupcakes feature a simple vanilla bean cupcake with vanilla bean buttercream frosting.  Plan to make the adorable toppers ahead of time, it can take a bit to assemble all the pieces.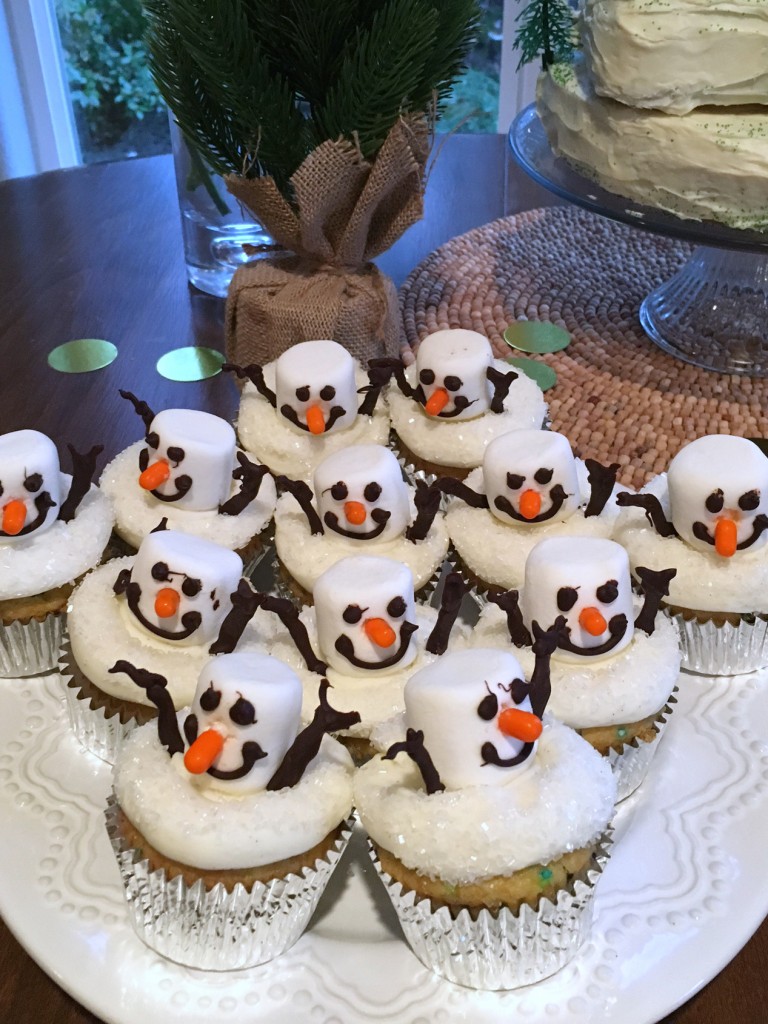 Marshmallow Snowman Cupcakes
Makes 18 cupcakes
Ingredients:
Vanilla Bean Cupcakes
3 C cake flour
3 t baking powder
1/2 t salt
1 C (2 sticks) butter, softened
1 3/4 C sugar
2 eggs
1 vanilla bean
2 T vanilla extract
1 1/2 C whole milk
Small colored candies and sprinkles
Vanilla Bean Buttercream Frosting
1 C (2 sticks) butter, softened
1 vanilla bean
2 t vanilla extract (clear if you can find it)
2 T heavy cream
4 C powdered sugar
Pinch salt
Sparkling sugar in clear or white
Marshmallow Snowmen
18 large marshmallows
18 orange tic-tac candies
1/2 C dark chocolate chips
Directions:
Make marshmallow snowmen first.  Use a sharp knife to gently make a small hole in the middle of a marshmallow.  Push in orange tic-tac candy for the snowman's nose.
Put dark chocolate chips into a plastic baggie and carefully melt in microwave.  Snip a very small piece from the corner.  Practice first on a piece of wax paper then make small dots on the marshmallow for eyes and a smile.
Use remaining chocolate to draw 1 inch chocolate lines on wax paper for the snowmen's arms.  Don't worry if lines aren't straight.  Make a few extra arms in case some break.  Cool completely and set aside.
To make cupcakes, heat oven to 350.  Line pan with cupcake wrappers.
Stir together cake flour, baking powder and salt.
In bowl of a stand mixer, beat butter and sugar until light and fluffy.
Add eggs one at a time.  Add vanilla extract.  Split and scrape the vanilla bean pod.
Add half the flour mixture and half the whole milk.  Mix until just combined.  Repeat.
Fill pan 2/3 full and bake for 20 minutes or until lightly golden on edges and a toothpick comes out clean.
Cool completely.  Use an apple corer or sharp knife to make a small hole.  Do not punch through the bottom of the cupcake.  Fill with small colored candies and sprinkles.
To make frosting, cream butter in stand mixer.  Add vanilla extract and pinch of salt.  Spilt and scrape vanilla bean.
Add half the powdered sugar and 1 T heavy cream.  Add the rest and adjust until desired consistency.
To assemble, pipe a thick ring of frosting around the edge of the cupcake.  Pour sparkling sugar on a small plate.  Invert cupcake and gently press into sugar.  Pipe more frosting in the center and gently press marshmallow snowman head into place.  Insert arms into the frosting.
Marshmallow Snowmen see on Pinterest.  Vanilla Bean Cupcakes modified from "Vanilla Bean Cupcakes with Buttercream Frosting," justataste.com, Kelly Senyei, 4/7/16