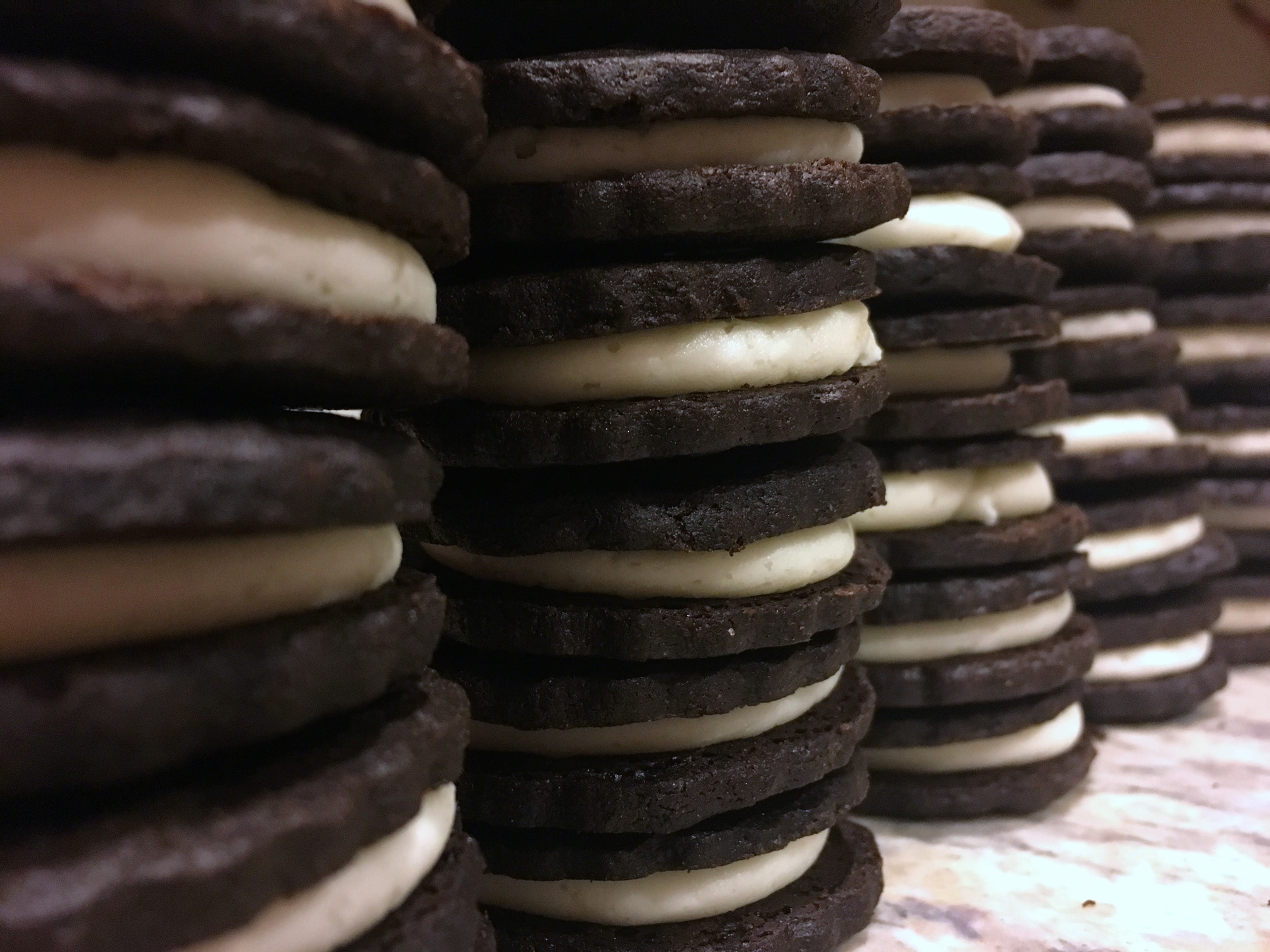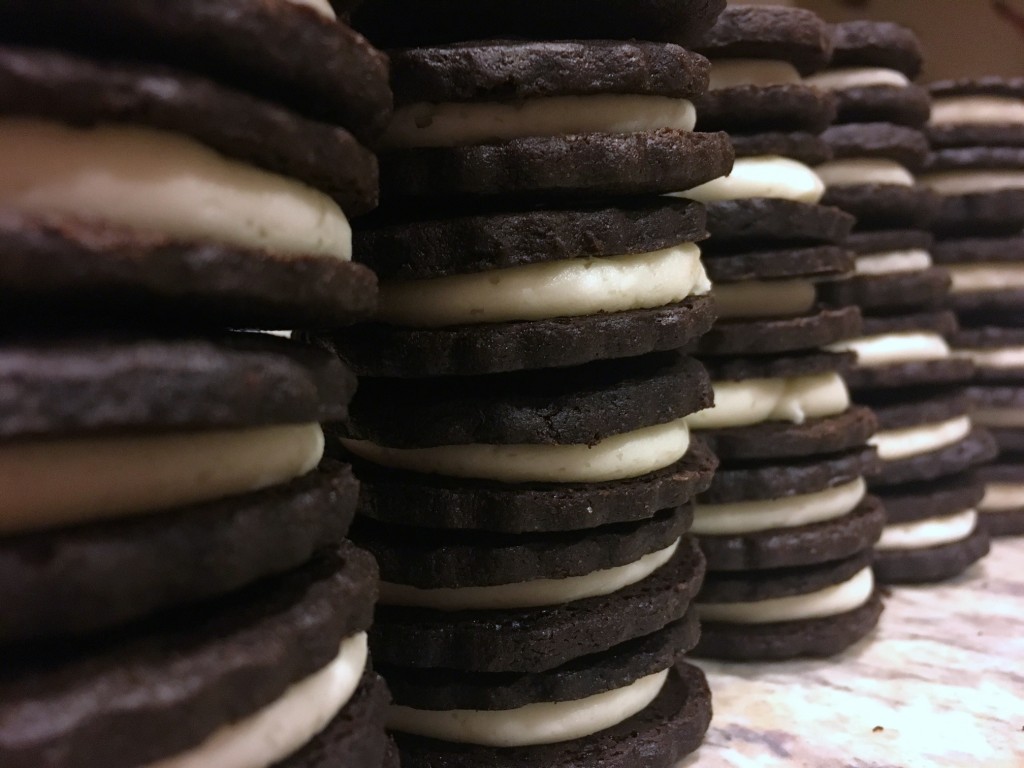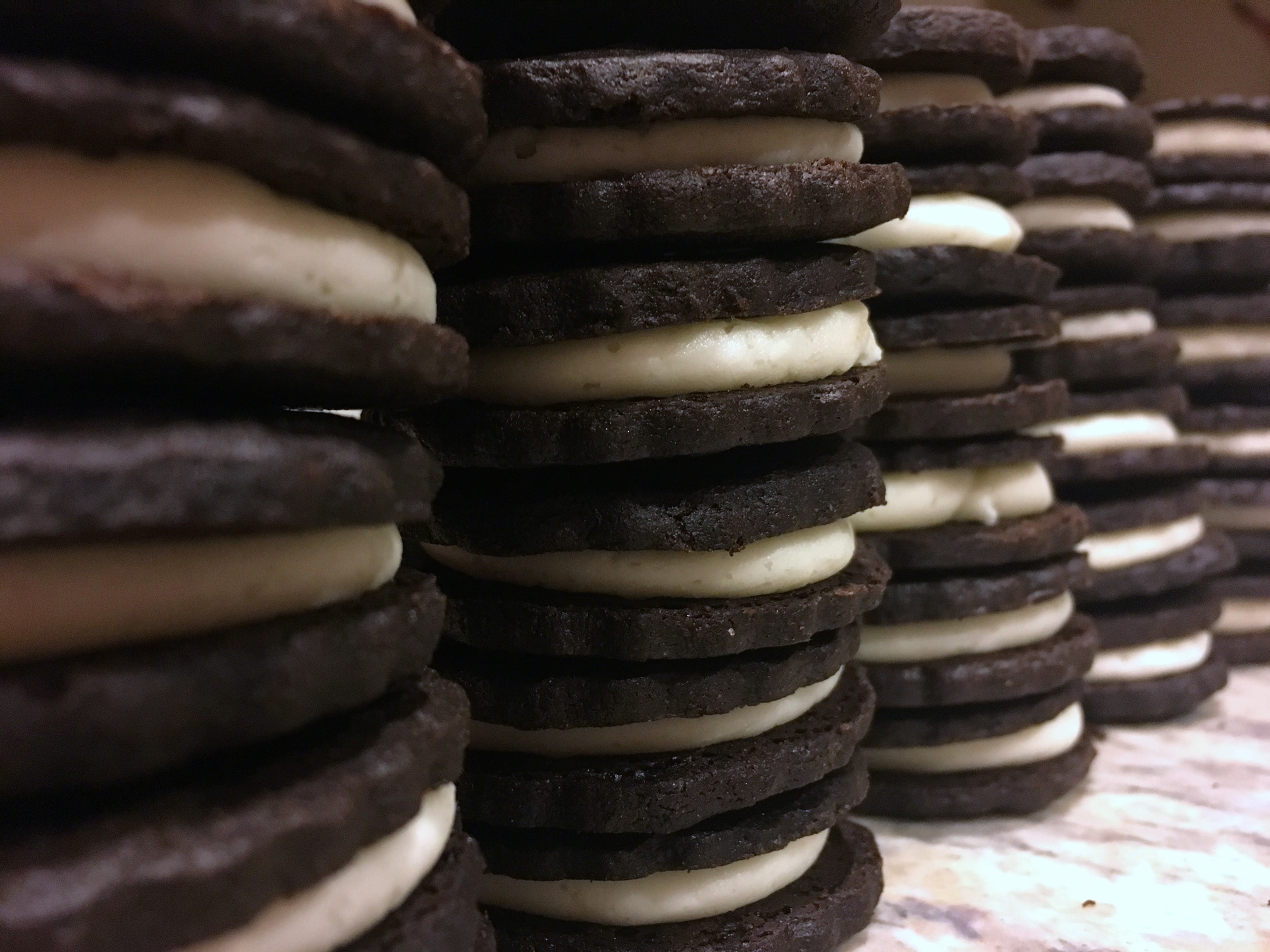 Sometimes people assume I don't buy cookies at the store because I write a food blog.  This is totally untrue, I have zero willpower for Oreos and anything the Girl Scouts are selling.  Darkl chocolate cookies with vanilla cream centers, these are so good people won't believe you made them yourself.
A note about cocoa powder.  The type determines how "dark" the chocolate part will be.  For this recipe, I used double-dutch dark cocoa blend powder.  King Arthur Flour has a great article about the types of cocoa powder and uses.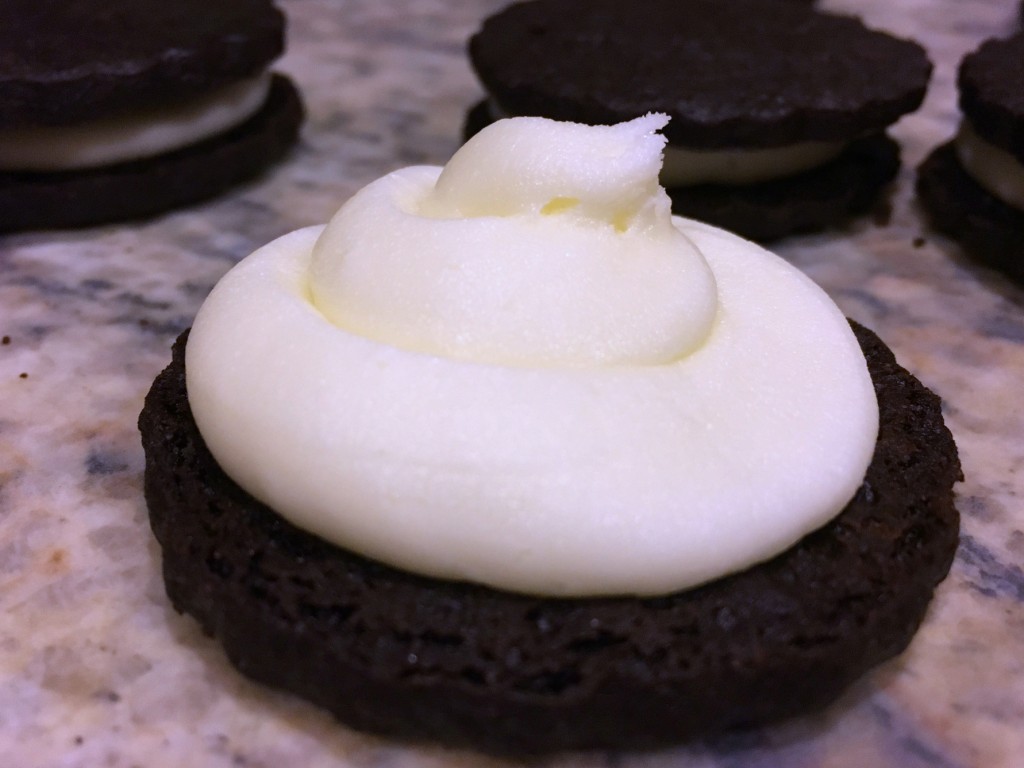 Homemade Oreos
Makes 36 sandwich cookies
Ingredients:
Cookie:
1 2/3 C flour
3/4 C unsweetened dark cocoa powder (double-dutch dark cocoa blend if you can find it)
1/2 t salt
1/2 t baking soda
3/4 C sugar
1 egg yolk
1 t vanilla extract
Filling:
1 C (2 sticks) butter, softened
4 C powdered sugar
2 T heavy cream
2 t vanilla extract
Pinch salt
Directions:
Mix together flour, cocoa powder, salt and baking soda.  Set aside.
Use a stand mixer with paddle attachment to blend butter and sugar until fluffy, about 3 minutes.  Add egg yolk and vanilla.  Scrape sides if needed.
Add dry ingredients to mixer on low-speed.  Mix until just combined.
Divide dough into 2 equal pieces and form into discs.  Wrap tightly in plastic wrap and refrigerate for at least an hour, overnight preferred.
To make cookies, heat oven to 350.  Line baking sheets with parchment paper.
Remove dough from refrigerator.  Place between 2 pieces of wax paper and dust lightly with flour.  Use a rolling-pin to flatten out dough until 1/8 inch thick.  Cut out cookies with a fluted round cookie cutter (or use your favorite shape).  My cutter is about 3 inches across.
Bake cookies 15-19 minutes until no longer shiny.  Cool and carefully remove from cookie sheets.
To make filling, use a hand mixer to cream butter until fluffy and light yellow.  Add powdered sugar, pinch salt, vanilla and heavy cream.  Mixture should be thick but spreadable.  Transfer filling into a plastic freezer bag and snip the corner.
Select a cookie and pipe frosting into the middle.  I tried to estimate a generous tablespoon but probably over did it… it's Oreo filling!  Add a second cookie and press down gently until you can see filling on sides.  Continue until all cookies are sandwiched.
Refrigerate until sharing.
Recipe modified from "Chocolate Sandwich Cookies" from "Classic Cookies with Modern Twists" by Ellen Jackson, p 77.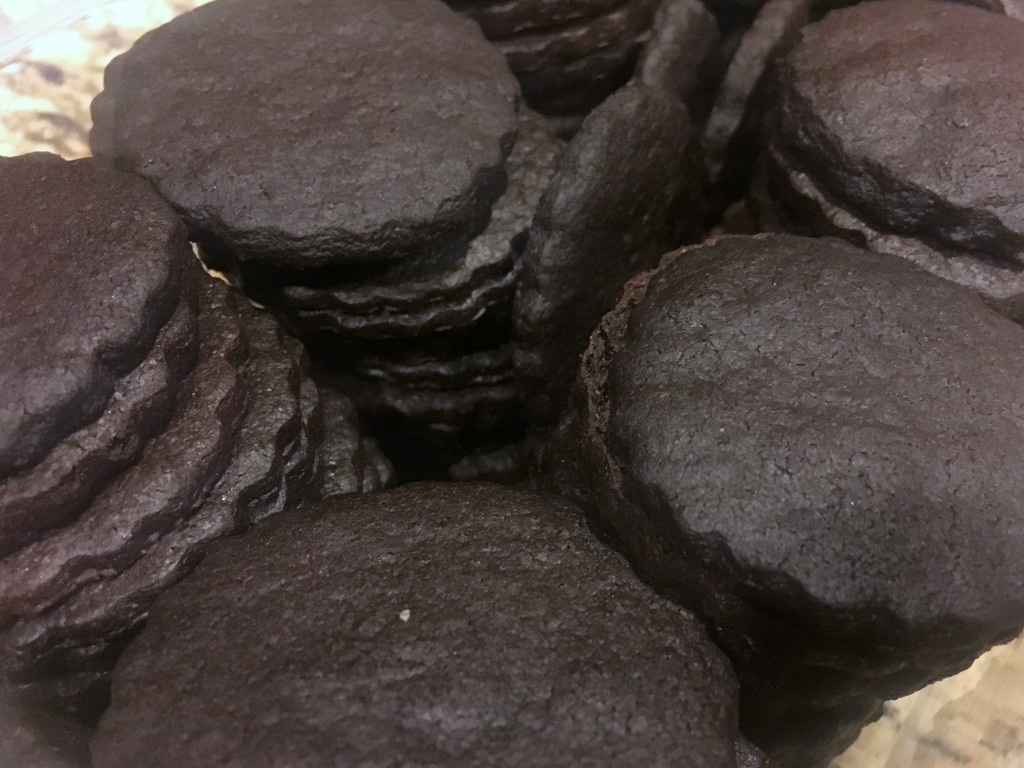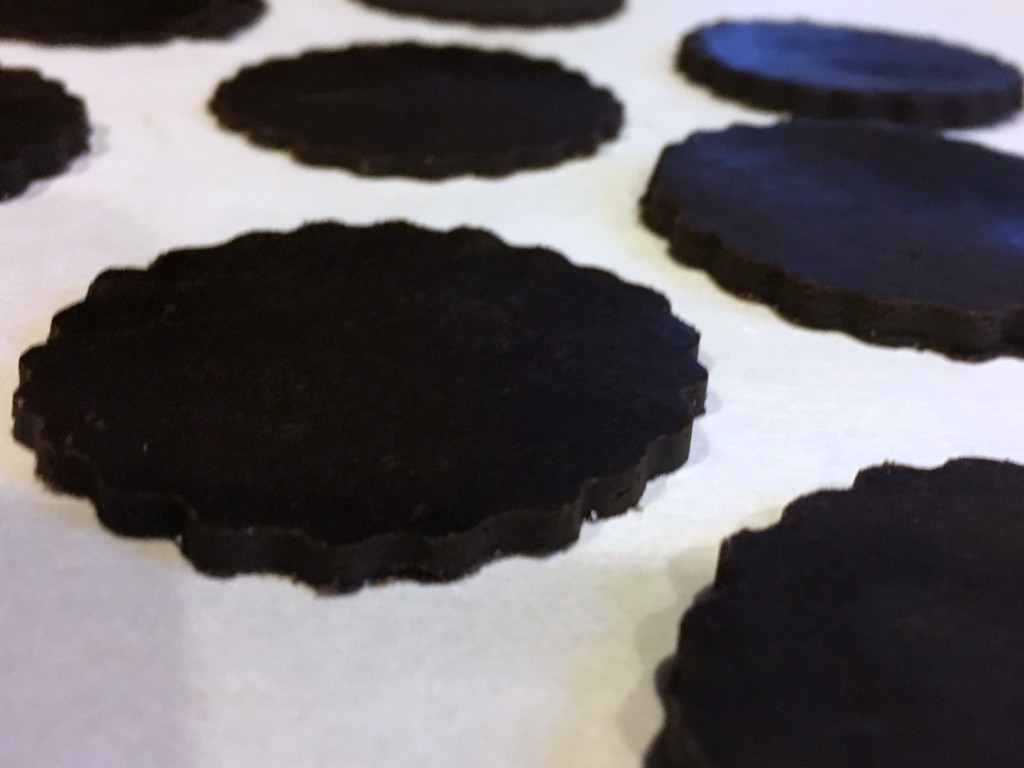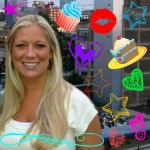 I'm a self-taught Betty Crocker. Food should be pretty, delicious and have sprinkles. Professionally I'm a clinical social worker. Follow me on Facebook and Pinterest- Sugar and Spice Baking Blog- for great recipes, amazing restaurants and culinary adventures.