I have extra Halloween candy.  Despite highly scientific calculations (see equation below), we have lots of leftover sugar.  This means DIY Butterfingers and a new treat, Milky Way Cupcakes.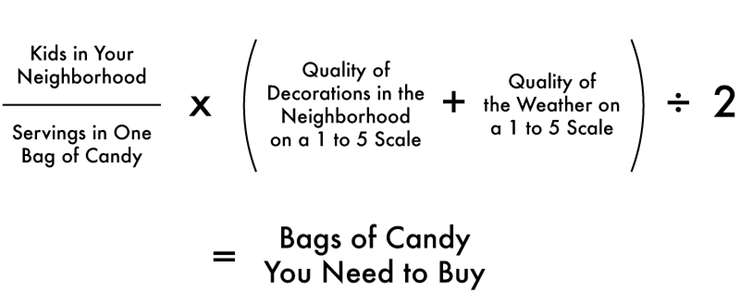 Milky Way Cupcakes use up 2 whole bags of Milky Way Fun Size Candy.  They have candy inside, candy on top and an entire bag melted into the frosting.  I think I may mess up the Halloween candy equation again next year!
Milky Way Cupcakes
Makes 24 cupcakes
Ingredients:
Milky Way Cupcakes
1 box milk chocolate cake mix
1 small box instant butterscotch pudding
1 bag (11.5 oz) Guttiard milk chocolate chips
4 eggs
3/4 C vegetable oil
3/4 C whole milk
16 Milky Way Fun Size Candy Bars, cut into thirds
Milky Way Frosting
24 Milky Way Fun Size Candy Bars, chopped
1/3 C butter
1 T whole milk
1 t vanilla
4 C powdered sugar
Directions:
Heat oven to 350.  Line muffin pan with liners.
Combine cupcake ingredients except for Milky Way pieces.  Distribute into cupcake pan.  There is enough batter for 24 cupcakes.  Do not overfill.
Place 1 piece of candy bar in the center of each cupcake.  You will have 24 pieces left, these will be used for garnish on the frosting.  Set aside.
Bake for 20 minutes total, 10 minutes lower rack and 10 minutes upper.  Remove and cool completely.  Cupcake will bake around candy bar.  It's ok if it leaves a dent, you're going to cover it with frosting.
To make frosting, melt butter, milk and candy bars in microwave.  Use 15 second bursts and stir, about 1 minute total.  Use a hand mixer to blend until smooth.
Continue to use hand mixer, add in vanilla and powdered sugar in 1 C increments.  Frosting will be very thick but spreadable.   If it is too thick, add small amounts of milk until it reaches desired consistency.
Pipe on cupcakes and garnish with left over pieces of Milky Way.
Recipe modified from "Vanilla Milky Way Cupcakes," bettycrocker.com