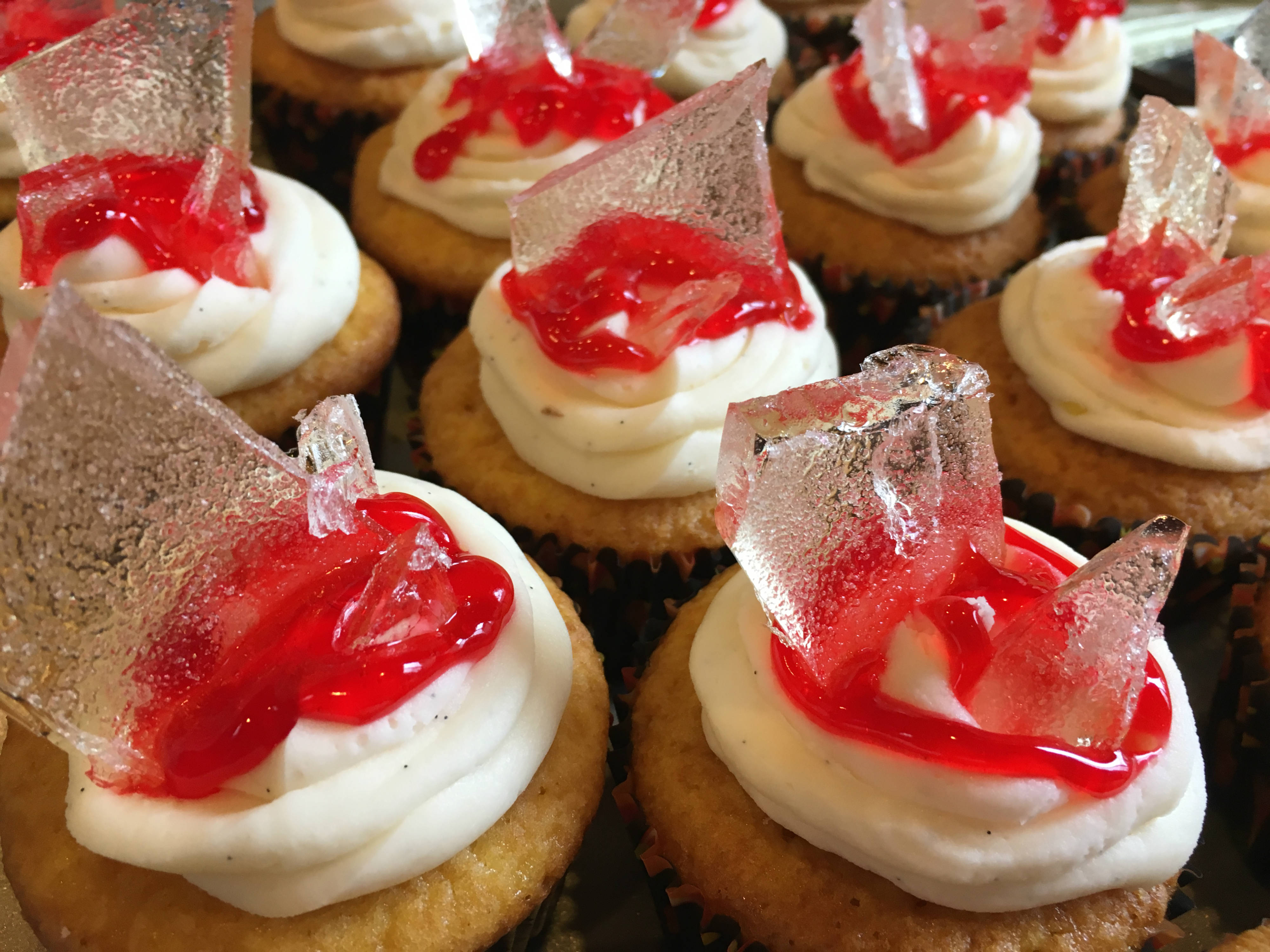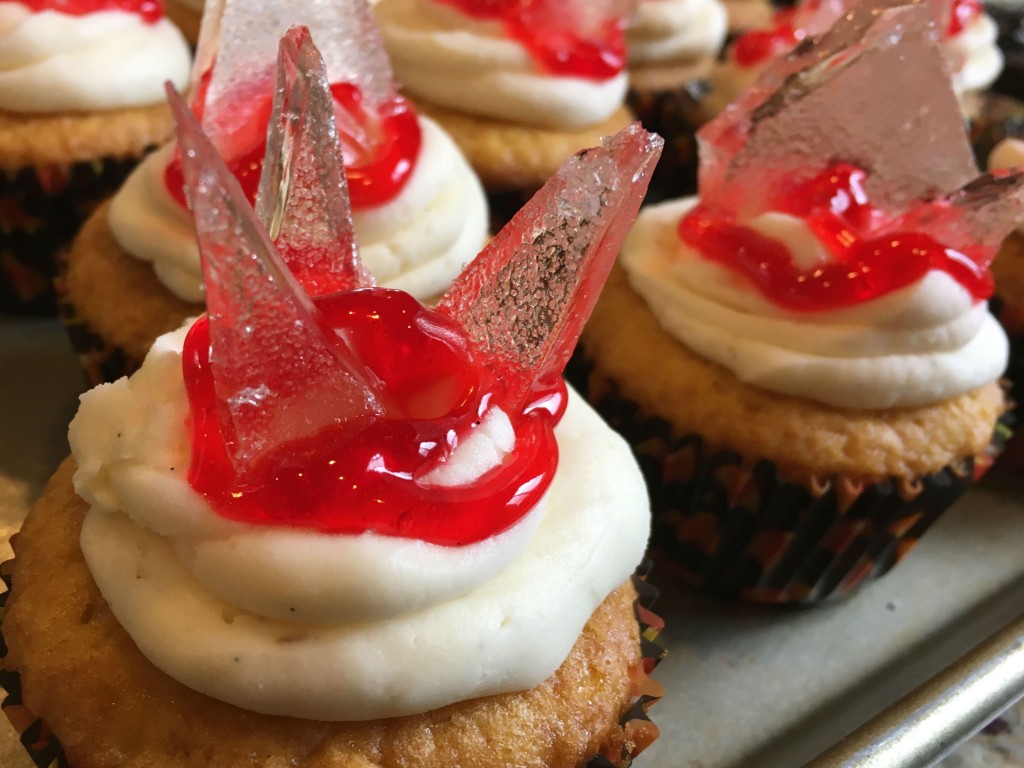 Crime Scene Cupcakes should be a new addition to your Halloween party.  A slightly different spin on the holiday, these provide a fun change of scene from traditional pumpkins and black cats.
Crime Scene Cupcakes involve yellow cake, cherry filling (so they "bleed" when you eat them!) and vanilla bean buttercream frosting.  The crime scene "glass" on top is also edible.
PS.  You may want to think before serving these to little kids or people who have recently had a loss, particularly an auto accident.  While they are intended to be a fun Halloween treat, fake blood and glass can be a reminder of hard things that have happened.  Be nice to your friends!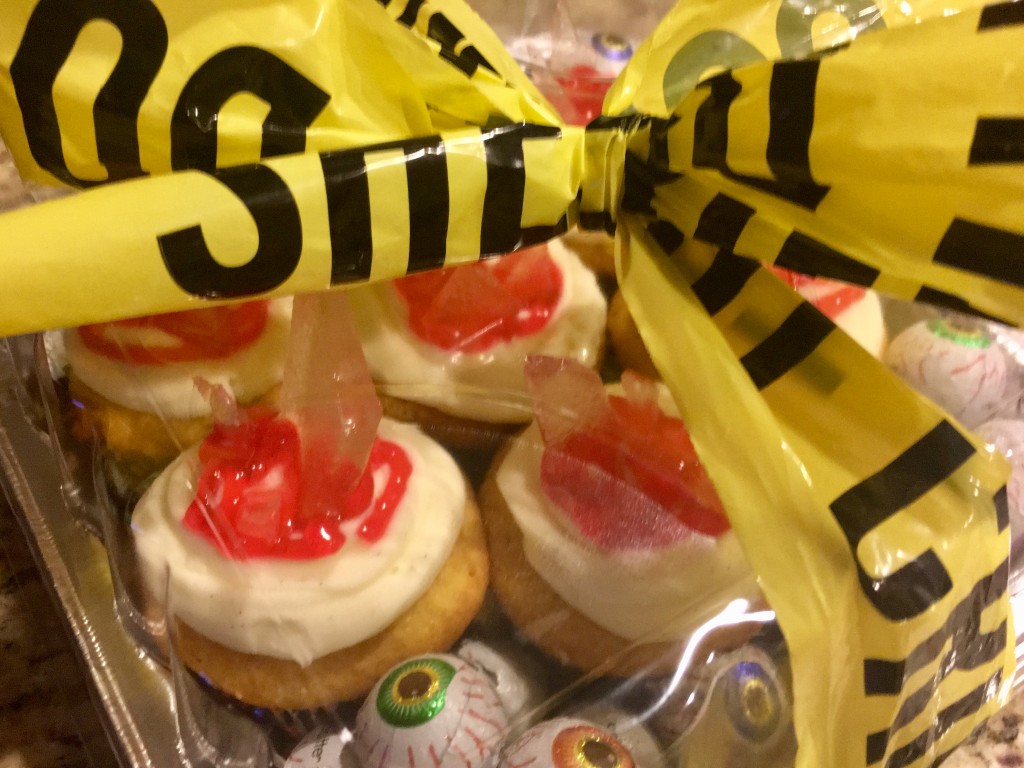 Crime Scene Cupcakes
Makes 24 cupcakes
Ingredients:
Cupcakes
1 box yellow cake mix
1 small box instant vanilla pudding
4 eggs
3/4 C whole milk
3/4 C vegetable oil
1 large can cherry pie filling
Glass Candy
1 C light corn syrup
3 C sugar
1 C water
1/4 t cream of tartar
Vanilla Bean Buttercream
2 C (4 sticks) butter, softened
1 vanilla bean
1 t vanilla extract
8 C powdered sugar
2-3 T whole milk
pinch salt
4 tubes red food gel
Directions:
Heat oven to 350.  Line cupcake pan with liners.
Mix cake mix, instant pudding, eggs, whole milk and oil until combined.  Scoop into cupcake pan filling 2/3 C full.  There is enough batter for 24 cupcakes.
Bake for 20 minutes, 10 minutes on lower rack and 10 minutes on upper.  Cupcakes will be lightly golden brown and a toothpick comes out clean.  Cool completely.
While cupcakes are cooling, make glass candy.  This requires a candy thermometer.  I bought one at the grocery store for about $3.
Line a 9×13 baking pan with aluminum foil.  Clip candy thermometer to the side of a saucepan.  Do not allow it to touch the bottom.
Add all glass candy ingredients and bring to a boil over medium heat.  Increase heat to medium high and stir occasionally.  Watch the thermometer, it will seem like it's taking forever but as long as it's moving upwards, you're fine.  If you turn the stove too hot the mixture can burn.  When the mixture reaches 300 degrees (known as the hard crack stage), pour into prepared pan.  Allow to cool completely, at least an hour.
While glass candy is cooling, fill the cupcakes.
Remove a section in the middle with a cupcake punch.  Spoon in 1T cherry pie filling.  Remove extra cake from bottom of punched section and put the "lid" on the pie filling.  This helps seal the cupcake and keep filling inside.
To make vanilla bean buttercream, use a stand mixer with paddle attachment.  Cream butter for 2-3 minutes until light yellow and fluffy.  Split and scrape vanilla bean, add vanilla extract and pinch of salt.  Add powdered sugar in 2 C increments.  Add whole milk and adjust until frosting reaches desired consistency.
To assemble cupcakes, pipe vanilla bean buttercream on top.  Add a blob of red food gel.  Carefully remove cooled glass candy from pan and break it.  (This makes a mess).  Stick large pieces into cupcake, stabbing it through the red food gel.  It looks great to use a few pieces, mix up sizes and shapes.  You may not need all the glass candy.
Serve and have a fun and safe Halloween!
Recipe idea seen in a catalogue in a waiting room.  Glass candy recipe modified from "Glass Candy," cooks.com.