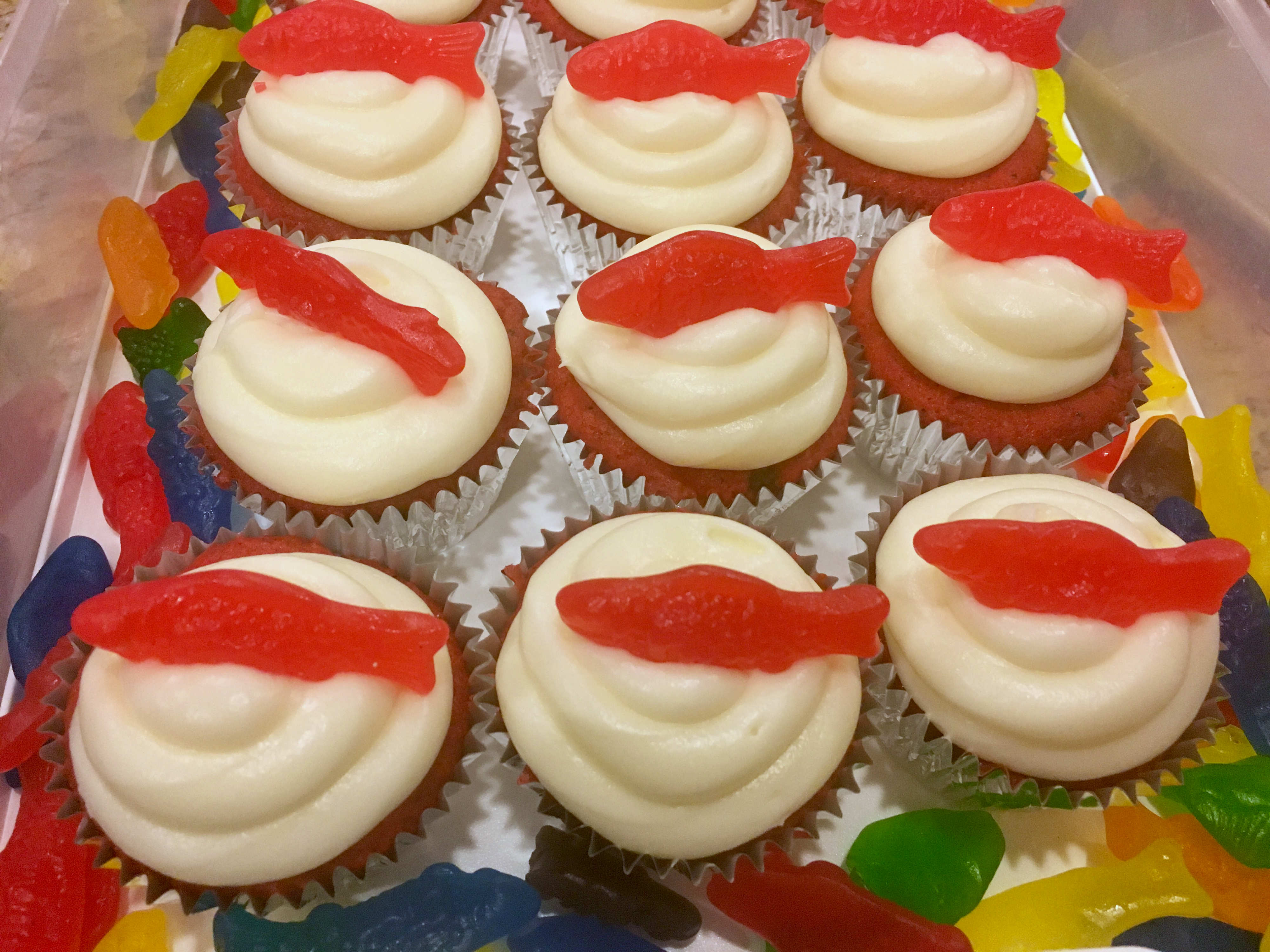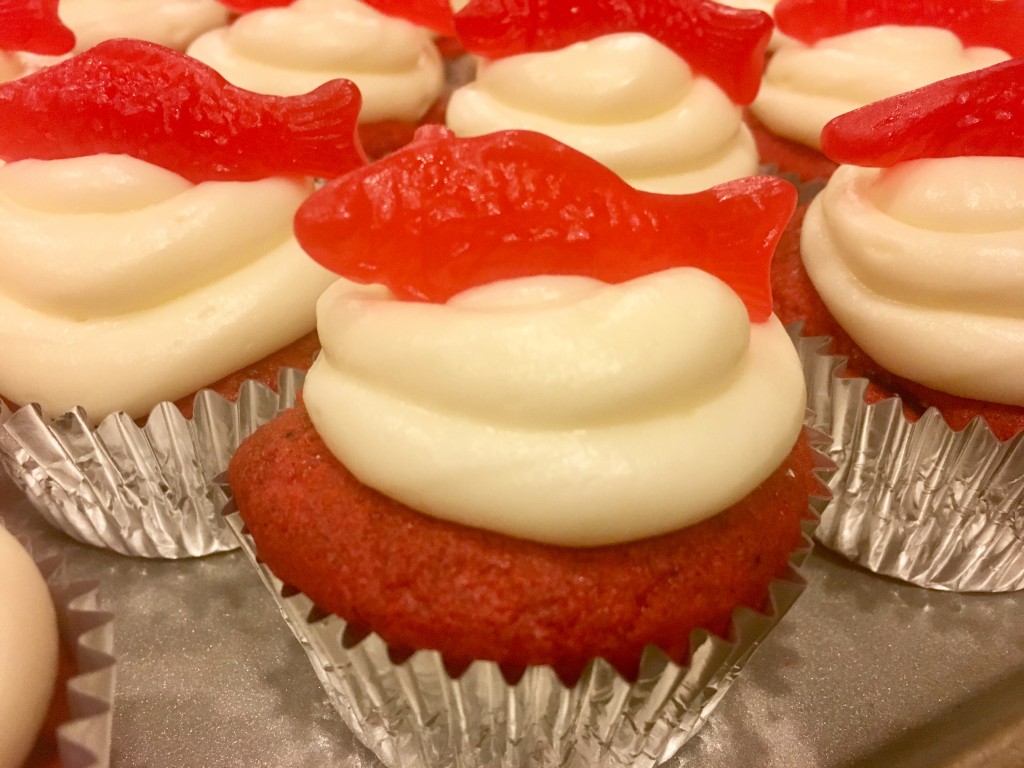 Swedish Fish are a thing.  While I don't totally get it, these little red buggers have been around since the 1950s and people are seriously crazy about them.  Swedish Fish are technically a wine gum candy imported from Sweden.  Wine gums do not contain any actual wine (sorry), but are gelatin free and therefore one of the the few gummy candies considered vegetarian.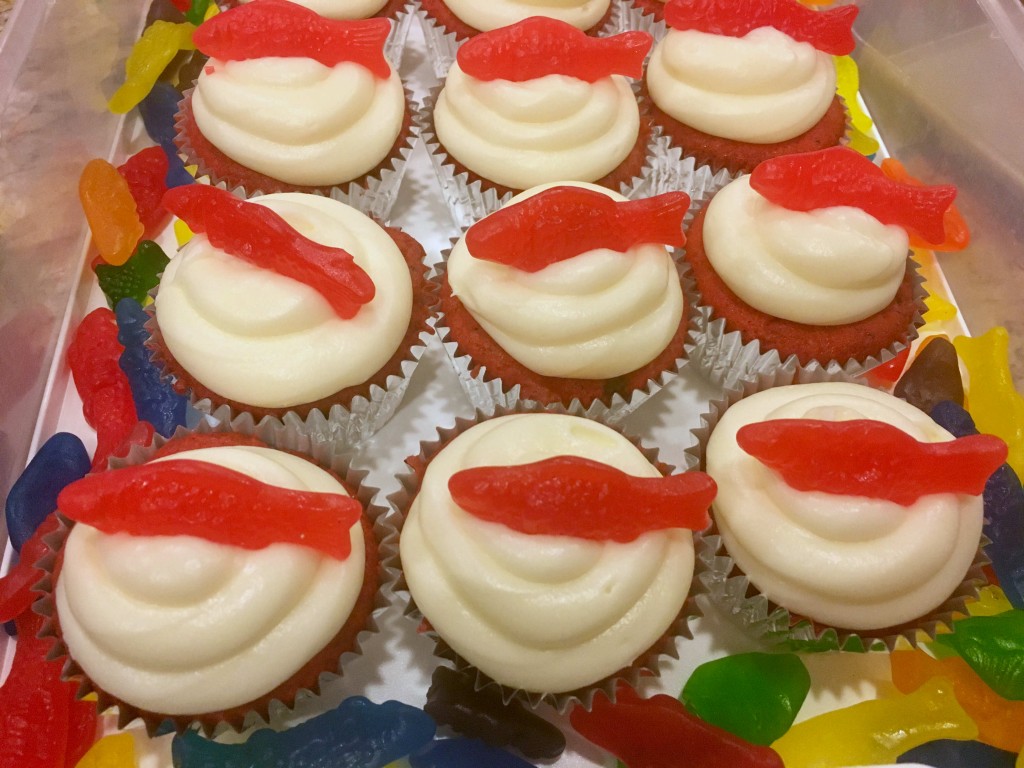 Swedish Fish Cupcakes
Makes 24 cupcakes
Ingredients:
Swedish Fish Cupcakes:
1 box white cake mix
3/4 C whole milk
3/4 C vegetable oil
4 eggs
1 small box cherry Jello (3 oz size)
1 T red food coloring
1 t strawberry or raspberry extract
1 package Swedish Fish Oreos, crushed
1 C Swedish Fish candies
Cream Cheese Frosting
2 8 oz packages cream cheese, softened
1/2 C butter (1 stick), softened
8 C powdered sugar
2 T whole milk
1 t vanilla extract
pinch salt
Extra Swedish Fish candies for garnish
Directions:
Heat oven to 350.  Place cupcake liners in a muffin pans.
Use very clean scissors to cut 1 C Swedish Fish candies into small pieces.  Scissors work much better than a knife.  Set aside.
Combine white cake mix and cherry jello.  Add red food coloring, whole milk, vegetable oil, eggs and raspberry or strawberry extract.
Add Swedish Fish Oreo pieces and pieces of Swedish Fish candy.  Mix until combined.
Distribute into cupcake pans.
Bake for 18 minutes or until a toothpick comes out clean.  Set aside and cool completely.
To make frosting, use a stand mixer to combine cream cheese and butter.  Add powdered sugar in 2 C increments.  Add vanilla and pinch of salt.  Add whole milk until frosting reaches desired consistency.
Pipe onto cooled cupcakes and garnish with Swedish Fish candies.
Recipe modified from "Swedish Fish Cake," cake2cake.blogspot.com, 4/12/11