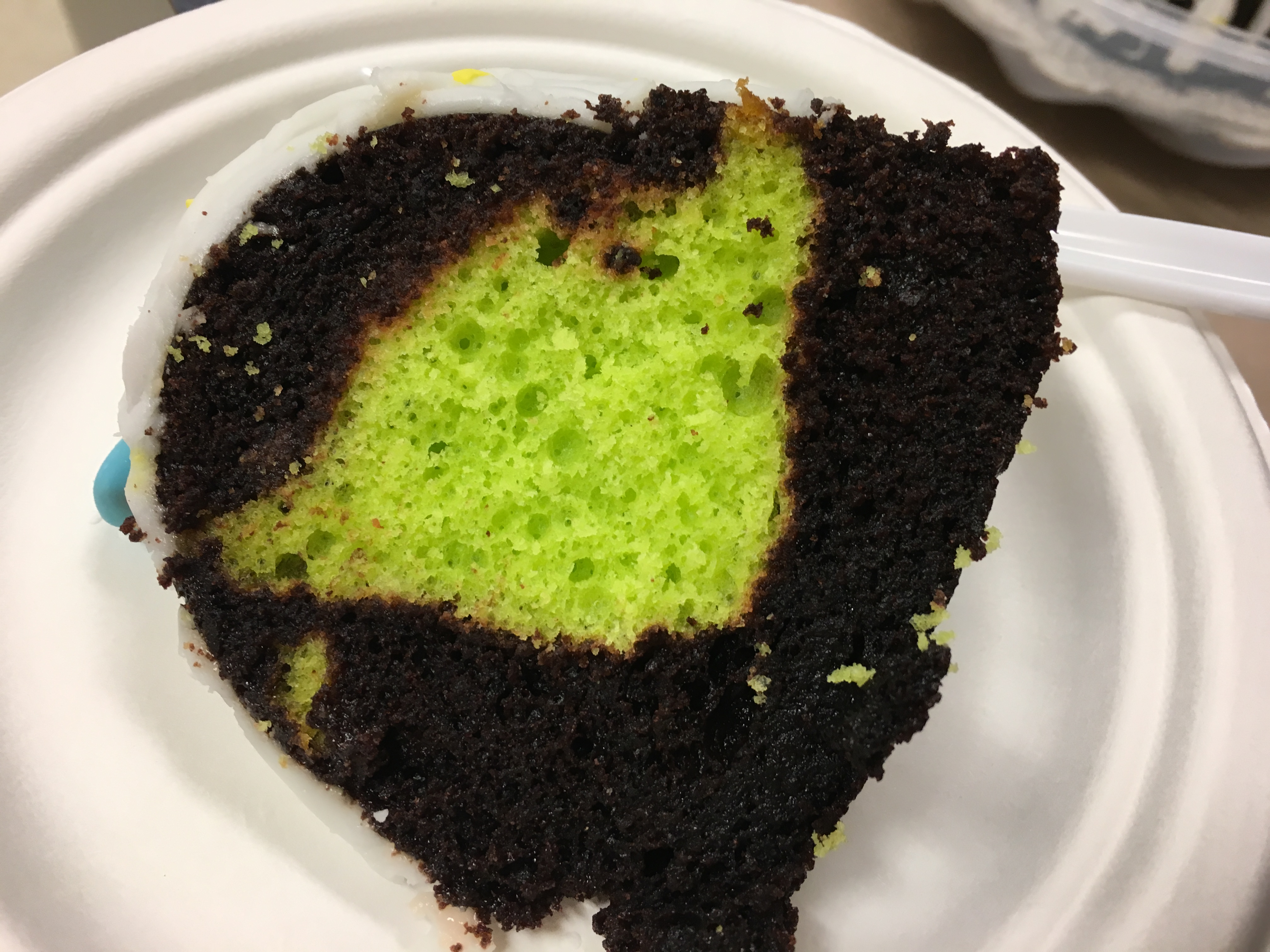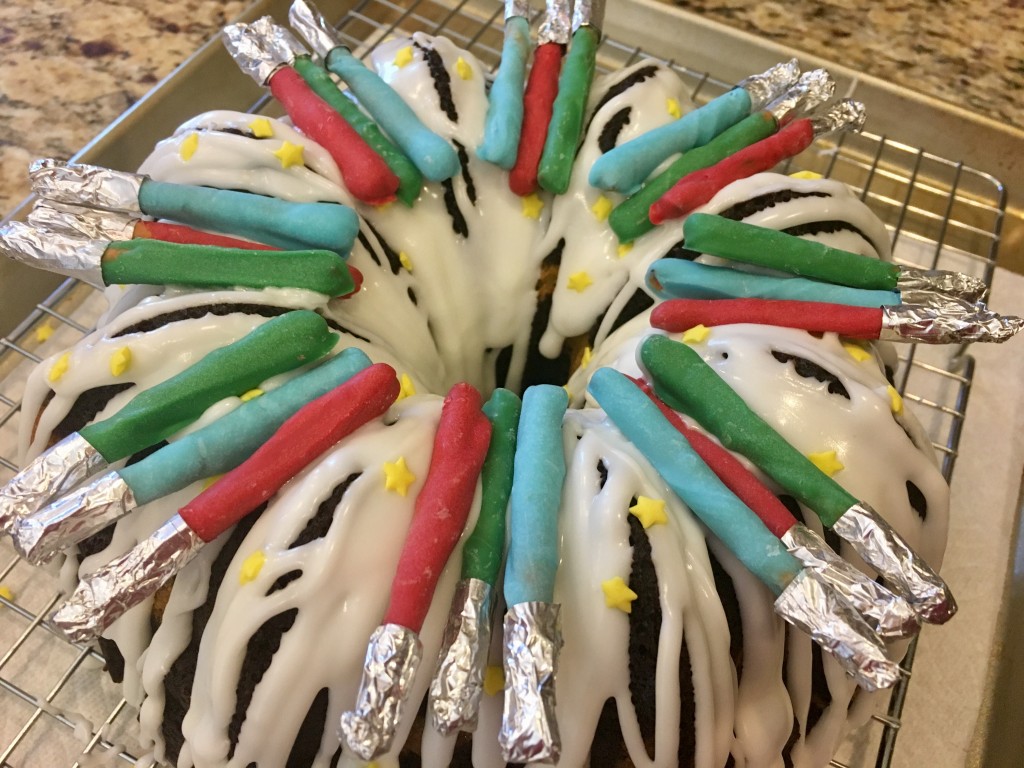 Yoda Bundt Cake is perfect for any Star Wars fan!  It requires a bit of planning and makes a delicious addition to May the Fourth, Halloween, birthdays or Star Wars movie release parties.  It's YODA IN CAKE with teeny tiny light sabers… how fun is that?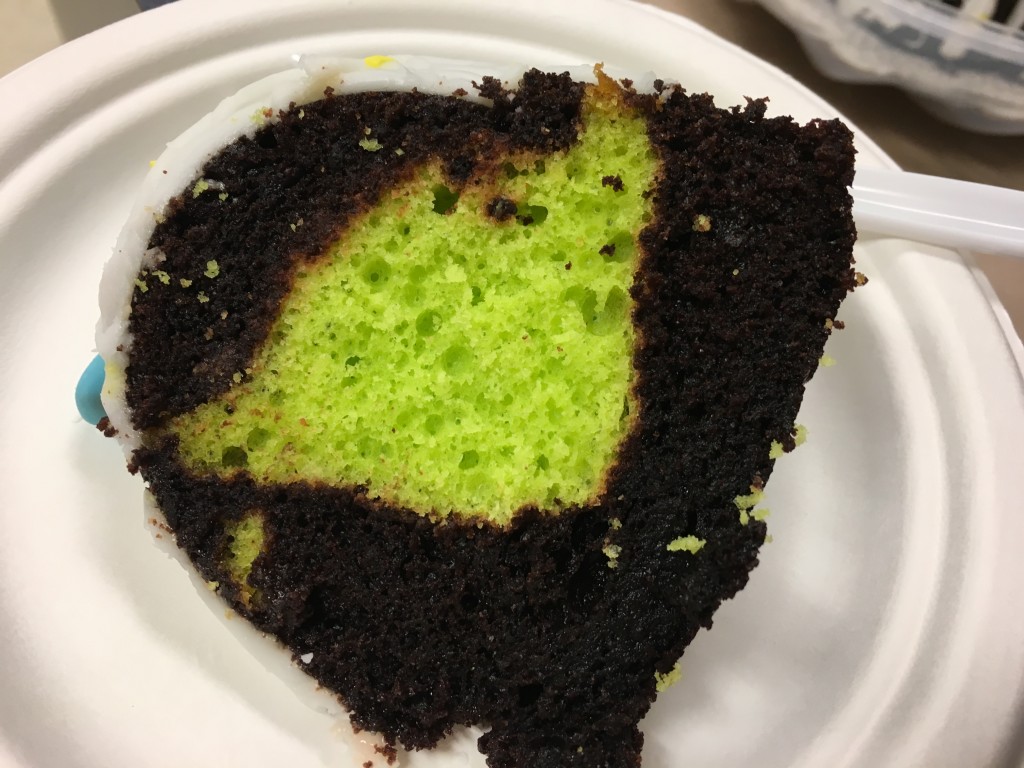 Yoda Bundt Cake
Serves 12 people
Ingredients:
Yoda shapes:
1 box white cake mix
Ingredients to follow box directions (eggs, oil and water)
Green food coloring
Cake:
Dark chocolate cake mix
1 small box chocolate pudding
4 eggs
3/4 C whole milk
3/4 C vegetable oil
Vanilla glaze:
4 C powdered sugar
2 T whole milk
1 T vanilla extract
Pinch salt
Yellow star sprinkles
Mini light sabers
Mini pretzel sticks
Colored candy melts (I use Wilton)
Small pieces of aluminum foil
Directions:
Make mini light sabers a head of time.  Set out wax paper.  Melt 1/2 C colored candy melts in the microwave following package directions.  Dip most of a mini pretzel stick in the desired colors.  Set on wax paper to harden.  Wrap the exposed part of the pretzel in foil.
To make Yoda shapes, heat the oven to 350.  Make cake mix according to box directions and add green food coloring.  Thoroughly grease a baker's half sheet pan (large rimmed baking pan, 13″x18″x1″).  Pour batter into pan and bake about 20 minutes or until a toothpick comes out clean.  Set aside to cool completely.  Use a Star Wars cookie cutter to cut out as many Yoda shapes as possible.
Heat oven to 350.  Carefully grease a 10 C capacity bundt pan.  Bundt pans typically have interesting shapes, be sure to get every crevice or the cake may stick.
Combine dark chocolate cake mix, eggs, oil and whole milk.  Dump about a quarter of the cake batter into the top of the bundt pan.  Put in as many Yoda shapes as you can fit, turning upside down because the cake is inverted for serving.  Don't worry about putting them too close together, you want to fit in as many as you can.
Pour the rest of the batter into the bundt pan.  Tap it on the counter a few times to help the batter settle around the shapes.  Bake until a toothpick comes out clean, about 40 minutes.  Allow the cake to cool in the pan for at least 15 minutes then invert on a cooling rack.
When the cake cools completely (a few hours or overnight), mix the ingredients for vanilla glaze.  You may have to adjust the milk slightly for desired consistency.  Drizzle over cake and quickly add yellow star sprinkles.  Garnish with light sabers.
May the force be with you!
Recipe modified from "Star Wars Bundt Cake," sugarswings.com, 5/3/14