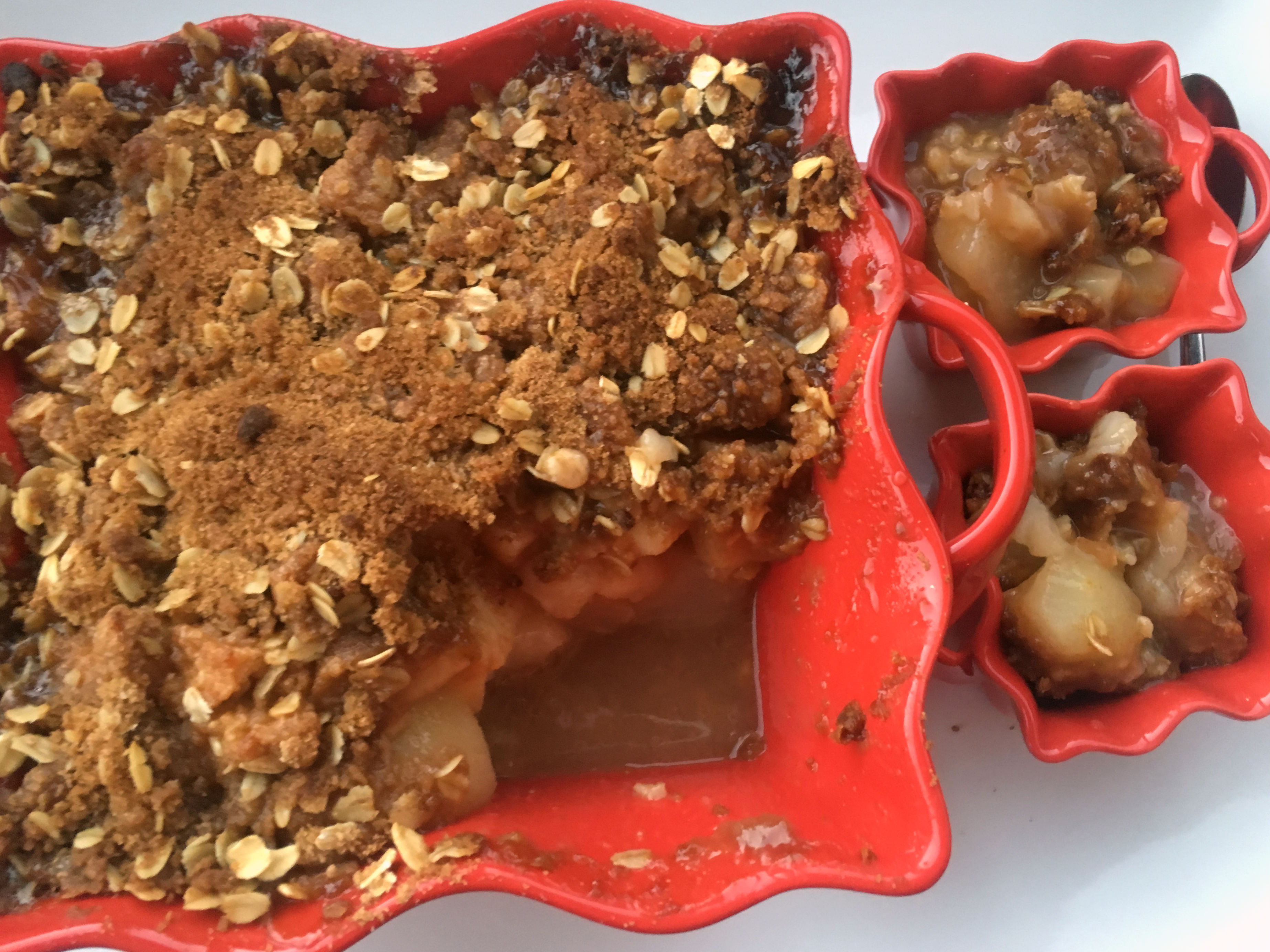 Harvest Pear Crisp is a delicious and easy way to use up ripening pears.  The crumbly streusel topping makes it perfect for fall evening.
*You'll see the crisp in an 8×8 pan in the photo.  If I made it again I would suggest 9×13.  The recipe will reflect using a 9×13 pan.
Harvest Pear Crisp
Makes 12 servings
Ingredients:
Pear Filling
6 C ripe pears (Bartlett or Anjou), cored, peeled and cut
1 T fresh lemon juice
1/3 C sugar
1 T cornstarch
1 t cinnamon
1/8 t nutmeg
Streusel Topping
1/3 C flour
1/2 C dark brown sugar
1/2 t salt
1/2 t cinnamon
4 T butter, chilled and cut into pieces
1/3 C regular oats
1/4 C chopped pecans or walnuts
Directions:
Heat oven to 375.
Combine pears and lemon juice in large bowl.  Toss gently to coat.  Mix sugar, cornstarch, 1 t cinnamon and nutmeg in a small bowl.  Add to pears and stir gently until mixed. Transfer to baking pan.
Add flour, brown, sugar, 1/2 t cinnamon, salt, oats and butter to a mixing bowl.  Use a pastry cutter or fork to cut together until the topping resembles coarse crumbs.  Add walnuts or pecans.  Sprinkle evenly over pears.
Bake for 35-40 minutes until pears are tender and bubbling and the topping is golden.  Cool then serve warm.
Modified from "Harvest Pear Crisp," myrecipes.com