Peanut Butter Cup Cookie Bars
Imagine a cookie bar that tastes like a giant Reese's Peanut Butter Cup.
Now imagine you can make it in just over an hour (most of which is in the refrigerator) with no baking is required.  Sound like a recipe you need?  Me too!!!
Peanut Butter Cup Cookie Bars
Makes 24 bars
Ingredients:
1 C butter, melted
2 C graham cracker crumbs
3 C powdered sugar
1 C creamy peanut butter
1 1/2 C semisweet chocolate chips
1/4 C creamy peanut butter
1 C chopped Reese's Peanut Butter Cups
Directions:
Line 9×13 pan with foil or parchment paper.  If using foil, coat lightly with nonstick cooking spray.
Mix together melted butter, graham crackers, powdered sugar and 1 cup peanut butter until a soft dough forms.  Smooth into the bottom of prepared pan.
In a microwave safe bowl, combine semi sweet chocolate chips and 1/4 C peanut butter.  Microwave in short bursts until melted and smooth.  Pour over prepared crust.  Sprinkle with chopped Reese's Peanut Butter Cups.
Refrigerate 1 hour and cut into squares.
Recipe modified from "Peanut Butter Bars I," allrecipes.com, by Nancy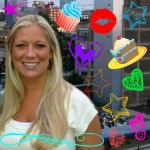 Anna Lookingbill
I'm a self-taught Betty Crocker. Food should be pretty, delicious and have sprinkles. Professionally I'm a clinical social worker. Follow me on Facebook and Pinterest- Sugar and Spice Baking Blog- for great recipes, amazing restaurants and culinary adventures.
Comments
---