Paleo Cinnamon Rolls with Paleo Frosting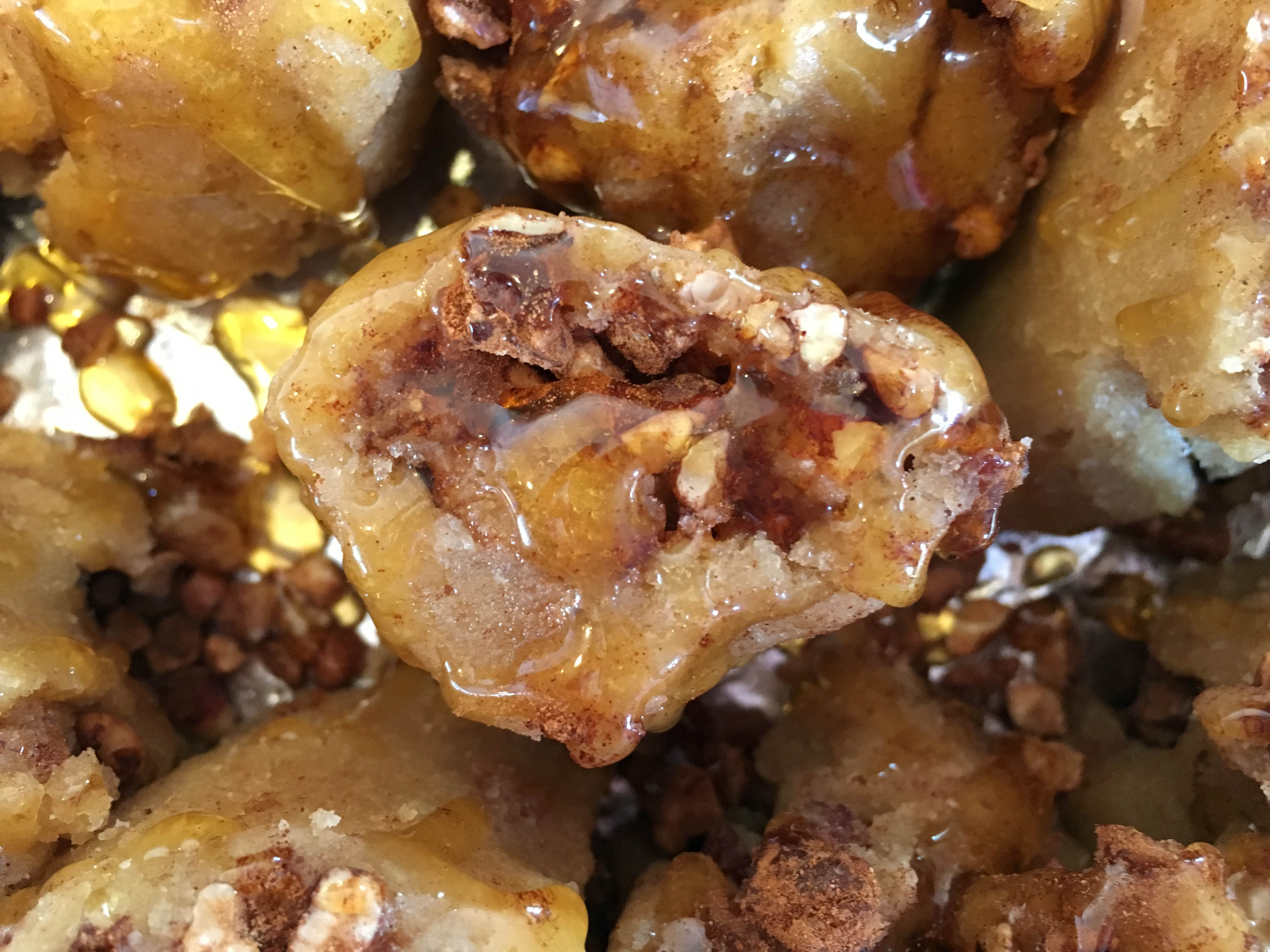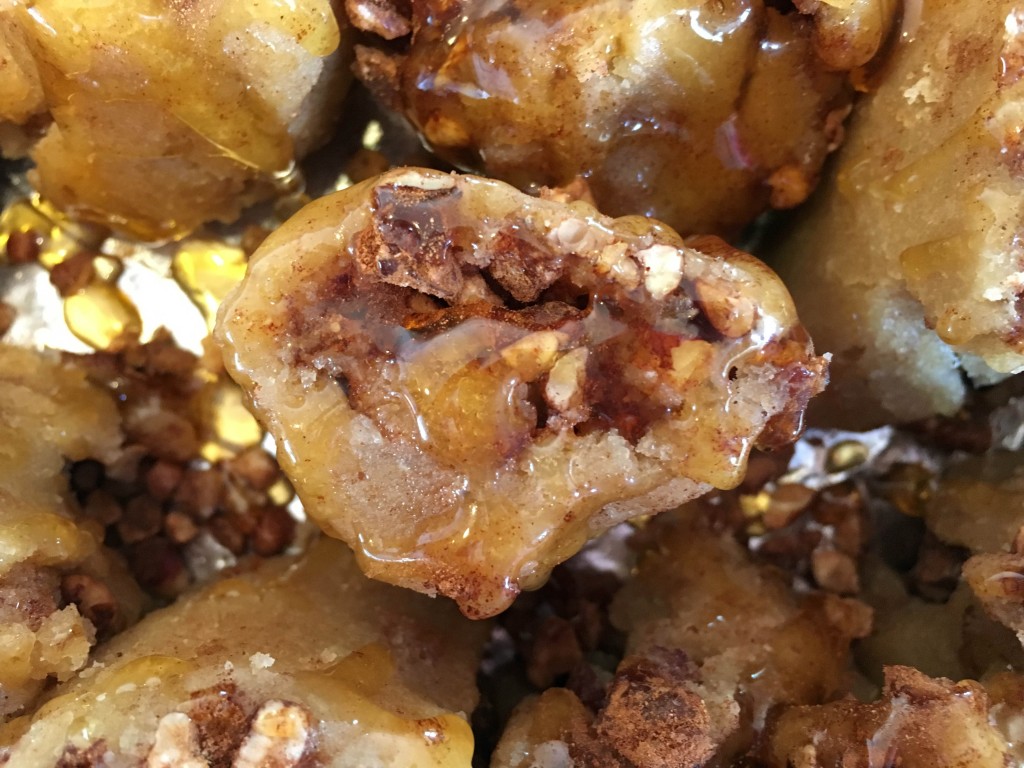 I am not a paleo baker.  I'm a butter and sugar girl but totally understand when folks have dietary restrictions.  A paleo diet does not contain gluten, dairy or sugar.  Right now I have a buddy who is trying hard to eat paleo, these cute little cinnamon rolls support his healthy lifestyle changes.  While markedly different from clone of Cinnabon Copycat Cinnamon Rolls, these turned out great and made a tasty and healthy treat everyone (paleo friend and the rest) could enjoy.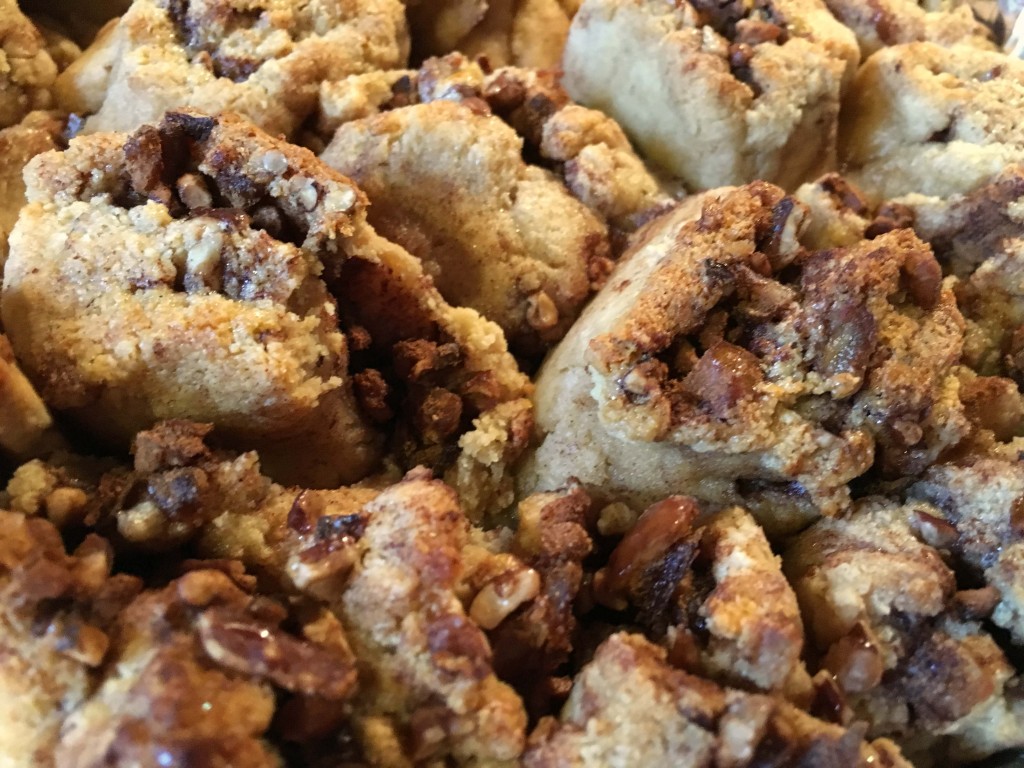 Paleo Cinnamon Rolls with Paleo Frosting
Makes 16 small cinnamon rolls
Ingredients:
Cinnamon Roll dough
1/4 C coconut oil, melted
2 eggs
2 T raw honey
1 T vanilla extract
3 C almond flour
2 T coconut flour
2 T baking soda
1/4 t salt
Cinnamon Roll Filling
2 T cinnamon
1/4 C raw honey
1/2 C pitted and diced Medjool dates
1/2 C toasted and chopped walnuts or pecans
Frosting
1/2 C raw honey
1/2 C coconut cream (not coconut milk)
Pinch cinnamon
Directions:
To make dough, whisk together melted coconut oil, egg, honey and vanilla.  Add almond flour, coconut flour, salt and baking soda.  Mix until well combined.
Transfer dough onto a sheet of wax paper and place a second piece on top.  Roll out until 1/2-1/4 inches thick.  I made a rectangle about 12 inches wide and 16 inches long.  Refrigerate for an hour.  Line a pie pan with foil or parchment paper.
Heat oven to 325.  To make filling, toss cinnamon with dates and nuts.  Remove dough from refrigerator and remove top sheet of wax paper.  Cut in in half the long way.
Drizzle 2 T honey and half the cinnamon date nut mixture over half the dough.  Roll the long way, carefully tucking in filling.  Paleo dough is more fragile than dough with gluten, it helps when it is cold.  Slice into 8 cinnamon rolls and set in pie pan, spreading out evenly.  The cinnamon rolls may fall apart a bit, that will be ok.  Repeat with remaining half of dough.
Bake for 10-12 minutes until golden brown.
While cinnamon rolls are baking, use a hand mixer to combine coconut cream, cinnamon and honey for paleo frosting.
Drizzle over warm cinnamon rolls and serve immediately.  I had to package mine into small containers to transport into the office.
Recipe modified from "Sticky, Ooey, Gooey, Paleo Cinnamon Rolls," by Rebecca Bohl, paleogrubs.com