White Chocolate Malted Fudge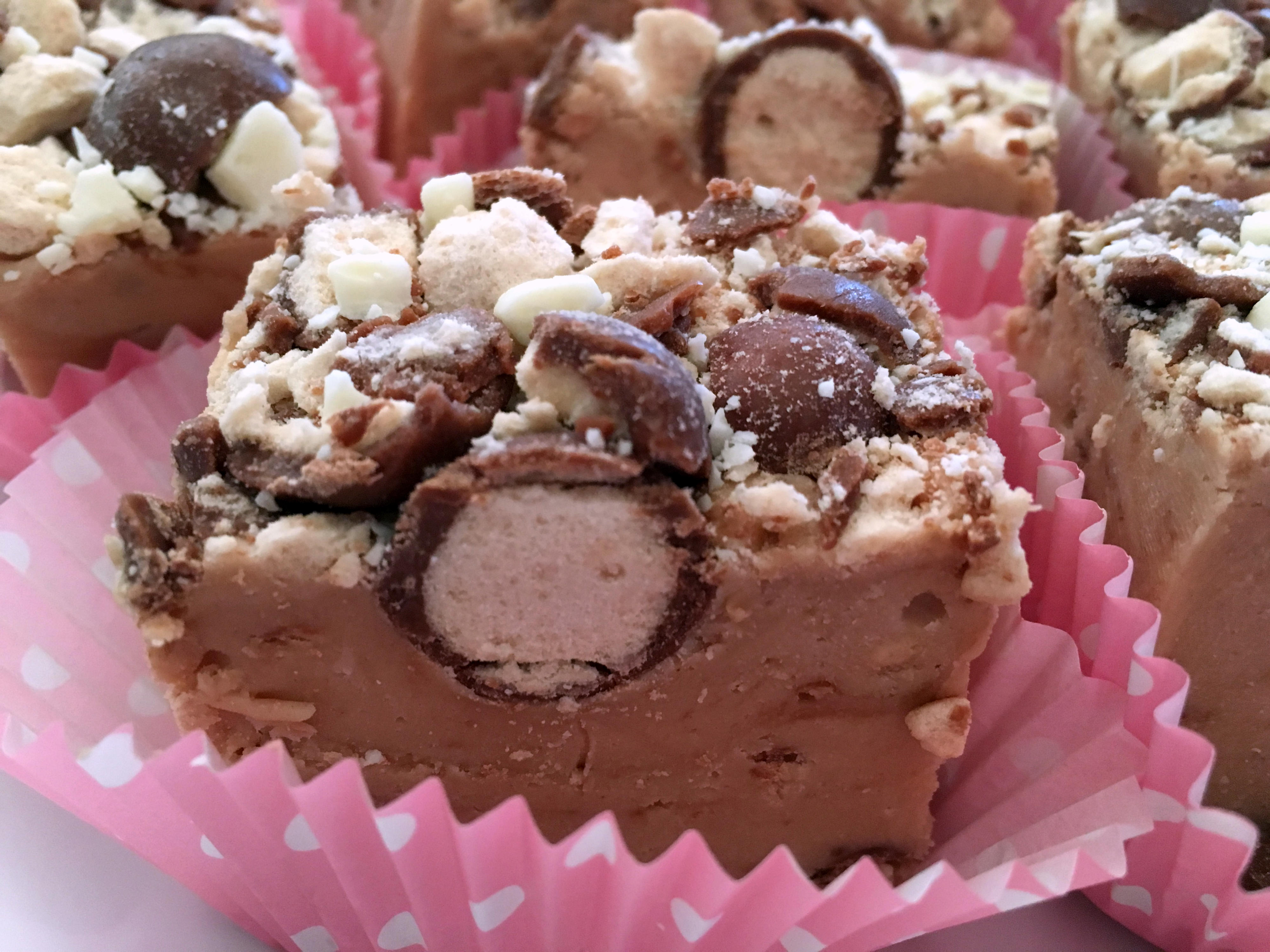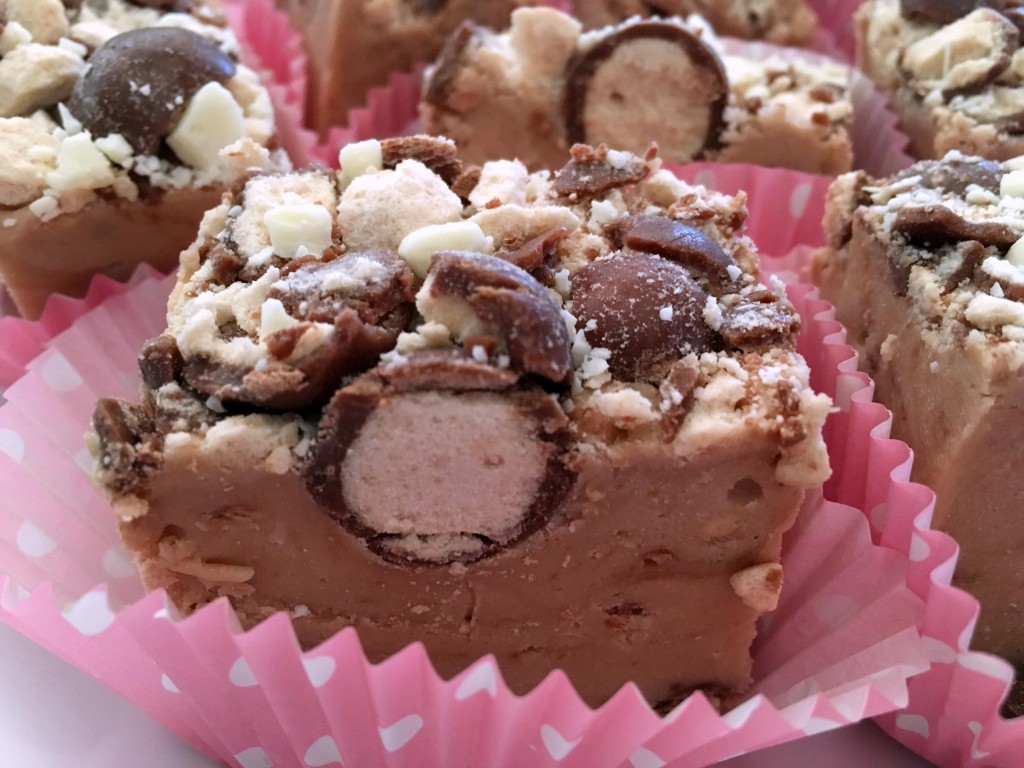 The malt party continues at my house.  After making crazy good Old Fashioned Chocolate Malt Milkshakes and Chocolate Malt Cupcakes with Malted Buttercream Frosting, I wanted to try something new.  White Chocolate Malted Fudge is creamy and crunchy, a fun twist on traditional fudge recipes.  This would be a great addition to a birthday party or special event.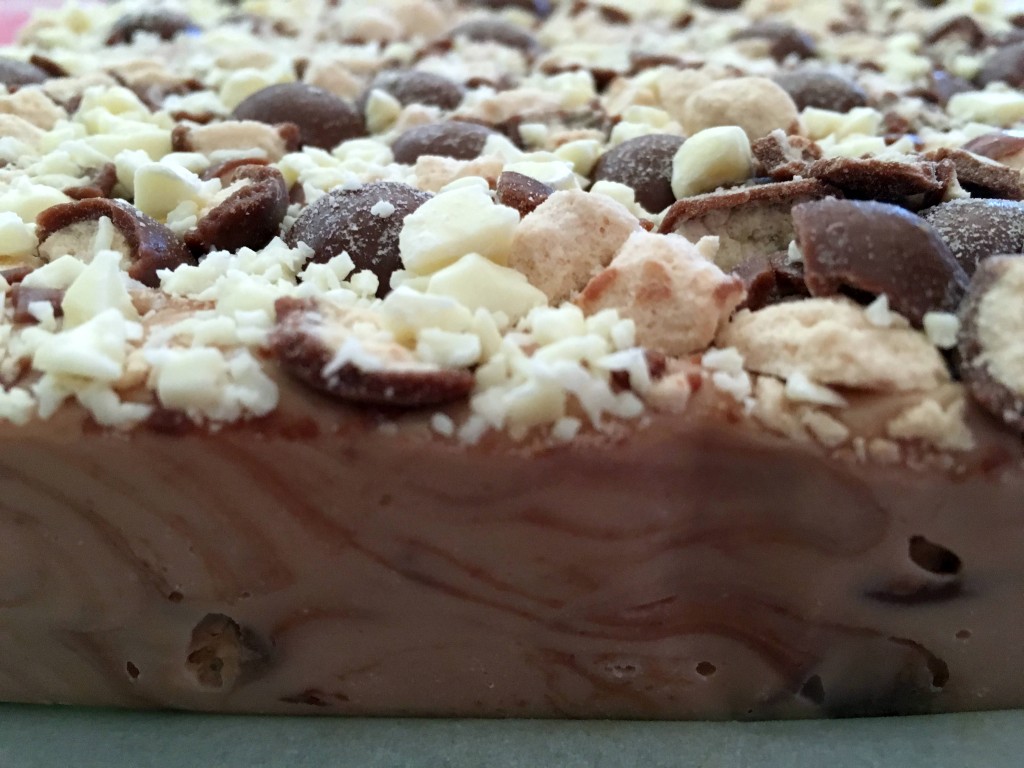 White Chocolate Malted Fudge
Makes 16 servings
Ingredients:
1/4 C dry milk powder
1 T unsweetened baking cocoa
2 T malted milk powder
3 C sugar
3/4 C unsalted butter
1/4 t salt
1 C heavy cream
11 ounces white chocolate chips
7 oz marshmallow fluff
12 oz malted milk balls
Extra white chocolate chips (optional)
Directions:
Line an 8×8 square pan with parchment paper.  Set aside.
Combine dry milk powder, baking cocoa and malted milk powder.  Mix and set aside.
Roughly chop or smash malted milk balls.  You want large pieces, not powder.  Divide in half.  Set one half aside.  Divide the remaining half in two piles (now quarters) and sprinkle one quarter on into the bottom of the prepared pan.  Set the other quarter aside.
Set up stand mixer and put white chocolate chips and marshmallow fluff inside the bowl.  Set aside.
Place a medium sauce pan on the stove and add butter, sugar and heavy cream.  Heat over medium until the mixture reaches a full rolling boil.  Use a timer and boil for 4 minutes.  Stir constantly.
Pour hot mixture into the bowl of the stand mixer and turn on low.  Dump in malted milk powder mix.  Allow the mixer to churn slowly, it will melt the white chocolate and combine ingredients.  After about 3 minutes, turn off the mixer.  Quickly fold in the half pile of crushed malt balls.
Dump into prepared parchment pan and smooth.  Quickly sprinkle remaining one quarter malt balls and extra white chocolate chips.  Press gently into fudge.  Refrigerate for 3 hours until completely set and cooled.
Slice and serve.  Best if eaten within a day or two.
Recipe modified from "Malt Ball Fudge," foodfanatic.com