Chocolate Malt Cupcakes with Malted Buttercream Frosting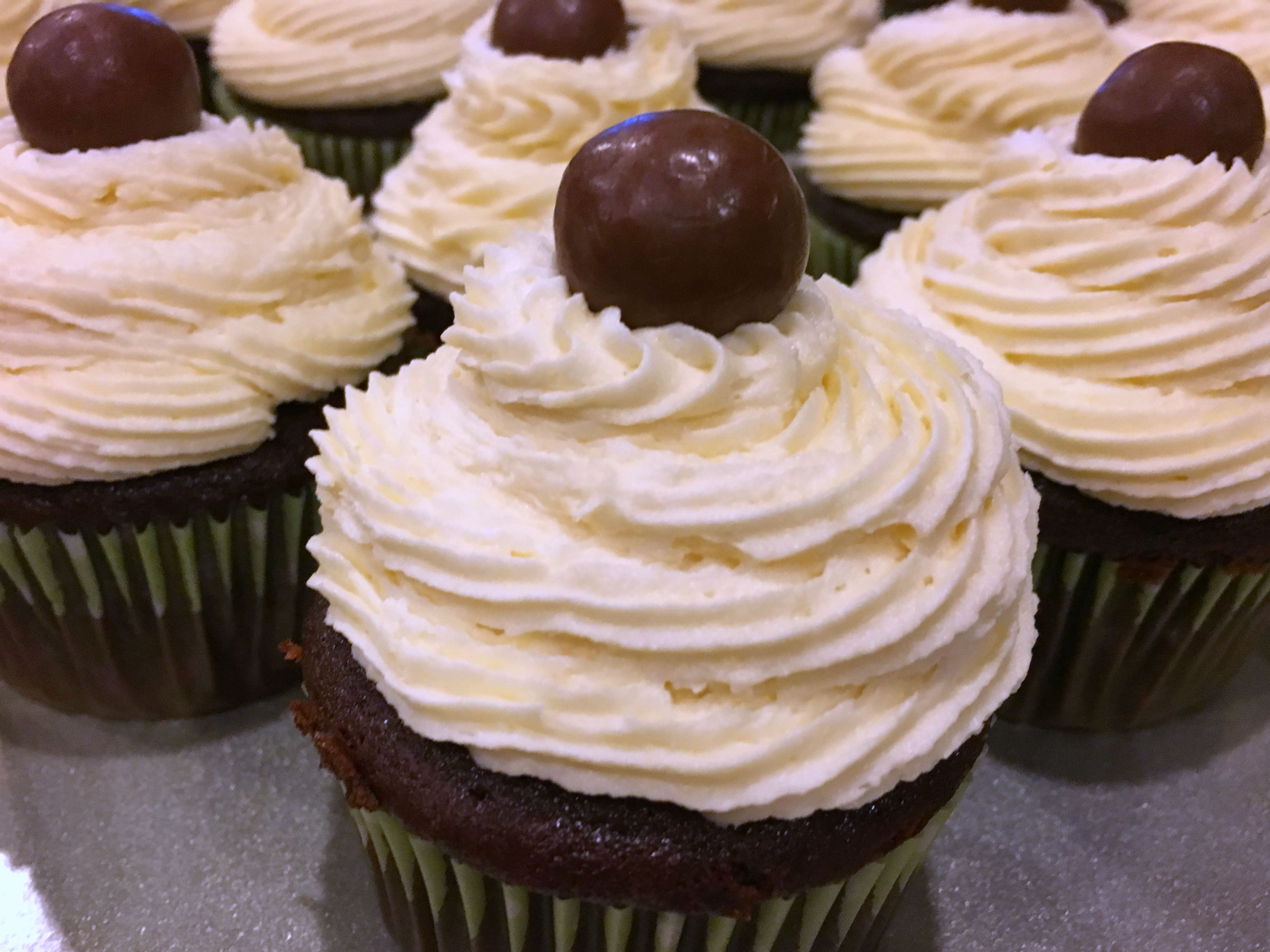 The chocolate malt binge continues at my house.  After mastering Old Fashioned Chocolate Malt Milkshakes, I had to figure out how to turn it into cupcakes.  Chocolate Malt Cupcakes are dense and rich and the malted frosting is to die for…  no judging on the amount of butter required.  Make these for a special occasion.
Chocolate Malt Cupcakes with Malted Buttercream Frosting
Makes 30 cupcakes
Ingredients:
Chocolate Malt Cupcakes
2 1/3 C cake flour
3/4 C unsweetened cocoa powder
1/2 C sugar
3/4 C brown sugar
2 t baking soda
1/2 t salt
1 C whole milk
1 1/4 C malted milk powder
1 C vegetable oil
3 eggs
1 C sour cream
1 t vanilla
Malted Buttercream Frosting
1 1/2 C butter softened (6 sticks… don't freak out)
3/4 malted milk powder
8 C powdered sugar
1-2 T whole milk
1 t vanilla extract
Malted milk ball candies
Directions:
Heat oven to 350.  Line cupcake pan with wrappers.
To make cupcakes, mix the flour, cocoa powder, sugar, brown sugar, baking soda and salt in a separate bowl.  Set aside.
In the bowl of s stand mixer, combine whole milk and malted milk powder on low.  Add oil and eggs.  Add sour cream and vanilla.  Add dry ingredients until just combined.
Scoop into cupcake pan, filling 2/3 full.  Bake for 20 minutes or until a toothpick comes out clean.  Cool completely before frosting.
To make malted buttercream, use a mixer to whip butter until fluffy.  This takes about 2 minutes.  Add malted milk powder and vanilla.  Add powdered sugar in 2 C increments.  Mixture should be thick but spreadable.  Add 1-2 whole milk as needed to adjust texture.
Pipe onto cupcakes.  Garnish with malted milk ball candies.
Recipe adapted from "Chocolate Malted Cupcakes," Martha Stewart, Martha Stewart's Cupcakes 175 Inspired Ideas for Everyone's Favorite Treats, 2009