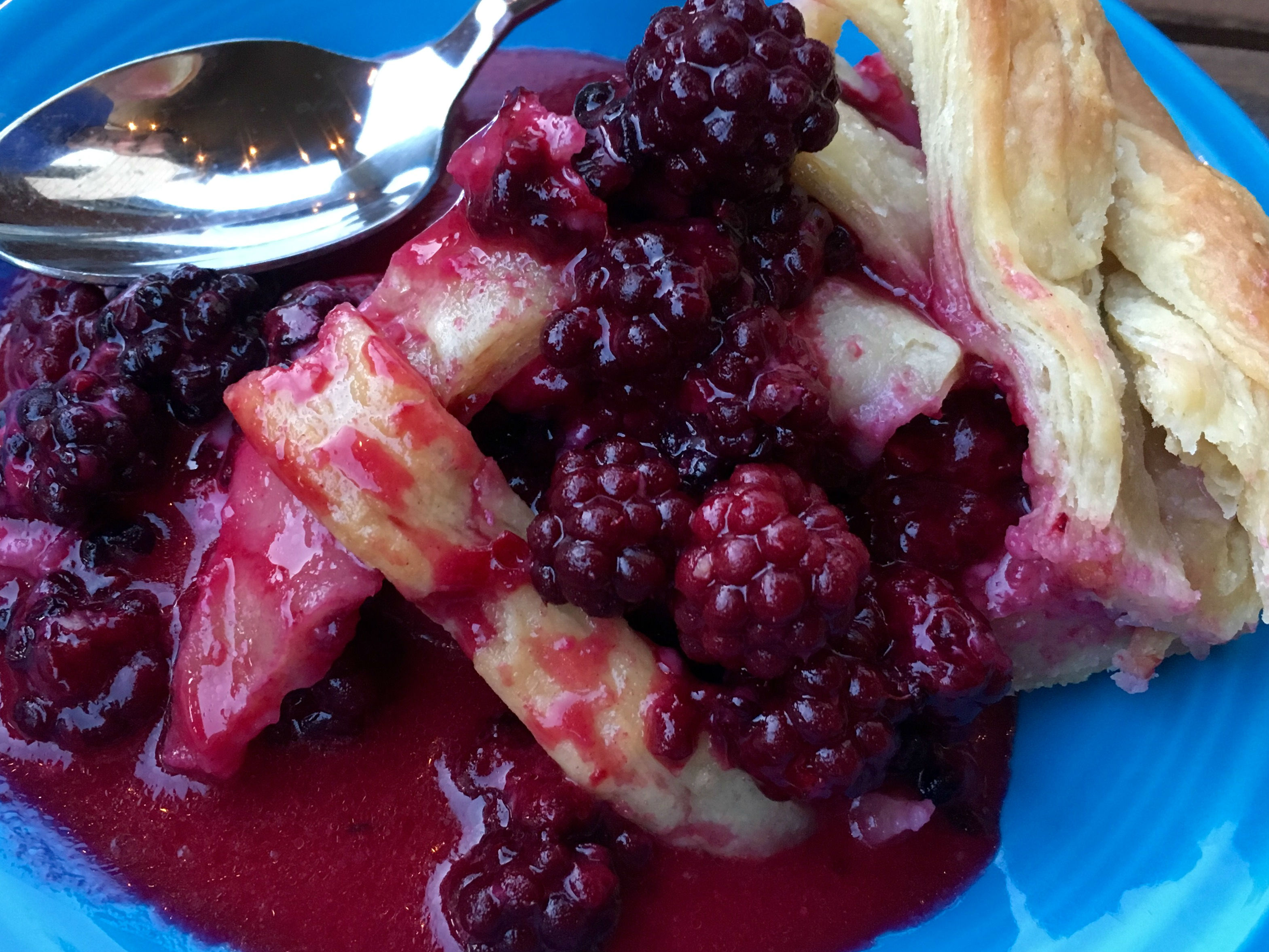 If you follow Sugar and Spice Baking Blog on Facebook, you can see I've had pies on my mind.  Pies aren't fancy or formal, they're just right for eating on the back porch on Sunday night.  Simple Summer Berry Pie is as basic as it gets, featuring a buttery crust bursting with sweet, sun ripened blackberries.
Simple Summer Berry Pie
Makes 1 9 inch pie
Ingredients:
Buttery Pie Crust
1 C + 2T butter (2 sticks + 2 T), slightly softened
3 C flour
1 C ice water
3/4 t salt
Summer Berry Filling
6 C fresh summer berries (I used blackberries)
3/4 C sugar
1/2 C flour
1/4 t cinnamon
1 T butter
Directions:
Make pie crust ahead of time.  Cut butter into small cubes and dump into a large bowl.  Add flour and salt.  Cut together with a pastry blender until the mixture resembles coarse crumbs.  You don't want to work it too much, it's ok to leave some chunks of butter baked in.
Add 1/2 C water and gently mix with a fork.  Add water in 1 T increments until the crust pulls together.  Sometimes this takes more or less depending on the humidity… I've even made it up to 1 1/4 C water.  Pie crust is about feel more than exact measurement.
Form into a ball and wrap tightly.  Refrigerate for 4 hours.
To make pie, heat oven to 425.
Cut pie crust into 2 pieces and roll out on a lightly floured countertop.  Set into pie pan.
Wash fresh berries and dump into a large bowl.  Add flour, sugar and cinnamon.  Transfer into pie dish.  Dot with 1 T butter.
Roll out remaining pie crust.  Make a lattice if you want to get fancy.  Be sure there are slits in the crust for steam to escape.
Bake 35-45 minutes until pie is bubbling and crust is golden brown.  You may need to put an old cookie sheet under the pie, sometimes these bubble over into the oven.  Cool and serve.
I don't use a recipe for this but I think it was loosely based on an old Betty Crocker… all the best things are 🙂