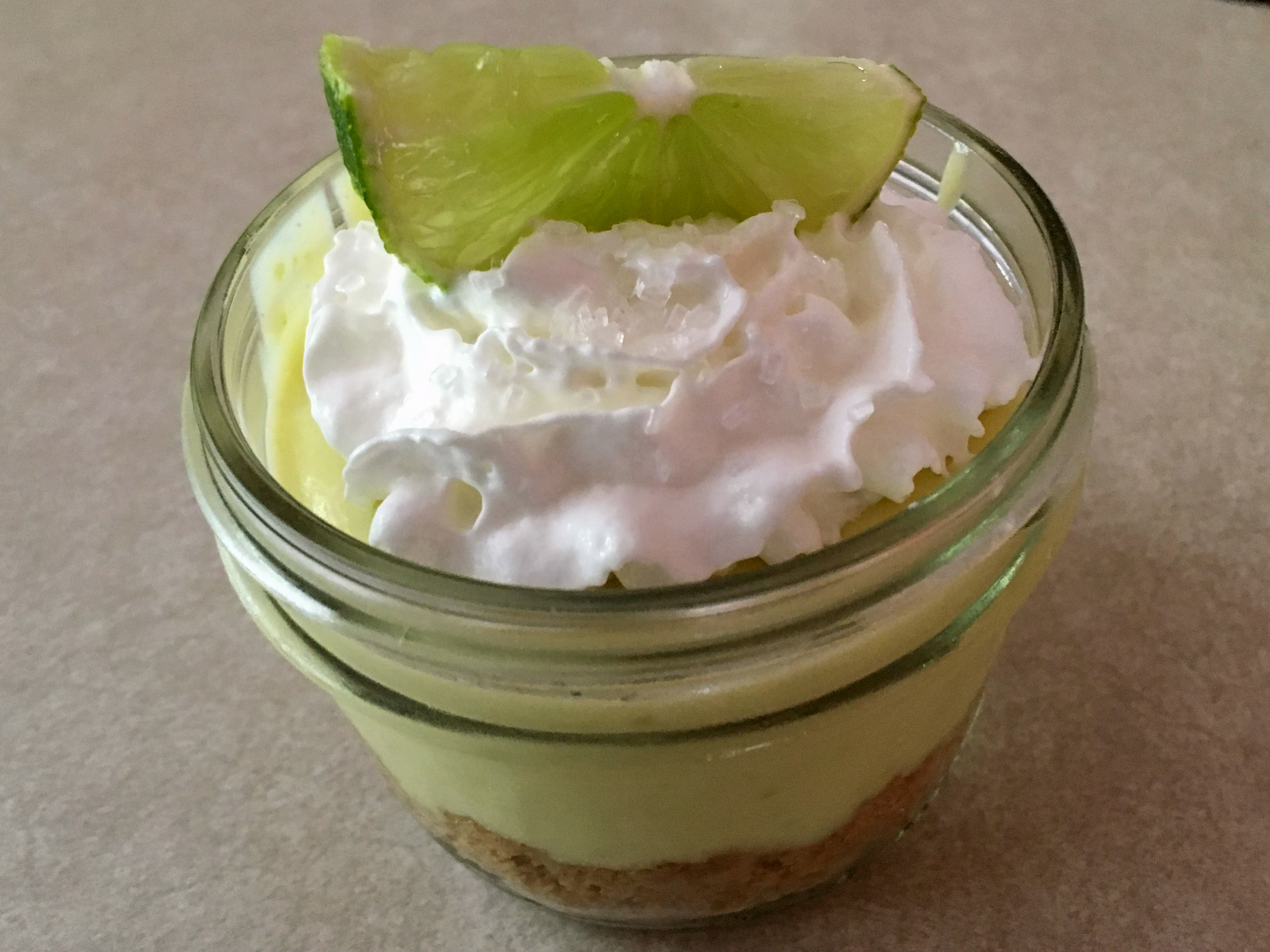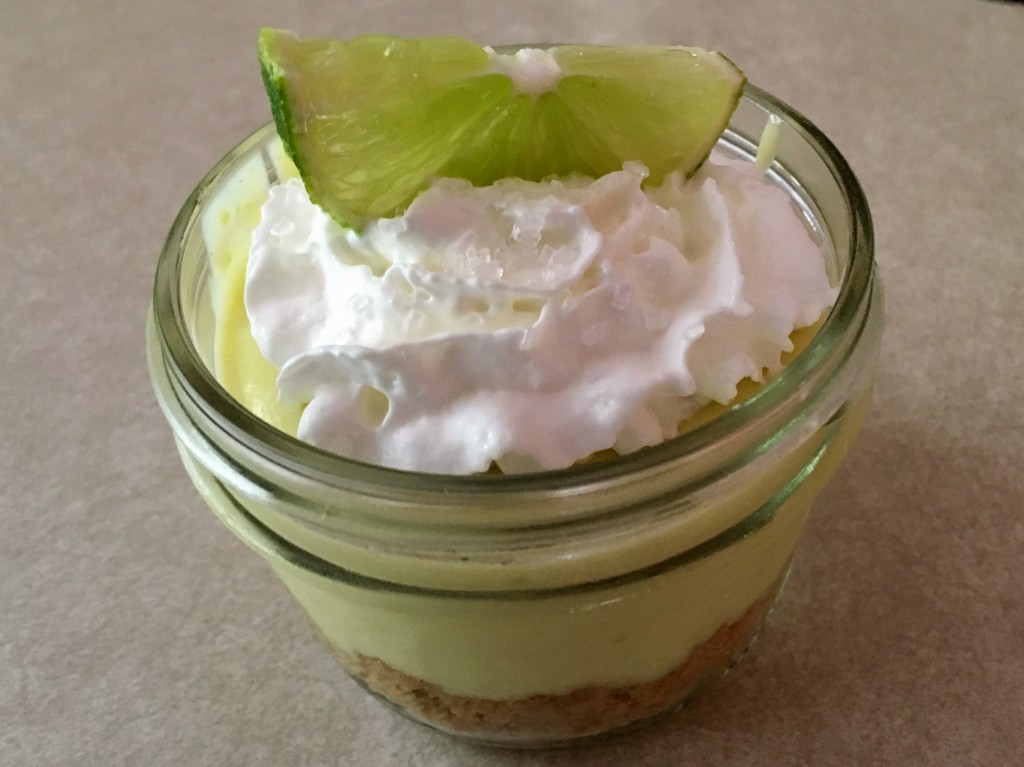 Recently we spent a week visiting North Carolina, South Carolina and Florida.  Our goal is all 50 states, this trip marks the halfway point.  Our rules are: 1) you must go with your spouse/partner, 2) airports don't count, 3) when you're in the state you must to eat something, buy something and do something.
We've had adventures from lobster rolls and lighthouses in Maine to beignets and Mardi Gras Zulu parades in New Orleans to cat-head biscuits with fried chicken and a historical pinball museum in in North Carolina.  Our next trip is Grand Tetons National Park in Wyoming and Yellowstone in Montana.  I suspect we will be eating buffalo and granola but who knows.  Love a recommendation if anyone knows of good places to visit.
While we were in Florida, we saw Key Lime Pie everywhere!  Key Limes are different from "standard" or Persian limes. If you don't feel like squeezing by hand, purchase Key Lime Juice in a grocery store.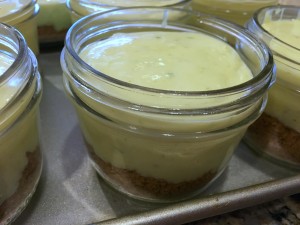 Key Lime Pie in a Jar
Makes 12 servings
Ingredients:
For the crust:
2 packages graham crackers
1/2 C (1 stick) butter, melted
1/2 C sugar
For the filling:
1/2 C sugar
2 T lime zest
2 C fresh key lime juice
2 14oz cans sweetened condensed milk
2 8oz packages cream cheese
1 3.4oz box instant vanilla pudding
1 small packet (about 2 t) unflavored gelatin
1 T vanilla
Green food coloring (optional)
Directions:
Sterilize 8 half pint mason jars.  I found a pack of 9 at my local grocery store for around $10.
Heat the oven to 350.  Use a food processor to pulse graham crackers until fine crumbs.  Add butter and sugar, pulse again until combined.
Scoop crust into jars, mine required about 3T.  Shake to distribute evenly and gently press.  Don't pack it in, this makes graham crust like concrete.  I may have done this once or twice.  Oops.
Set the jars on a baking sheet and bake for 10 minutes.  Remove and cool completely.
To make filling, combine gelatin with 1/4 C key lime juice.  Set aside for 5 minutes, you want the gelatin to activate and make a thick sludge.
Pulse the sugar and lime zest in the food processor until green. In the bowl of a stand mixer, combine cream cheese and sweetened condensed milk until smooth.  Add sugar.  Scrape sides if needed.
Add lime gelatin sludge, remaining lime juice, vanilla instant pudding , vanilla extract and green food coloring if using.  Mix on medium high until all is smooth and blended.
Dump onto cooled crusts, I used a 1/4 C measuring cup.  Each pie took approximately 1/2 cup of filling.  Evenly distribute over pies and transfer to refrigerator 4-6 hours or overnight.
Garnish with whipped cream and fresh lime wedges and serve.  Sit in the sun and pretend you're in Florida.  It totally works.  I'll include a picture from Clearwater Beach to help you.
PS.  These transport well.  Screw on lid, keep in a cooler and garnish before serving.  Perfect for picnics!
Recipe modified from "Mini No Bake Key Lime Pies," by Megan, countrycleaver.com