Cake Batter Rice Krispie Cupcakes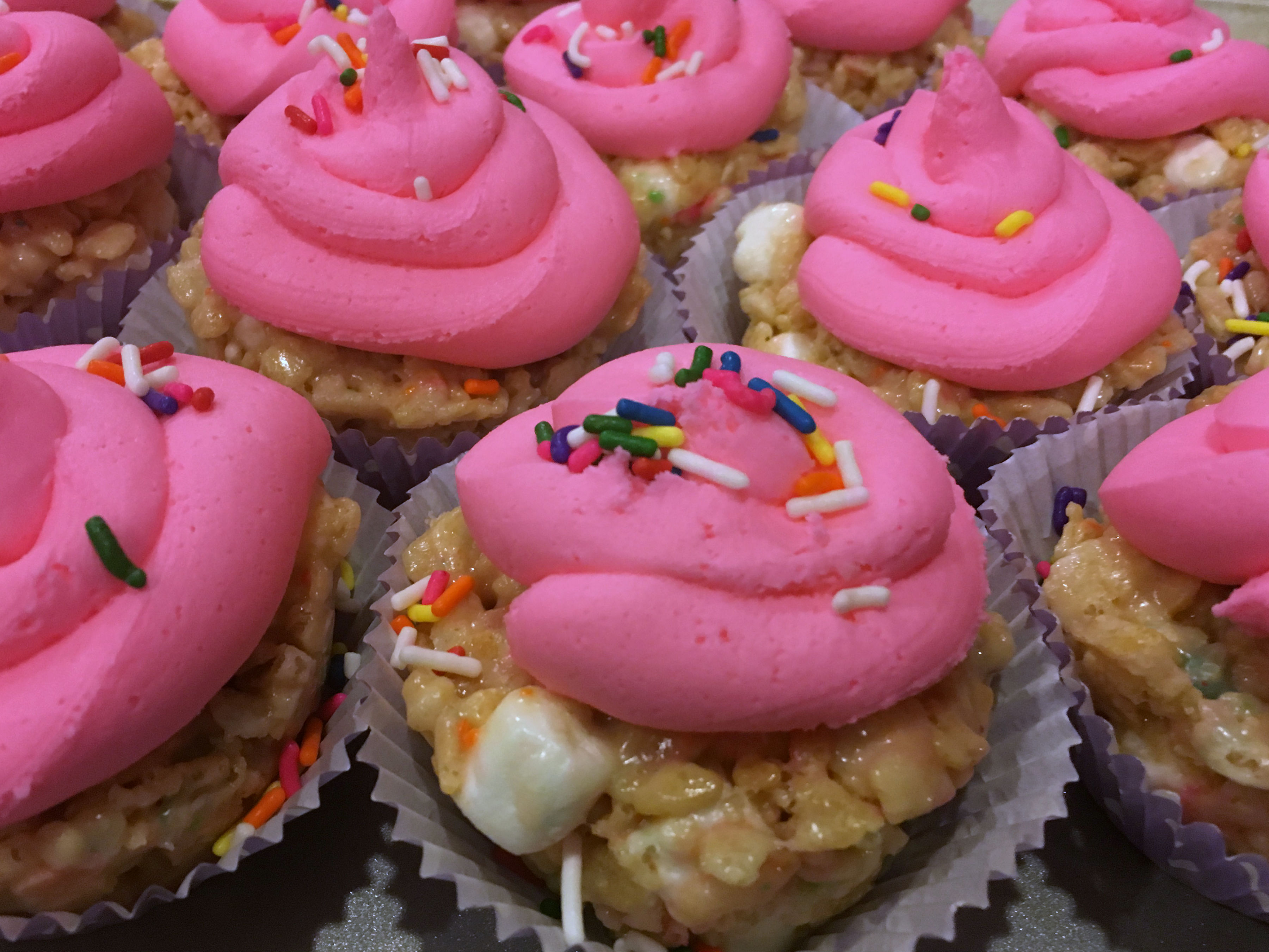 You really CAN have the best of both worlds!  Cake Batter Rice Krispie Cupcakes combine everyone's favorite things and don't even require turning on the oven.  These cute little treats are easy to make, hold their shape if you need to transport and taste awesome.
While I made them with rainbow confetti  cake mix, you can substitute in a favorite flavor like vanilla or yellow cake.  They taste like cake batter with the texture of Rice Krispie treats and bonus buttercream frosting.  What's not to love?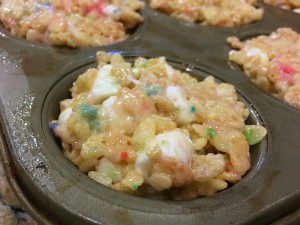 Cake Batter Rice Krispie Cupcakes
Makes 18 cupcakes
Ingredients:
Cake Batter Rice Krispie Cupcakes
3/4 C (1 1/2 sticks) butter
1 1/2 C cake mix
1 t vanilla extract
6 C Rice Krispie cereal
3 C mini marshmallows
1 1/2 C mini marshmallows reserved
2 T sprinkles
Buttercream Frosting
1 sticks butter, softened
5 C powdered sugar
pinch salt
4 t vanilla extract, clear if you can find it
2 t milk
Food coloring if desired
Extra sprinkles
Directions:
Coat 18 holes in a cupcake pan with non stick spray.  Set aside.
Melt butter in microwave safe bowl.  Add 3 C marshmallows. Microwave in 30 second bursts, stir until melted.  There will be extra butter in the bottom.
Add cake mix and stir.  Add half the Rice Krispie cereal.  Stir to coat.
Add the remaining cereal, reserved 1 1/2 C marshmallows and sprinkles.  Stir until coated.  It will be very thick.
Coat hands with margarine and scoop into greased cupcake pan.  Use your hands to gently press into cups.  Allow to sit at room temperature for at least an hour.
Carefully remove from pan and set in cupcake wrappers for display.
To make frosting, use electric mixer to cream butter.  Add vanilla and food coloring if using.  Add powdered sugar in 1 C increments.  Add milk to desired thickness.
Pipe onto cupcakes.  Garnish with additional sprinkles.
Recipe modified from " Cake Batter Rice Krispie Cupakes," bakedfromabox.com, 8/2/12