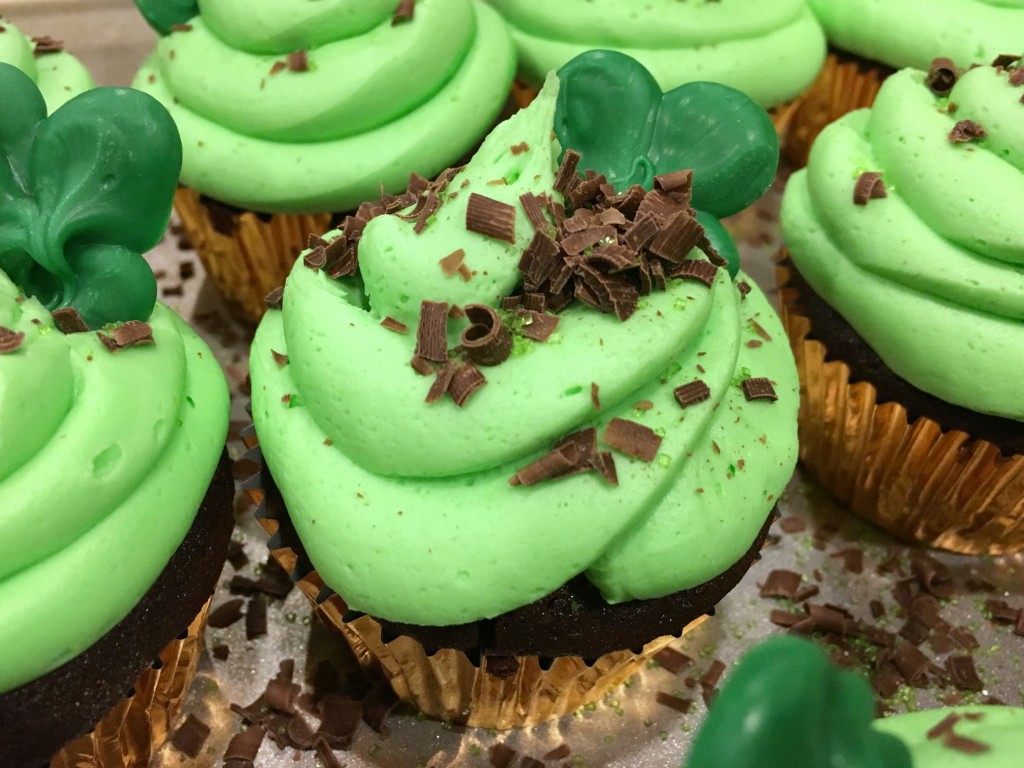 It's St Patrick's Day and like many people, I love Irish Cream but can't take alcohol to work.  It turns out Bailey's Irish Cream Coffee Creamer makes a tasty (and office safe) substitute.  Cupcakes for adults only?  Feel free to use Bailey's Irish Cream Liqueur!
Irish Cream Cupcakes
Makes 12 cupcakes
Ingredients:
Irish Cream Cupcakes
1 1/2 C cake flour
1/2 C unsweetened cocoa powder
1 C sugar
1/2 C (1 stick) butter, softened
2 eggs
1/4 t salt
1/2 t baking soda
1/2 t baking powder
1 t vanilla extract
1/2 C miniature chocolate chips
3/4 C brewed black coffee
1/4 C Irish Cream liqueur or Irish Cream Coffee Creamer
Irish Buttercream Frosting
1 C (2 sticks) butter, softened
1/2 Irish Cream liqueur or Irish Cream Coffee Creamer
8-10 C powdered sugar
Green food coloring (optional)
Sprinkles
Directions:
Heat oven to 350.  Line pan with cupcake wrappers.
Combine flour, cocoa powder, baking soda, baking powder and salt.  Set aside.
Combine coffee and Irish Cream liqueur or coffee creamer.  Set aside.
In bowl of stand mixer, cream butter and sugar until fluffy.  Add eggs and vanilla.  Scrape sides.
Add half the flour mixture and half the liquid coffee mixture.  Stir until just combined.  Add rest of both, stir and scrape sides if needed.  Add chocolate chips.
Scoop into prepared pan filling cups 2/3 full.  If you have extra, make a few more cupcakes.
Bake 20 minutes total or until a toothpick comes out clean.  Bake 10 minutes lower rack and 10 minutes upper.  Set aside to cool.
To make frosting, use the paddle attachment of a stand mixer to cream butter.  Add Irish Cream liqueur or coffee creamer.  Add powdered sugar in 2 C increments until it reaches desired consistency.  I ended up using closer to 10 C.  Add green food coloring if using.  Add sprinkles.
Pipe onto cupcakes and share with friends for good luck.  Happy St. Patrick's Day!
Recipe modified from "Irish Cream Cupcakes," kingarthurflour.com, 2/26/12