Copycat Circus Animal Cookies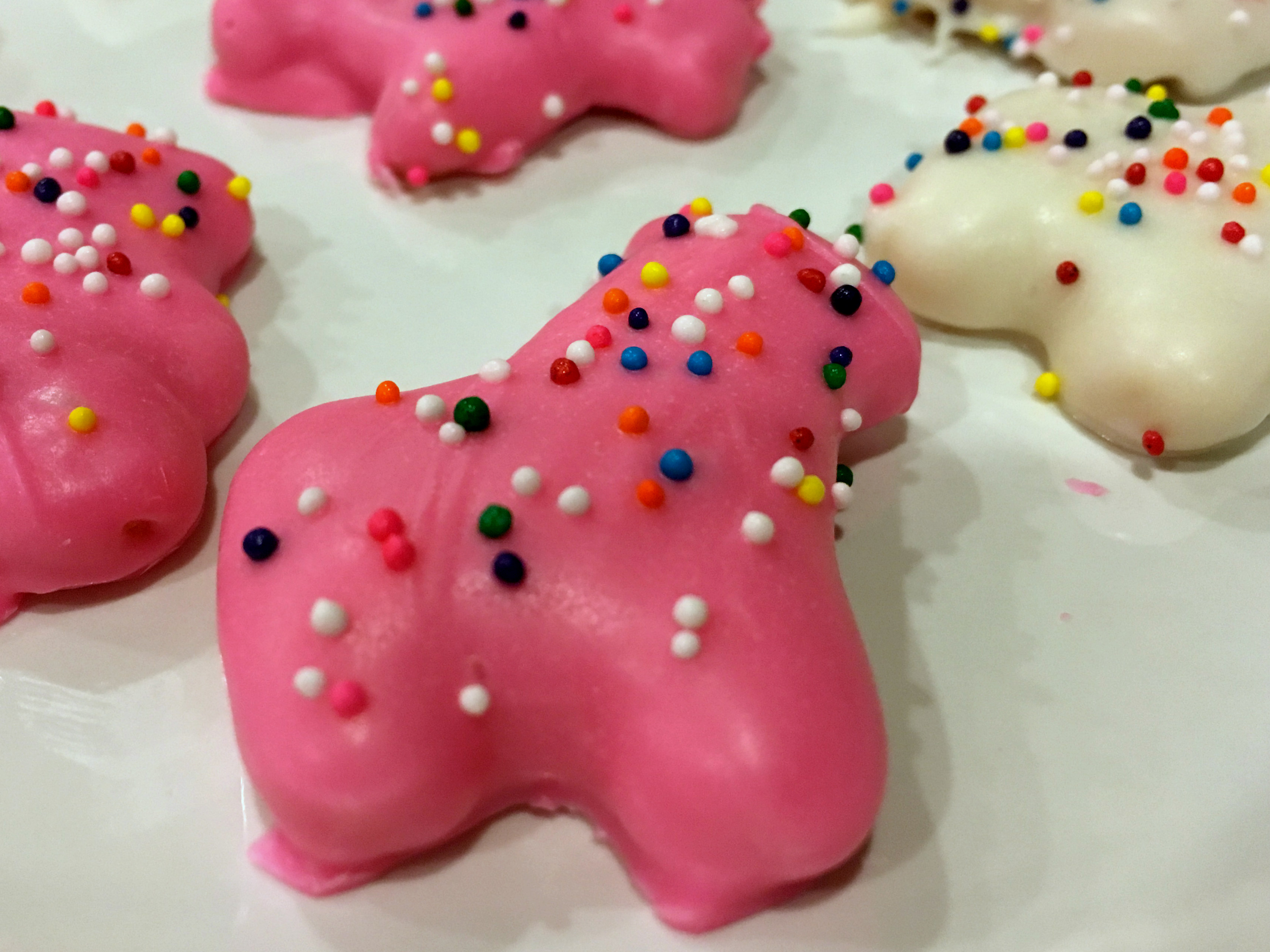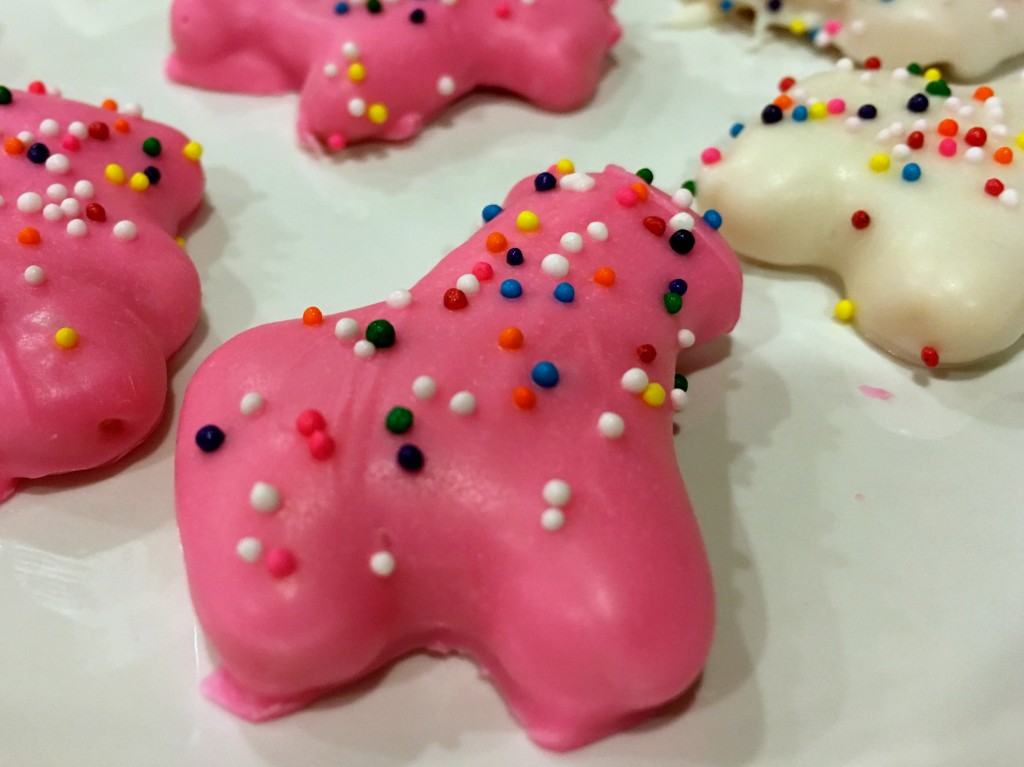 Do you remember buying Circus Animal Cookies?  They make me nostalgic; pink, white and covered in sprinkles.  We used to eat them on the bus during elementary school field trips.  While the cookies are all the same, I could swear the pink ones are better and my best friend only liked the white.  Fast forward 20+ years, I haven't had these little guys in a loooong time.  After stumbling across miniature animal cookie cutters at a craft store, I wanted to give them a try.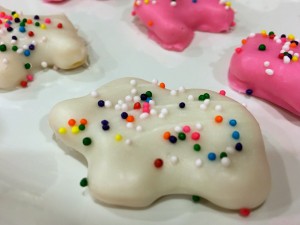 The results were even better than I could have imagined.  My coworkers went nuts (complete with little girly screams from adult men) and everyone swears they are better than the original.  I'll definitely make these again, Copycat Circus Animal Cookies bring out the field trip side of everyone.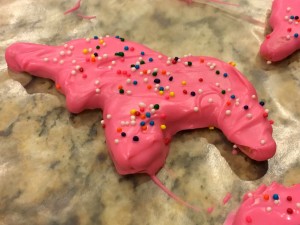 PS.  The unicorn cookie cutter did not come with the set.  It's from Sur La Table.
PPS.  No one should be surprised I have unicorn cookie cutter.
PPPS.  Sorry, I will not share.  Get your own.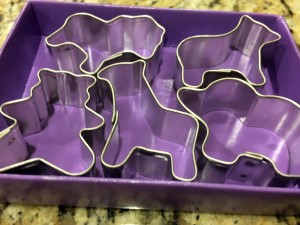 Copycat Circus Animal Cookies
Makes 100 cookies
Ingredients:
1 C butter, softened
2/3 C granulated sugar
1 egg
2 t vanilla extract
1 t butter extract
1/4 t almond extract
2 1/2 C flour
1 1/2 t baking powder
1/4 t nutmeg
Pinch salt
1 bag white candy melts (available at craft stores)
1 bag pink candy melts (available at craft stores)
Rainbow sprinkles
Directions:
In the bowl of a stand mixer with paddle attachment, cream butter and sugar.  Add egg, vanilla, butter and almond flavoring.
Measure out flour.  Add baking powder, nutmeg and salt and stir.  Add flour in batches to butter mixture.
Split in half and scoop onto plastic wrap.  Form dough into a disk (cools more quickly than ball) and refrigerate at least an hour.
To bake, heat oven to 300.  Line baking sheets with parchment paper.
Roll out one disk of dough on clean, floured work space.  The dough needs to be thin, approximately 1/8 inch thick.  Cut out animal (and unicorn) shapes and place onto baking sheet.   If cookies are sticking, try lightly flouring the cookie cutter or flouring a thin spatula to lift up.
Bake 12-15 minutes until lightly golden.  Remove from the oven and cool.  Separate into 2 piles.
To dip cookies, cover work space with wax paper.
Place half a bag of the candy melts in microwave safe bowl, heat in 15 second bursts until melted.  Mine took about 1 minute and 15 seconds.
Using a fork, carefully dip a cookie.  Tap off excess candy coating and set on wax paper.  Add sprinkles before it dries.  Repeat until all cookies are dipped.  Switch to the second color.  I used up both bags of candy melts.
Leave on wax paper until candy coating is set and dried.  Share with friends.
Recipe modified from "Mother's Circus Animal Cookies," food.com, by Cake Baker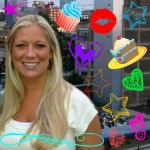 I'm a self-taught Betty Crocker. Food should be pretty, delicious and have sprinkles. Professionally I'm a clinical social worker. Follow me on Facebook and Pinterest- Sugar and Spice Baking Blog- for great recipes, amazing restaurants and culinary adventures.