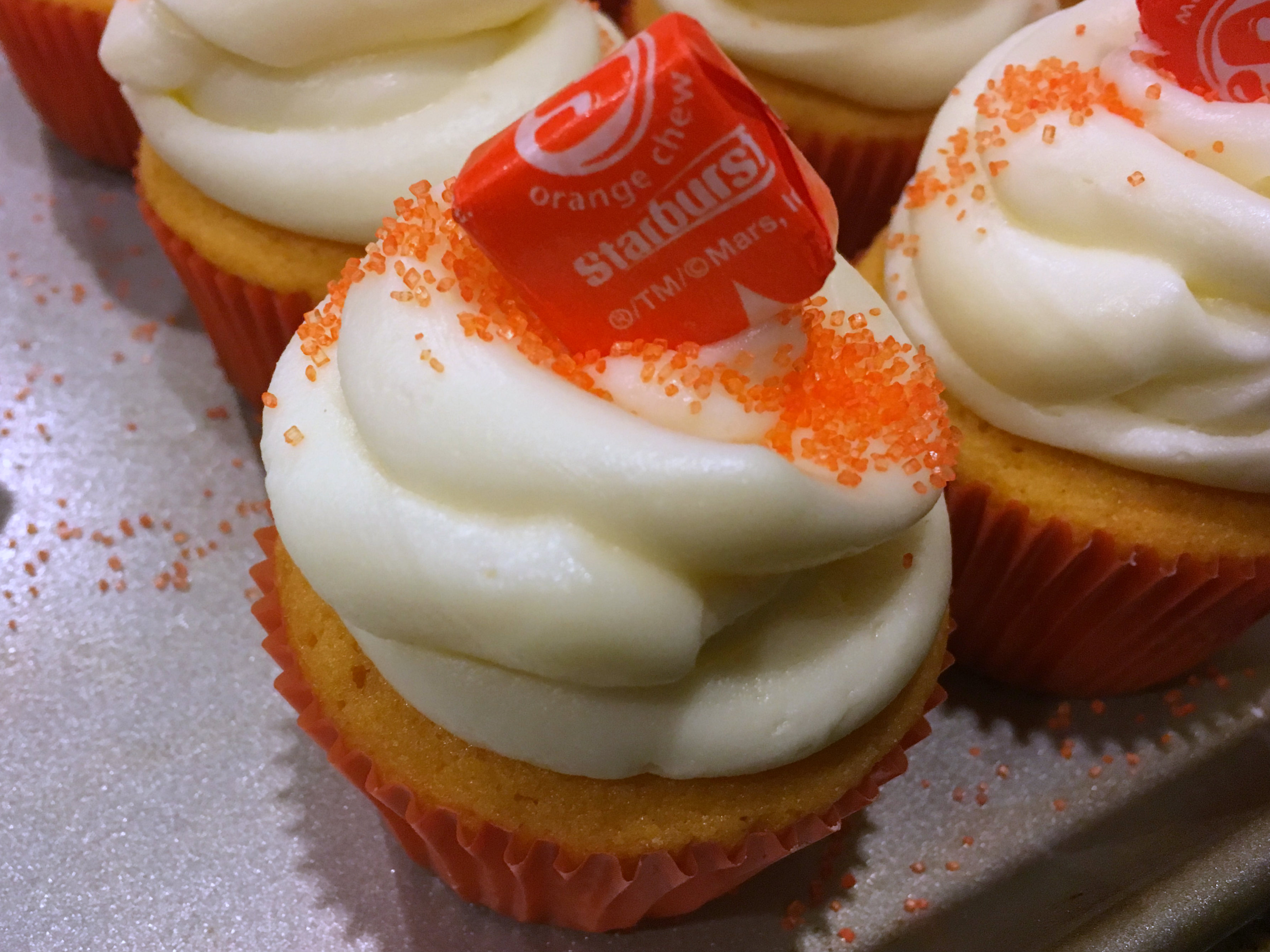 Winter is getting old. To fight off January blues, I've been thinking about making Creamsicle Ice Box Pie.  It's a delicious mix of orange sherbet and whipped topping and we ate it on the porch in the sunshine.  Sadly, at 40 degrees in the rain, it's too cold.  Instead I put together Orange Cream Cupcakes.  They taste like a creamsicle, using fresh oranges and perfect with cream cheese frosting.  It's like the promise of summer in January.  Good luck eating just one!
Orange Cream Cupcakes
Makes 12 cupcakes
Ingredients:
Orange Cream Cupcakes
1 1/2 C flour
1/2 t baking powder
1/2 t baking soda
1/4 t salt
1/2 C butter, softened
1 C sugar
2 eggs
1/8 t orange oil OR 1/2 t orange extract
1 t Fiori de Scilia (optional)
1/2 t vanilla extract
1 1/2 T orange zest (about 1 medium orange)
3 T fresh orange juice (about 1 medium orange)
1/2 C buttermilk
Cream Cheese Frosting
1/2 C butter, softened
8 oz cream cheese, softened
1 t vanilla extract (clear if you can get it, helps keep the frosting bright white)
Pinch salt
3 C powdered sugar
Orange candy for decorating
Directions:
Heat oven to 375. Line cupcake pan with wrappers.
Stir together flour, baking powder, baking soda and salt. Set aside.
Use electric mixer with paddle attachment to cream butter. Add sugar until light and fluffy.
Add eggs, orange oil (or extract), vanilla extract, orange juice and orange zest. Scrape sides if needed.
Turn the mixer on low and fold in half the flour mixture and half the buttermilk. Add the rest of the flour and the rest of the buttermilk.  This helps prevent lumps.  Mix until just combined.
Divide batter into cupcake pan, filling wells 2/3 full. Bake 15-17 minutes until a toothpick comes out clean.  Set aside to cool.
To prepare frosting, use a mixer to combine butter and cream cheese. Add vanilla extract and salt.  Slowly add powdered sugar.
Scoop into a Ziploc freezer bag and cut the corner. Pipe on cooled cupcakes.  Decorate with an orange candy.
Recipe modified from "Orange Creamsicle Cupcakes," mybakingaddiction.com, 1/20/16