These popped up in my Pinterest "recommended for you" page.  For once, Pinterest got it right and I HAD to try these.
Hot Cocoa Cookie Cups are actually pretty easy.  They take a shortcut (super handy this time of year) and use premade dough and 2-ingredient chocolate ganache.  Hot Cocoa Cookie Cups are cute at a cookie exchange, fun for a holiday bake sale or a tasty addition to any Christmas celebration.
Hot Cocoa Cookie Cups
Makes 24 miniature muffin size cups
Ingredients:
1 package premade sugar cookie dough*
1/4 C white sugar
1/2 C heavy cream
8 oz (2 bars) quality semi-sweet baking chocolate
2 T regular chocolate chips
12 small, round pretzels
Kraft jet puff mallow bits (super teeny little marshmallows)
* if using refrigerated cookie dough, you're good to go.  If it's a package of dry sugar cookie mix, follow the instructions to prepare for cut out cookies.
Directions:
Heat oven to 350.
Spray miniature muffin pan with nonstick cooking spray.  Be sure to coat the wells thoroughly, you need to be able to remove the cups after baking.
Follow preparation instructions for sugar cookie dough.  This will vary slightly if you are using dry mix vs refrigerated.  The end result is the same.
Roll dough into 1 inch balls.  You should have 24.  Roll in white sugar and place in muffin tin.  Gently press each one down using the rounded end of a measuring spoon.  Don't press too hard, just squish until it mostly fills the space.
Bake for 15 minutes until golden brown.  Remove from oven.
While dough is hot, dip the bottom of a shot glass or medicine cup in white sugar.  Quickly and gently press into dough, helping make the well a bit deeper.  If it sticks, dip more sugar.  Be careful not to punch through the bottom.  Allow cookie cups to cool in the pan.
When cooled, pop cups out of wells.  I gently pressed against the side of each cup with my thumb and pulled up.  This mostly worked, one got a little stuck and a butter knife was helpful.
To make the cup "handle," carefully cut the rounded edges off miniature pretzels.  You may need a few spares if they break.
Melt chocolate chips in small bowl.  Dip ends of pretzel and press to cookie cup.  If cup handles fall off, use a little more melted chocolate to stick them back on.
In a microwave safe bowl, heat heavy cream and semi sweet baking chocolate.  Stir until combined.  Dump into plastic freezer bag and snip the corner.  Pipe into cookie cup.  Garnish with mallow bits before ganache sets.
Keep refrigerated until serving.
Recipe modified from "Hot Cocoa Cookie Cups," thegunnysack.com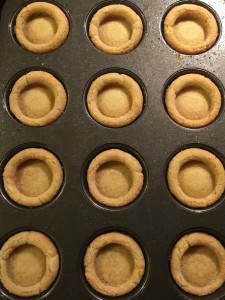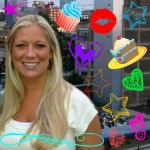 I'm a self-taught Betty Crocker. Food should be pretty, delicious and have sprinkles. Professionally I'm a clinical social worker. Follow me on Facebook and Pinterest- Sugar and Spice Baking Blog- for great recipes, amazing restaurants and culinary adventures.