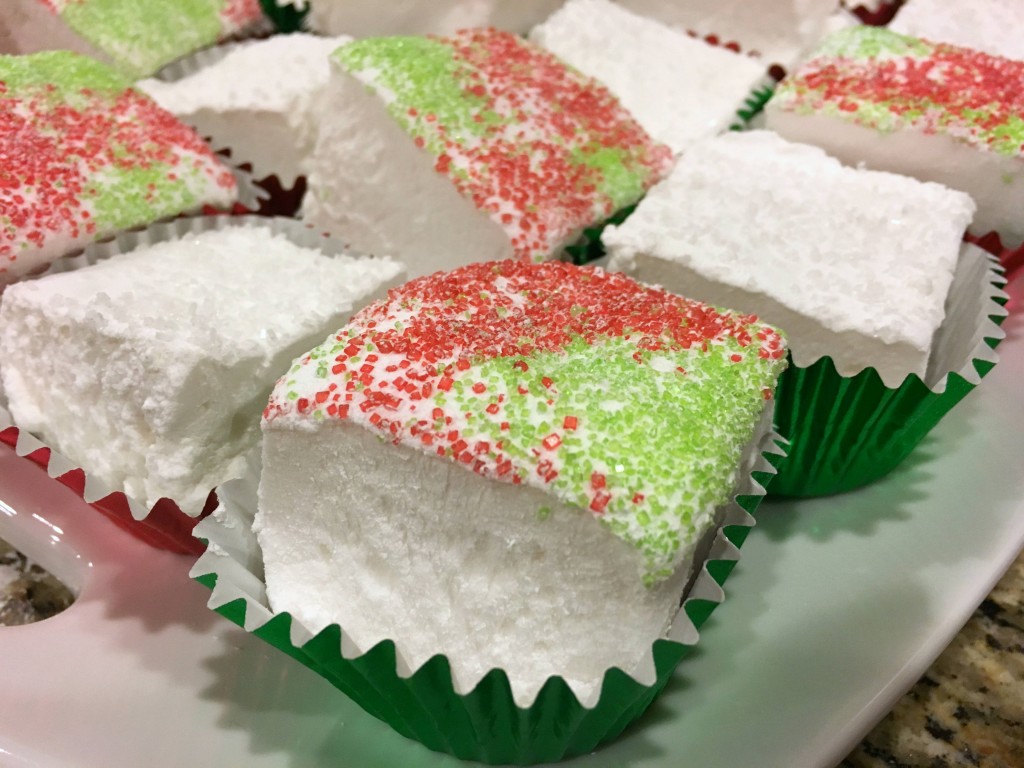 I learned to make homemade marshmallows!  Surprisingly easy, marshmallows are a unique holiday treat.  You can change the flavor and colors for a variety of celebrations- pink peppermint at Christmas, orange pumpkin spice at Halloween, yellow lemon at Easter and vanilla all year round.  Definitely use a candy thermometer to manage the boiling sugar; there are videos about candy thermometers if you are new to using one.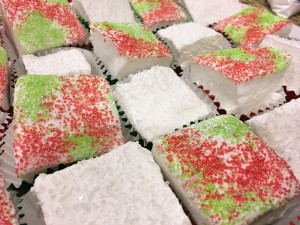 Homemade Marshmallows
Makes 24 large marshmallows
Ingredients:
 1 1/2 C cold water
4 packages (1/4 oz each) unflavored gelatin
3 C granulated sugar
1/4 C light corn syrup
1/4 t salt
1 T vanilla extract*
1/2 C powdered sugar
* Substitute your favorite flavor for vanilla extract.  Be mindful some flavors (peppermint especially) are very strong and you may only need a few drops.  You can use food colorings also.
Directions:
Line a 9×13 pan with parchment paper.  Spray with non stick cooking spray.
Pour 3/4 of the 1 1/2 C water (that's a confusing way to say half the water) into the bowl of a stand mixer fitted with the whisk attachment.  Sprinkle with gelatin.  Allow to sit for 5 minutes.
Combine the remaining 3/4 C water, sugar, corn syrup and salt on the stove.  Bring to a boil over medium heat without stirring.  Increase heat slightly and watch the candy thermometer.  You want to bring the temperature up to the soft ball stage (234-240 degrees F).  This took me about 10 minutes.
When the boiling sugar has reached soft ball stage, turn mixer to low.  Slowly pour hot sugar into the gelatin mixture.  Sugar is HOT and you don't want it to splash or burn.  Gradually increase mixer speed until it is on high.
Beat until soft peaks form, about 5 minutes.  Add vanilla (or other flavor) during the last minute.
Dump into prepared pan and smooth with a spatula.  It doesn't have to be perfectly flat, it settles as it cools.  Let marshmallows sit uncovered at room temperature for at least 3 hours.
To cut, sprinkle powdered sugar on a clean work surface.  Invert marshmallows on powdered sugar.  Carefully peel away parchment paper (if you greased it well it will come off no problem).  Use a sharp knife and press straight down to cut into squares.  Dust any exposed marshmallow surfaces with powdered sugar.  You can also use an oiled cookie cutter for fancy shapes.
Store in an airtight container until serving.  These keep at room temperature for a few days but are best eaten soon.
Recipe from "Marshmallow Filling," King Arthur Flour Cookie Companion Cookbook, 2004, page 467