The final recipe from our amazing trip to the east coast is King Arthur Flour's Apple Walnut Crumb Pie.  It's a perfect dish for Thanksgiving or Christmas or anytime family is together.  The streusel topping is good enough to be a dessert by itself.
Good thing we walked the Freedom Trail in Boston… with all the King Arthur Flour treats we needed the exercise!
Apple Walnut Crumb Pie
Makes 1 pie, serves 8-12
Ingredients:
For pie pastry:
1 1/4 C flour
1/8 t salt
1/2 C (1 stick) butter, chilled and divided in half
2 T to 1/3 C ice water
For pie filling:
3/4 C sugar
3 T flour
1 t cinnamon
1/4 t nutmeg
1/8 t salt
4-5 firm baking apples, peeled and thinly sliced
For walnut crumb topping:
4 T (1/2 stick) butter, softened
1/2 C flour
1/3 C brown sugar
1/2 C finely chopped walnuts (can substitute pecans)
Directions:
To make pie pastry, combine flour and salt in bowl.  Cut in half the butter with a pastry blender or fingers.  For a tender result, fat should be worked in quickly until coarse crumbs.
Add remaining butter, this time leaving a few larger pieces.
Sprinkle 3T ice water over the flour mixture and mixture until dough starts to combine.  You may need to add 1 additional T of ice water.
Remove dough onto work surface and press into a disk approximately 6 inches across.  Wrap in plastic wrap and chill for at least half an hour.
When ready to make pie, remove dough and place on well floured surface.  Roll between sheets of plastic wrap or parchment paper until 13 inches in diameter.
Set into pie place and flute edges.  Heat oven to 375.
To make pie filling, combine sugar, flour, cinnamon and nutmeg.  Add apples.
In a separate bowl, combine ingredients for crumb topping.  Mix with fingers until coarse crumbs.
Scoop filling into pie pastry.  Add walnut crumb topping.
Bake pie for 40-45 minutes until filling bubbles and crust is golden brown.
Recipe from King Arthur Flour
A few amazing sights from Boston's Freedom Trail…
The tomb of Paul Revere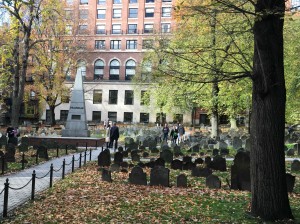 Historic cemeteries tucked throughout the city.  When Boston says "historic" they mean 1600s.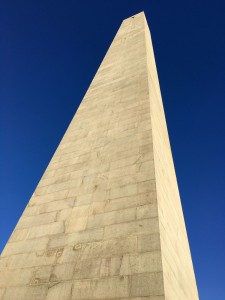 Bunker Hill monument with 294 stone steps inside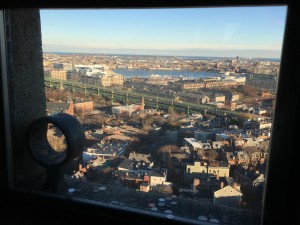 View from the top.  Phew… what a climb!