Halloween Pudding Cupcakes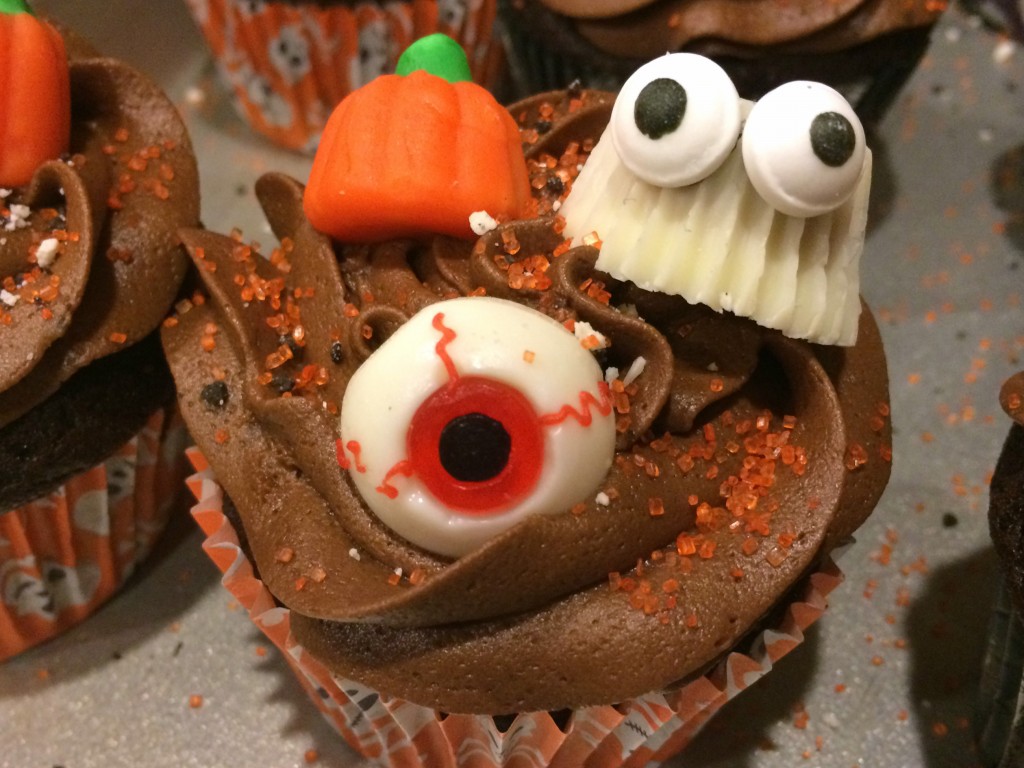 Halloween is TOMORROW!  Are you ready to go?  Do you have a zillion pounds of candy, an awesome costume and a perfectly carved pumpkin?  Me neither.  I need about another week.
Good news is that if your life is as busy as mine, you can still squeeze in a quick batch of Halloween Pudding Cupcakes.  A delicious chocolatey treat, the only trick you'll need is keeping people from eating every last one.  (This recipe matches Sugar & Spice Surprise Cupcakes.  It's my last minute go to because it turns out every time)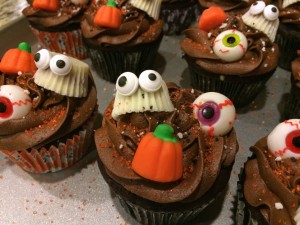 Halloween Pudding Cupcakes
Makes 24 cupcakes
Ingredients:
1 box chocolate cake mix
1 small box dark chocolate pudding
 3/4 C whole milk
3/4 C vegetable oil
4 eggs
2 bags Reese's Peanut Butter Cups in white chocolate (some for inside the cupcakes and more for the cute little ghosts on top)
Chocolate Buttercream Frosting
1 C (2 sticks) butter, softened
1 C cocoa powder
3/4 C evaporated milk
1 T vanilla
pinch salt
8 C powdered sugar
Decorations: edible eyeballs, marshmallow pumpkins etc
Directions:
Heat oven to 350.  Line baking pans with Halloween wrappers.
Whisk chocolate cake mix and pudding mix.  Add in eggs, milk and oil.  Scoop into muffin pans, filling 2/3 full.  There is enough for 24 cupcakes.  Press an unwrapped, white Reese's Peanut Butter cup into the center of each one.
Bake for 20 minutes total, 10 minutes on the lower rack and 10 minutes on the upper.  Remove from oven to cool completely.  Melted buttercream makes a huge mess.  Just sayin.
To make chocolate buttercream frosting, cream butter in bowl with stand mixer.  Add cocoa powder.  Add milk, vanilla and pinch of salt.  Add powdered sugar in 1 C increments.  Frosting will be thick but spreadable.
Pipe onto cupcakes and decorate.  Happy Halloween!
Frosting recipe modified from "Creamy Chocolate Frosting" by Tracy Larsen, allrecipes.com